Crisis => Riots => Bitcoin
---
Dutch farmers who have been protesting for weeks over the government's radical plan to cut nitrogen emissions by 50% - 95% by 2030 have taken things to the next level - pouring manure on government offices in response to the plan which would cause widespread chaos - including the death of 1/3 of Dutch farms.
The farmers have resorted to protests as dirty as pouring manure on government offices out of desperation, you know. According to zerohedge.com, it seems that since the plan of the government was announced 3 Dutch farmers have already committed suicide.
But others have simply took out the cows to a walk in front of the governmnet building, offering interviews, sharing their frustration and also threatening that they will ultimately resort to sacrifing the cows right there on the street. What do you think the officials had to say in this regard?
"The honest message … is that not all farmers can continue their business."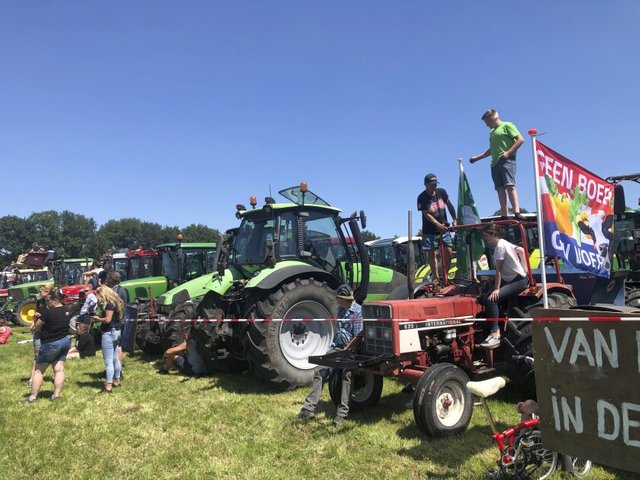 image soure
THEY DON'T FUCKING CARE, that's the message. Mark my words. 90% of the politicians, who are supposed to work for the good of us are actually being paid by elitists such as Bill Gates, pushing their 2030 agenda, who don't give a shit about us. They're simply following the steps of accomplishing their eugenistic agendas and on the way sending the world into a severe famine and chaos.
Luckily, we have protesters among the Dutch farmers, and it seems that Spain has seen a few protests this weekend as well with Spanish farmers blocking the highway in Andalusia and protesting against the increase in prices for fuel and essential goods.
Scarcity in crypto and other types of assets is good because it creates value, but when we talk scarcity for commonly used goods and necesities, then we should be expecting shortings and riots. Killing so many farming businesses in Netherlands, the 5th agricultural country in the world, means more food scarcity and higher prices will follow up.
Can we afford that? Nope... Can we afford these metan emissions or whatever is coming out of these cows that actually feed us? I'd say yes, but as mentioned above, these elitists don't give a fuck about us. I know I sound like a conspiracy theorist, but look around... It's that simple.
You know what else is relatively simple? Using Bitcoin, the lightning network, blocckhain technology and circumveting the governments. We have to do it... When the message the governments are sending us is that crystal clear, you know it's time for Bitcoin.
Many of us are expecting that some bullshit ETF will magically push Bitcoin into mass adoption, but I say these types of crisis, riots and unrest will do that. What do you think?
Thanks for your attention,
Adrian
---