Different ways to earn on DeFi
---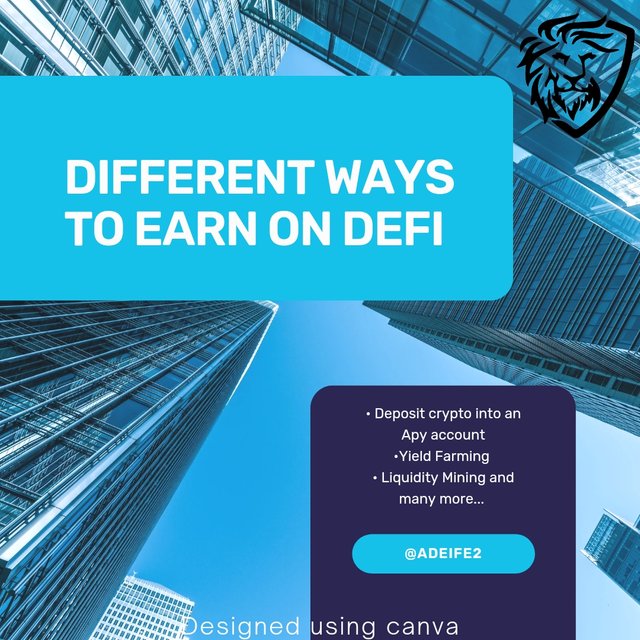 Decentralized finance, or DeFi, is the abbreviation. a system in which the transactions are not affected by a third party.
Through order for the operation to appear strictly confidential, some actions are carried out in system applications that remove final inscriptions. The P2P method, which allows sender and the recipient to communicate freely and unhindered, is what is really commonly available inside this type of program.
The standard practice, which is the financial sector, is that there are agents that are officially established to help customers carry out financial transaction and take out loans when needed .. Laws have been put in place to govern those procedures, and if they are broken, the defendant pays dearly for it.
The DeFi system operates using software applications that are executed on the p2p network.
Ways to earn on DeFi
Put Crypto Into An APY Account.
Receiving interest in exchange for stashing your crypto into an account represents one of the easiest ways to use DeFi to accumulate passive income. You might recognize it since it's equivalent to getting a fiat savings account and receiving interest. Today's interest rates are, nevertheless, extremely low, but perhaps not negligible. When likened to some kind of high street financial institution, DeFi offers a substantially better potential for rewards.
This practice is known as "staking" on many DeFi systems, and interest can be received in the manner of the same tokens that were staked or any other token that is recognized by the blockchain. Once you stake some cryptocurrency, you access the data as a node that verifies transactions.
Yield Farming
Another approach to boost your crypto while keeping it locked in return for interests or other forms of incentives is through Yield Farming .
Users of a DeFi platform may describe it simply as adding money to a liquidity pool. Users receive a payment or interests once these tokens are locked by a blockchain system in a decentralized application (Dapp), enabling their assets to be utilized throughout the system or borrowed and sold.
It is very similar to depositing funds in a financial institution and allowing it to utilize those funds for loans and other transactions in exchange in which you receive a set percentage of the profits made.
Liquidity Mining
In order to maximize the level of participation they may have with a given project, liquidity miners are frequently paid in the native token of the blockchain they are using. They additionally have the opportunity to earn governance tokens. Similar to other liquidity pool, providers are compensated according to the portion of the liquidity pool they produced towards.
There are a variety of ways to earn on DeFi, each having advantages and disadvantages. Choosing the DeFi passive income method may be a sensible choice given the current status of the cryptocurrency market. But you have do your study, think about your best possibilities, as this post is not an investment advice and never invest more money than you can afford to lose.
Posted Using LeoFinance Beta
---