Splinterlands Giveaway #14 - Closed
---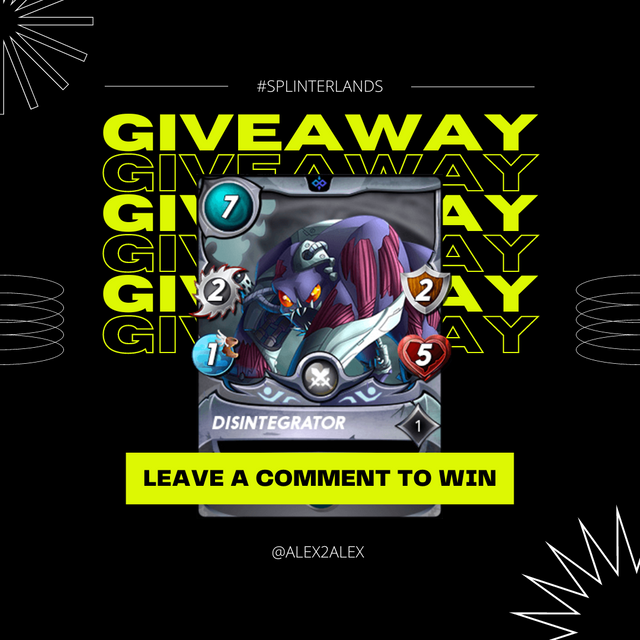 ---
Hello and welcome to "Splinterlands Giveaway".
---
This giveaway is inspired by @noctury, @splinter100dedos, @dubble, @hatdogsensei, @sentipl, @jfang003,@lipe100dedos and @shawnmichael-gt to give back to our Splinterlands community. If you are interested, follow their excellent giveaways.
Please read "Giveaway guidelines" and good luck!
---
The winner will receive
🎁 1 splinterlands NFT card 🎁
---
Giveaway guidelines
Leave a comment with your splinterlands account name and this giveaway monster MANA
Hive Random Picker will choose the winner¹
The winner will be announced in the next post
---
Winner from the previous post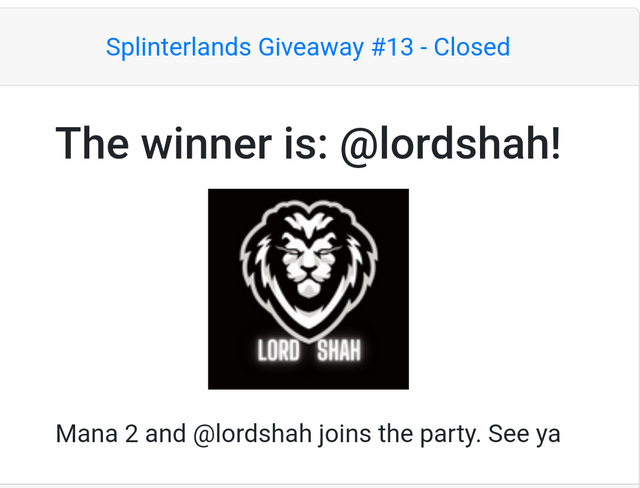 🎉 Congratulations 🎊
I hope this card will #help and you will have more #fun in Splinterlands.
---
Tag list²
@waynechuasy, @stamato, @haizelanne, @adacardano, @olaf.gui, @kimikimi, @engr-anchovy, @rtonline, @tinyputerboy, @lorddiablo, @ericburgoyne, @pero82, @mauriciolimax, @kryptofire, @jfang003, @hoosie, @dubble, @zakludick, @thebluebunny, @imfarhad, @pregosauce, @luizeba, @dtam, @engilhramn, @henruc, @noctury, @vagabond42069, @pesigolovec, @amaillo, @instamental, @yeckingo1, @s0nikkukun, @flummi97, @circlebubble, @leonmaster, @sygxwin, @quekery, @dagger88, @ebastion, @shawnmichael-gt, @hatdogsensei, @mephiko, @alexis666, @splinter100dedos, @iamchuks, @cryptocanny, @subidu, @lipe100dedos, @xg4028, @jingo-submo, @bigsavage, @leadericarus, @dusi, @ynwa.andree, @bitandi, @emeraldtiger, @cheesecrackinged, @charlrific, @sieghard1990, @gs1, @thaddeusprime, @pero821, @qoogohome, @mordikkio, @vaynard86, @thepimpdistrict, @decasamerlo, @lordshah, @tengolotodo, @erikklok, @speedtuning, @bechibenner, @golddiggernrw, @ricestrela, @uveee, @weeareus
---
I want to send a special Thank you to @leo.voter for upvoting my posts. Please consider using Leofinance as an excellent hive front-end or using #leofinance tag for all financial and crypto related posts.
---
And that's all for today's #splinterlands giveaway post. I appreciate you for joining me. Until the next time.
Thank you for reading and participating. Any questions or comments, let me know. Always happy to help.
Have a great day!
---
I am #alive and Thriving. Join me at the ALIVE tribe and
take part in challenges and show the world that you are ALIVE.
---
¹ Each raffle @sentipl will receive 0.1 PIZZA, 1 LUV for creating and maintaining "Hive random comment picker"
² Leave a comment to be removed from the list
giveaway ctp oneup battle fun ecency leofinance alive aliveandthriving hive-engine
Posted Using LeoFinance Beta
---