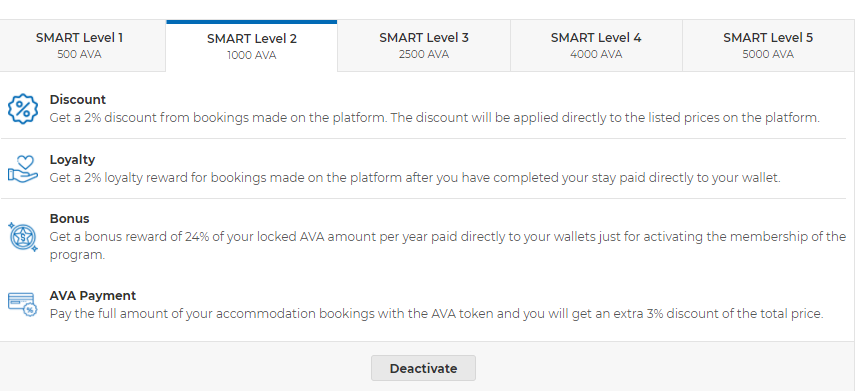 Hi,
my friend, @trumpman promoted AVA the token launched by the crypto-friendly travel site travala.
I registered after the 4th travala post, and glad I did it, even if late and with the crypto earnings, I was buying slowly and steady into AVA on binance.
It is one of the tokens on the market with a product and a concept behind, with a common life use case, that of travel. Well, we did not travel that much this year, but it will start again and as I travel a lot for work, this might come in very handy.

Travala has a nice loyalty program, like it can be seen from the picture above. I bought in late, as I did not have the funds at that best time, but like it is said, the best time was yesterday, the second best time is now.
Besides the sweet discount on bookings, there is 24% reward program, which pays monthly dividends, half in travel credits, half in AVA tokens. Adding to the rake-back from purchases, this program can make bookings free. I've checked it and some of the hotels I travel to, are available on the platform.

The next target would be to reach the next SMART level, as the rewards would be bigger and nicer, as my lifestyle and job will fill pump them.
I might already next week, to have my first business trip this year and with this, it would be simply amazing to test it. I've seen some good reviews from countries where it is allowed to travel.
Travala has seen that the world is changing and crypto is the future, so they've changed and accept crypto as a payment method. I'm glad about this, even if I will not pay in my lovely tokens.
Also, the price of the token will increase massively when the travel season will restart. My plan is to stack all the rewards from it and with some side buys to reach the maximum level. At SMART level 5, it brings 50 new fresh coins each month, and at the current price of $3, it is a sweet return of $150, besides the $150 in travel credits. $3600/year only from stacking it.
I see Travala revolutionizing the travel business on a global scale and this is another way, crypto is changing the world.
Posted Using LeoFinance Beta