4 Ways To Earn In DeFi
---
Investment is a necessity because this way we try to add more value to our capital to avoid loss from inflation as well as it grows over the period. If we keep our money idle then it will not grow and with the effect of inflation it will keep on reducing its value year on year basis. Investment is the method that we can follow and I believe that everyone should do some sort of investment as per their income. Now with cryptocurrencies, we have got a bunch of options whereas with traditional instruments earning potential is limited.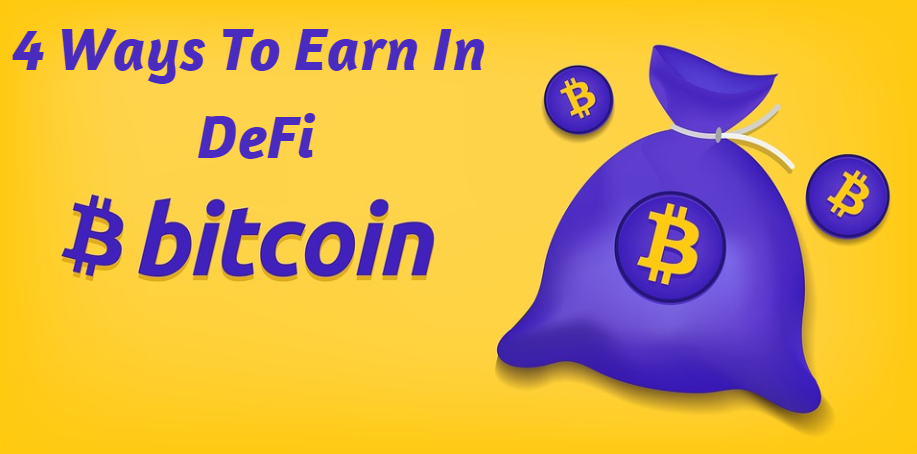 Even with crypto earlier we had limited options that includes trading or holding for the long term but now things have improved a lot. We have got so many options to be part of where we can grow our crypto holding. DeFi is one of the popular ways through which we can earn a decent amount of income through our holding and there are certain ways that we can follow. I believe that risk is everywhere but with proper strategy and study we can minimize it and this can also help us to obtain a good return on the investment. Below are some of the ways that we can choose to earn.
Staking
Lending
Yield Farming
Become a liquidity provider
Staking
This is my favourite way of investment that I have been doing for almost two years. I have purchased some crypto in 2018 and it was idle for two years. Now since I have the option to stake and earn so I started using it and with this, I'm able to earn a nice amount of income. This is a form of passive income where we need not do anything except deposit the funds. The only thing that we need to ensure is that we choose the right platform because these days trust is one of the main issues. If we choose a reliable platform to deposit the funds then it is a nice way to generate passive income on the investment. Because we are not selling our holdings so any appreciation in price is the main profit but on top of this returns through taking is like a bonus for long-term holding.
Lending
we have multiple platforms where we can lend our crypto iron borrowers will pay a certain amount for this. This paid amount comes to us as an income and this is also a nice way to earn money two our holding. These days so many people follow this method with stablecoins because the value does not fluctuate and they can generate a decent amount of returns on the investment. I find it interesting however I have not tried it for the long term but gave it a try sometime back.
Yield Farming
I think this is the core feature of defi where we can do the yield forming through our crypto. For example, if you deposit your crypto in cubdefi then you can earn CUB tokens. This earning is called eel farming because you are forming the native token through your holding where your crypto holding remains the same. In many cases, the native token values grew exponentially and that is when the investors are a huge amount of income true yield forming. This earning percentage can vary and depend upon the platform growth we can earn less or more.
Become a liquidity provider
Last but not least and this is the same way that we can follow to earn money in decentralized finance. I ask the word says that if we provide liquidity to any platform then in return we can earn and in every decent lies finance platform this option is available. Liquidity is an important component in any exchange so these platforms expect more people to provide liquidity so that you just need not wait longer and they can get their order filled immediately. There is a risk of impermanent loss and because of this region I do not feel comfortable doing this however, now we have the option to do this through stablecoins. The good thing is that with stablecoins we need not worry about it and even going with the hive option is almost the same. This is a popular option in the market as of now and I see a lot of people doing it but again we need to do our research and study before we move forward.
---
---
I have shared the above 4 ways that we can follow to earn money in the defi segment. I always believe that crypto has given us great potential to earn provided we follow a proper strategy and study of course before investing the money. Risk is everywhere and crypto is not the only segment so I'm not worried about it but I believe that with a long-term approach things can be done nicely and we can also expect a decent amount of returns on investment through decentralized finance.
Thank You.
Posted Using LeoFinance Beta
---