5 Things I Like About Hive..
---
Hive is better than any social media platform to date and its a leading name in web 3.0. The world is moving towards web 3.0 from web 2.0 and this is a decentralized social media protocol. The reason why people are moving there is that it provides complete freedom and no censorship to the users. In simple times we can say that users are the owners of decentralized platforms, unlike the centralized platforms that we have. The problem with decentralized platforms is that they don't care for the users and do whatever they want to. Because they have got complete control in their hand so they censor the content and even block the account. They can ban the account anytime without giving prior notice to the users but here. Hive is just the opposite and it will never happen with anyone. Your account and your content will always remain under your ownership. If you are in HIVE then you need not worry about censorship and you can share whatever you want with a free mind.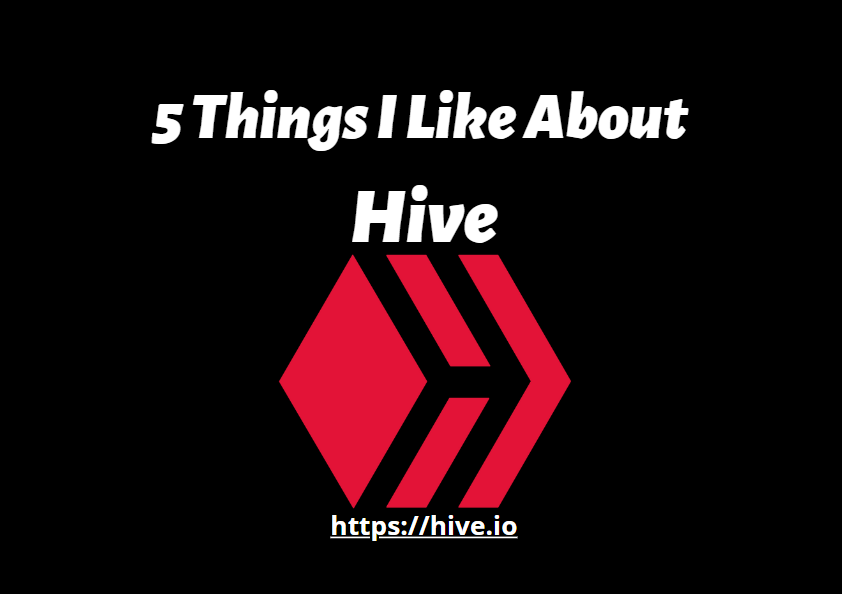 I like Hive because of so many reasons why and it has a lot of things that interest me. I am sharing 5 things that I like about hive and these are not available anywhere other than Hive. There are so many social media platforms but what we get at hive is something no other platform offers as of now. Maybe in the future, some platform will come up with something similar to Hive but at that time Hive is even bigger and even better.
1. Community
Hive is by the community, for the community and there is no owner. This is the reason why its decentralized and no single person or any entity owns this. The power is given to the community and each user is equally treated. Anyone can join the hive from any place in the world and there is no restriction or criteria for any person or region. Social media platforms are built to bring people together and at the hive, I am happy to have a connection with so many people across the globe. I know that this type of connection can be built on other platforms as well however things are different here. At the hive, I connect and engage with people, and even I earn rewards for working. This is something that is not possible in any centralized platform. This community is so big and strong and this is growing together. Being a part of this community is great and brings a learning curve for me.
2. Technology
Hive is built on technology that is highly advanced and its called blockchain. This is next-gen technology and anything shared here can not be manipulated or deleted. This also makes out funds and transactions secure. The hive network has been built on blockchain and thorough research has been done to bring the functionality that is good for everyone and that too keeping the security on top. Our funds in form of hive power are locked for 13 weeks so its not easy for hackers to steal the money and they can break the algorithm of the chain.
3. dApps
Hive has got so many dapps that are available for everyone and we can access all with single login credentials. If you use a keychain and this browser extension is like a passport to all the dapps on the hive network. Its practically impossible for anyone to access all the dapps but we can access some as per our interest. Another point that is worth mentioning is that all the transactions are free and there is no transaction fee. This is something that gives more power to hive users and we can transact with ease and without worrying about fees. Ethereum is a good example where we need to pay quite a big amount and sometimes it was almost 100$ but at hive forget this thing.
4. Liberty and FreeSpeech
No one wants to be controlled by anyone and that too in social media. We come to social media to have freedom of writing or speaking with a free mind. If we try to do this on web 2.0 social media platforms there we are at the risk of censorship or account ban. Hive has gone way ahead and here we have nothing like this. I can share anything I like and I see a lot of people doing the same. Giving our freedom back itself is a good reason to be happy and because of this, I like have a lot.
5. Growth and Development
Development is an important part of any social media platform. Its because with development, new things are added, and this way the platform keeps on growing. At the hive, the amount of development is quite high. The next hardfork is expected to happen in October month however its not yet confirmed. While dapps are being developed and with the same hive network is also upgraded every year to make it even better. The change on the hive is called hardfork and this way some changes are made and even new things are added as per the best interest of the community.
Above are the five things that I liked a lot about the hive and that make it way better than any web 3.0 or social media platform out there. Hive is leading web 3.0 and I am hopeful that this will continue to grow and we would have more people/investors getting on board.
Thank you.
Posted Using LeoFinance Beta
---