Engagement=Earnings , how much author rewards did Leo users earn only for their comments in past 7 days ?
---
Good noon to everyone , I hope you all are doing well . As I have stated multiple times before , engagement is very important for any tribe/ platform but have you ever wondered how much you are earning from comments alone and not from posts?
Since we get the tokens once a day together for all rewards - author ( posts and comments ) , curation , comment benefactor . We tend not to calculate how much we have got for each individual activity .
This post tries to provide a picture of why engagement is important and to what extent engagement is rewarded on Leofinance .
Note
The below data is for payouts from 24th of February to 2nd of March .
It concerns only with the comments .
It concerns only with the comments that has #leofinance tag or #hive-167922 tag in it ( that means everything that appears on leofinance irrespective of where it is posted from )
Earning for engagement on LeoFinance.
Total Rewards earned for comments only by all users ( 24th Feb to 2nd March )
494.331 LEO = 1328 HIVE .
Mean author rewards earned from comments -
0.116 LEO = 0.311 HIVE .
Note - How is this calculated ? - Take all comments that has atleast 0.001 author rewards , add it up and divide it by total comments which had atleast 0.001 author rewards
Number of comment that got upvoted ( with author reward of atleast 0.001 LEO )
4259
Number of users that got upvotes ( with author reward of atleast 0.001 LEO )
452
Number of comments upvoted vs not upvoted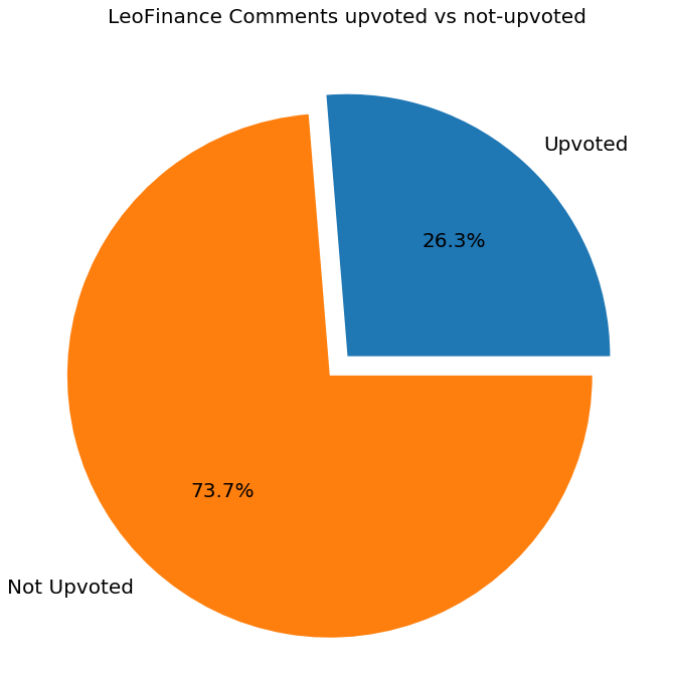 This means that every 1 in 4 comments gets upvoted on Leofinance which will give atleast 0.001 author rewards for the engager.
DateWise author rewards for comments
| Date | Amount of author rewards for comments in LEO |
| --- | --- |
| 2021-02-24 | 75.043 |
| 2021-02-25 | 66.37 |
| 2021-02-26 | 66.189 |
| 2021-02-27 | 73.464 |
| 2021-02-28 | 77.296 |
| 2021-03-01 | 70.508 |
| 2021-03-02 | 65.461 |
Top 10 highest earners for engagement
Highest rewards for a single comment for the above mentioned period-
Engagement Project
This is the reason why I started my Engagement project too . . This is why I rank top 25 engagers from 4 different tribes - LEO , SPORTS , CTP , STEM - based on their quality of comments and vote them everyday ( upvote weights are also calculated based on the quality of comments ).
Note- only comments made from that respective frontend is counted for ranking - this is done to increase traffic for the frontends.
If you like this and want to delegate here are the curation account - I pay dividends to the delegators every week -
LEO - @amr008.leo
CTP - @amr008.ctp
STEM - @amr008.stem
SPORTS - @amr008.sports
Final words -
We see many whales like @onealfa.leo and @taskmaster4450le providing valuable upvotes for comments. Why do they do that? Well according to me it's because they understand the value of engagement . Quality comments and engagement are as import as quality posts .
More than 1328 HIVE worth of LEO upvotes was given in 7 days which is worth 400 USD at the current price . An average of 57.14 $ per day for only comments .
Every 1 in 4 comments are upvoted according to the data . We have to keep in mind that majority of the bot replies doesn't get upvoted so you have to exclude that.
Also the above data is only for author rewards , if you want to calculate the total value of comments ( author + curation rewards ) just double everything .
Isn't that amazing ? What do you feel about this ?
If you like to know how much you earned for the above period for only your engagement let me know in the comments , I will provide your earnings for you .
Posted Using LeoFinance Beta
---