Feels good to be a Leader of the Pack - 50k Leo Power
---
I missed the LEO airdrop a couple of years ago. I received a big chunk of PAL back in the day but during those times I was actually a HIVE maximalist.
I had around 100k HIVE back then, which is probably the main reason that drove my maximalism. This is also the same reason I believe is behind every other hive-maxi around, and it is also the same driver for all the BTC maximalists that roam the crypto space.
I mean, it's only obvious, if the size of your bag is enough for you to make you a millionaire once Hive hits $1 or $5, something that I believe it definitely will, then it's only logical that your support and your efforts go towards growing the value of that bag.
If I had 1,000 BTC and I had missed the ETH rally or the Chainlink insurgence, or the Solana drive to $40 from a few cents, I would be 100% focusing on the growth of Bitcoin.
This example does not apply to Hive though, because the only token that was at Hive's level at one point was Leo, and that didn't last long. One of the reasons for the dump of the Leo token was the opportunity to become a hive whale with a Leo stack bought at the cheap or maybe even received as an airdrop. I would have probably had sold my Leo stack given the chance to get a 1:1 parity from Leo to Hive, after all, Hive is the layer 1 token and has a much more bigger market, dapps, potential and much more when you look at the blockchain from a macroeconomics point of view.
But that doesn't mean that the Layer 2 tokens can do a 100x or maybe even a 500x once the Hive Blockchain goes mainstream.
At this point, I believe that Hive can easily do a 10x - that's why I have around 50k Hive between my main, my alts, and my farms -, Hive is the safer bet in terms of ROI. But I also believe that the real profit maker will be the LEO token, I think that provided the team (which includes me) delivers on all our promises and we manage to bring Leo to the next level (and a lot more next levels in the span of a few years), LEO is the token that will bring to Hive a 100x as a Layer 2 token, and it will be so strong that it will eventually de-peg from the value of the HIVE token.
Right now LEO holds a ratio against HIVE of 7:1
A couple of months ago, that ratio was around 10:1
That could mean nothing if we take past performance, because at one point as I mentioned, that ratio was holding at 1:1, and the price of LEO began a dump trend that took that ratio to almost 12:1, go figure.
But the real insight I take from this, is that only 3 months ago is when we, as the Leo Finance Team, began actual social, marketing, and PR initiatives that have led to where we are at now. It's not only the tokenomics and the product Leo Finance offers, but we are actually making efforts and have an organized plan to take the LEO token to the moon. The trend the value of the token is showing right now was forecasted and worked towards achieving it, it's not a coincidence and it is definitely not some lucky strike, it is something we've worked on, and plan on keep working on indefinitely.
The community feels stronger, looks more committed, shows their belief in the tokenomics and proves they trust the team to steer the wheel towards greener savannah pastures - sorry, I couldn't leave the Lion Pride analogies out of this post. The token is holding strong and growing in value despite the bear market, the sellers are almost all of them bought out, and those who are part of the community right now are more active than ever despite the fact that Hive has always shown a significant drop on engagement when the bears are around and the post rewards are low.
Briefly spoken, Leo Finance is stronger than ever, and the trend indicates that we will only get bigger, stronger and achieve our true potential somewhere in 2023. The build up is here, the members are ready, there are even some later joiners that are coming in strong and investing a few bucks every now and then.
In a market with such a small market cap like LEO's, a couple hundred thousand dollars injected into the economy can mean a 2x pump, maybe even a 4x pump, and the community knows this, which is why LPUD has been so successful so far, and why I believe that before 2022 ends, we will see the price of LEO at a rate of 4:1 to HIVE.
That, and the fact that I want to show my true commitment and belief on Leo Finance and everything we are doing, is the reason that I just became a Leader of the Pack in the span of 4 months.
I now hold 50k Leo tokens and they are all powered up.
I get it, I bought it, I didn't earn it, but still, a market needs buyers and not only reward harvesters, and believe me, we are definitely planning on brining in those buyers very, very soon.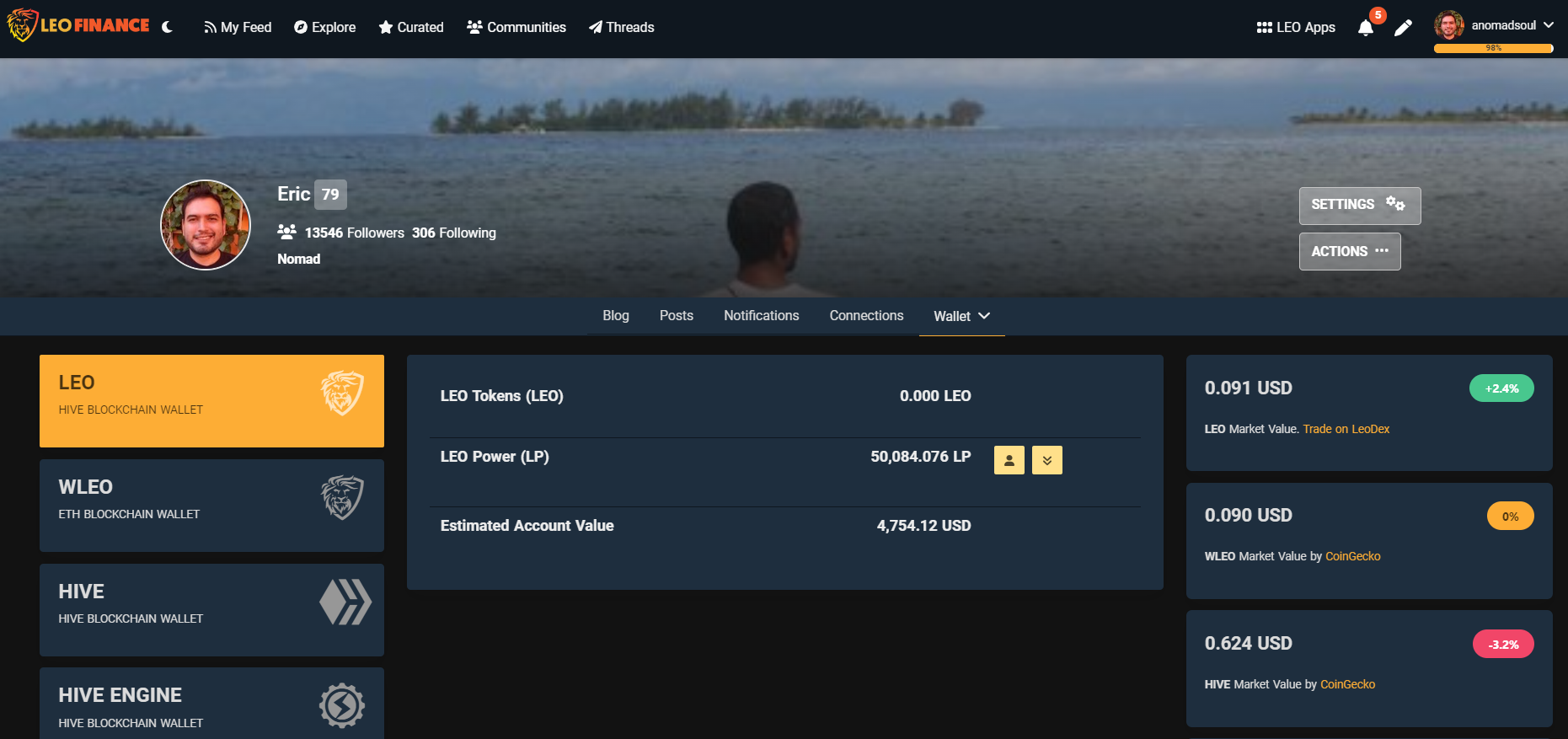 I've received some comments about Leo and what the future holds for the token and the ecosystem, I plan on replying to all of them pretty soon. Please leave any feedback you have, good or bad, and I promise I will reply to every single meaningful comment. Thank you Lions!
Posted Using LeoFinance Beta
---