LEO Power Up Day: 1K LP Milestone Achieved
---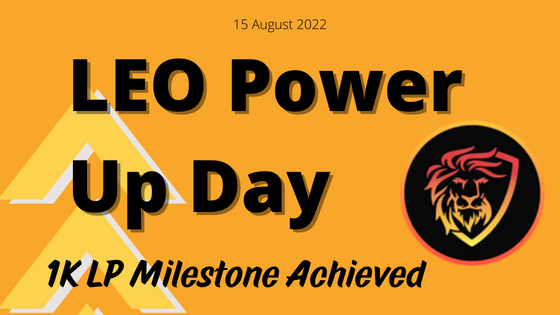 Slowly But Surely
Finally, something! This LEO Finance journey has been a sloooowww one, I have to say. I started here about two years ago but then I guess I have just been running like a headless chicken the whole time. At the beginning of the year 2021, I set a goal of 3000 LEO power by the year-end but I barely scratched the surface there.
Like my Hive power, content creation and curation are my main source of LEO tokens, along with the daily dividend payouts for my HP delegation. Okay, so my LEO tokens come mainly from my dividend earnings. Thanks to the LEO Power Up Day initiative of @leogrowth, I am now more compelled to stake whatever liquid LEO I get in my wallet.
1000 LEO Power Staked
Before today, I was sitting at 700 LP with some LEO tokens lying idle in my Hive Engine wallet. Unless I plan to cash it out, these tokens need to be put into active mode (well, assuming I would curate regularly).

Screenshot: LeoFinance.io Wallet: @arrliinn
I love seeing round figures in my wallet. For some reason, it makes it easier for me to visualize the growth of my assets if I start up with a round figure. Hence for today, before I am too late for the day's LPUD event, I powered up 300 LEO! I believe that's double the LEO stake requirement to be eligible for the LPUD prizes.
Power up at least 150 Leo on August 15 (PST), and you will be eligible to win one of the main prizes: a 20k delegation.


Screenshot: LeoFinance.io Wallet: @arrliinn
LEO Finance has been releasing project after project and the future looks promising for every Lion on the land. Growing my stake here is not a question. It has been my goal and while the road had been a long and winding one, this monthly LPUD exercise should get me closer to my LEO goals.
How about you? Have you joined the LEO power up day today?
Cover Imange created via Canva. LEO Finance Logo credit to leofinance.io


Posted Using LeoFinance Beta
Posted Using LeoFinance Beta
---