Land and DEC: Splinterlands
---
Land and DEC
Yeah! Land is Coming! Well, this is the third time around the Hive Blockchain game Splinterlands is raising capital for game development while selling in-game element called LAND. As many of you know that I am an avid Splinterlands player for a while. I enjoy the game and also enjoy the VC (venture capital) nature of the investment. This VC is with an extremely low threshold for common people to access it. It is the investment element that requires a lot of kudos to the game developers @yabapmatt and @aggroed. What many people do not realize that it is not possible to invest in VC of game development if you have $500 to invest. This decentralized platform gives common individuals that opportunity. We must thank @splinterlands for that.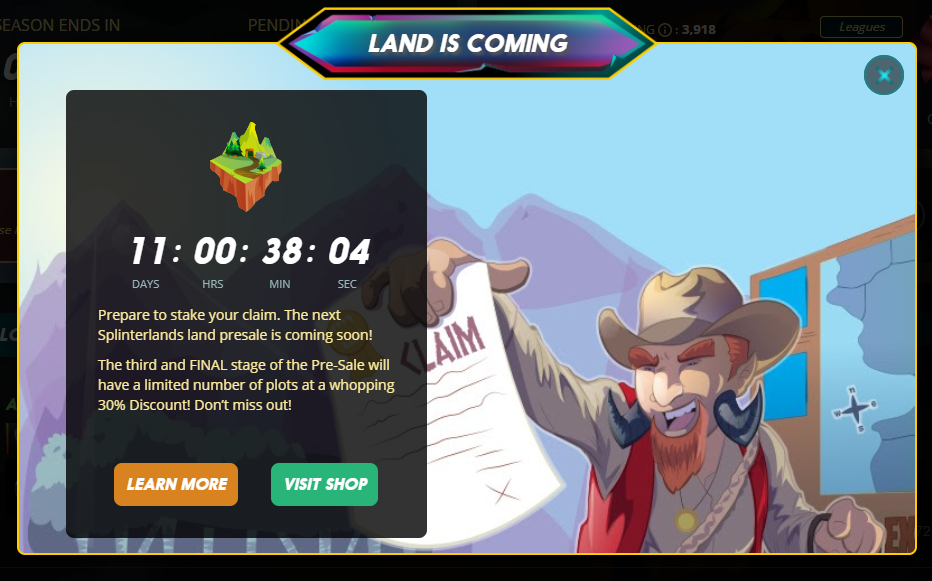 Pre-Sale Status
I am writing this note from a personal point of view and these are my own opinions. None of the game developers or their team asked me to write this. This is just my personal thoughts and investment milestones. For those who are unaware, I am a relatively late adopter of the game when compared to my presence in the Hive blockchain. I am only playing this game for about 8 months or so. My card collections, when compared to my Hive account size, is quite tiny. Like many veterans of @splinterlands, I didn't participate in the kickstarter. I wasn't even playing the game back then. I consider myself a player. So I only invested when I started playing the game and as needed to be better at the game. Over the last 8 months, I have built a competitive deck that I can easily play in the top 100 if I have time. These days, there are a lot of manual players in the Champion League (which is a great thing!) and I typically finish the season in the ranks of 70 or so, which is good enough for me. I know if I push it, maybe I can be within top 50.
With that said, when the Land Sale was announced, I participated in Stage 1 lottery and was selected. I purchased 1 Region (1000 plot) for $7500 for myself (I am keeping it, my kids will plant strawberry on this land :)! ). I thought that was a great deal.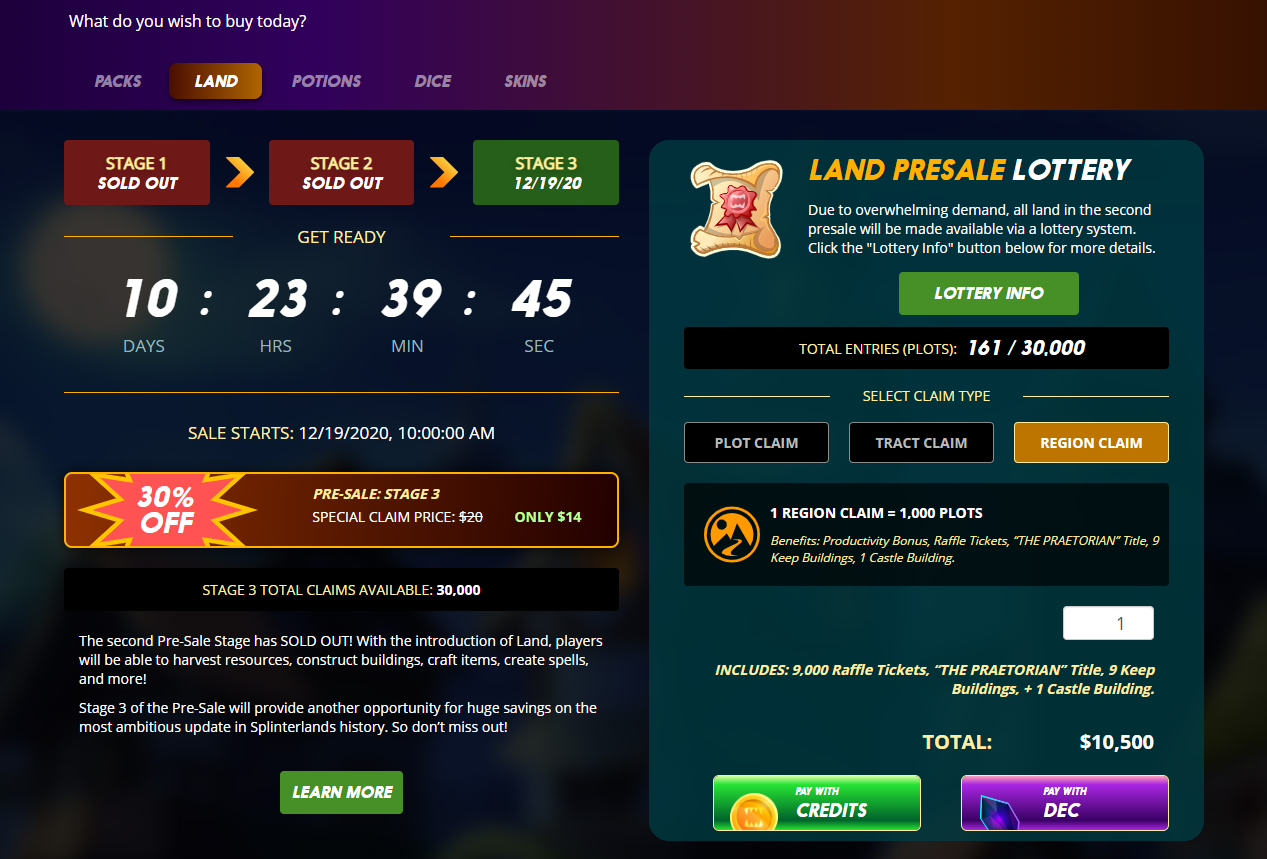 During Stage 2, the same 1 Region was offered for $9000 (I didn't buy any during Stage 2). Finally, the Stage 3 or the final pre-sale is on Dec 19, and the price is $10,500.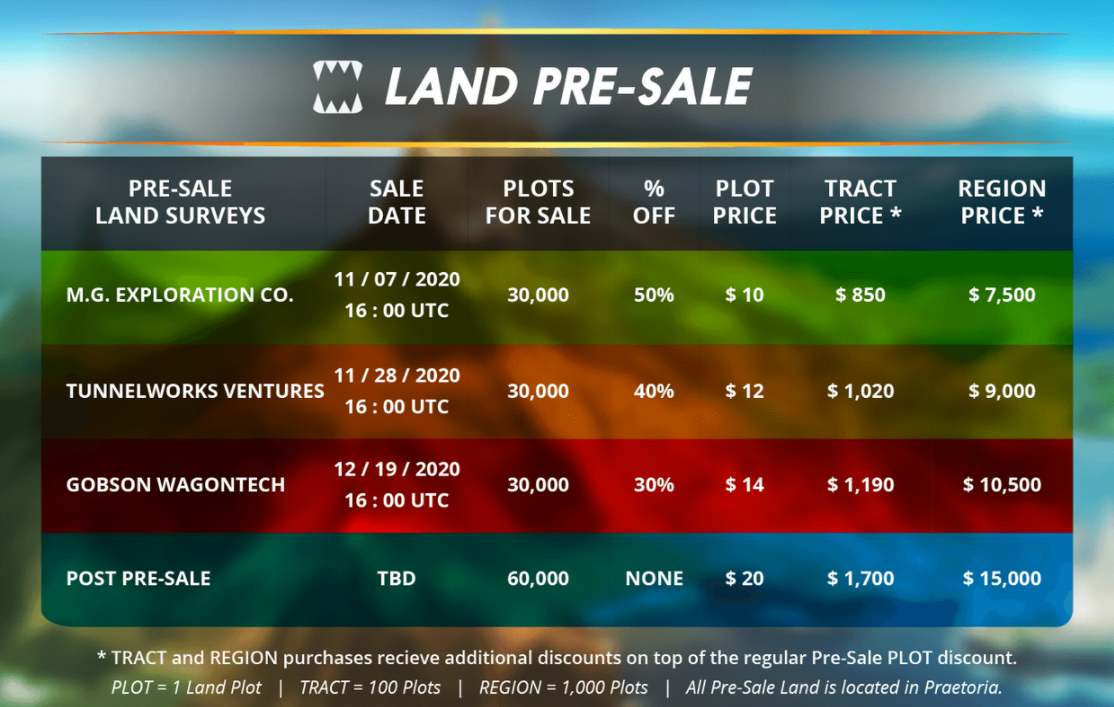 It is highly expected that this pre-sale will be oversubscribed just like the previous ones. So it is very clear that I am already in the profit by 40%, at the stage 3 prices. Obviously I am not going to be selling at the Stage 3 prices, because the regular sale price is set at $15000, where I can easily double my investment.
Wait! There is More!
I haven't told you the main detail yet. This pre-sale is also a mechanism to reduce the supply of in-game currency DEC. DEC is pegged in game at 1000 DEC = $1. For any purchase of land or anything in game for that matter, the game developers honor the pegged price. But at the Hive-Engine market, DEC trades at a discount. For example, as of this writing, the price of 1000 DEC = $0.70 (so that is 30% discount). Which means if one can buy DEC either from Hive Engine or from Uniswap pool (yeah, that's the other way), they can potentially get the same discount of Stage 1 pre-sale, if they choose to.
Personally speaking, I bought 7.5M DEC to pay for the Stage 1 pre-sale, all from the open market, at an average price of below $0.30 for 1000 DEC (about $2250 for 7.5M DEC). So at the time of actual sale of land, I expect to 6.6X my investment or more. Also I am planning to buy more land and more DEC and the price continue to remain inexpensive.
Happy Investing, folks! It is holidays after all!
Disclaimer: This is NOT professional advice, this is all just my own opinion and experience. I am NOT a Certified Financial Adviser. Consult professionals for any financial, accounting or legal related questions you have.
Charts are created in Tradingview.com, which is a free service.

Posted Using LeoFinance Beta
---