Goose Vault
It's been a couple of months now that I am following the 3-4 top yield farming projects on BSC. The best way to follow them is to have some money invested in them. The ones I am currently invested in, according my total capital invested, are as follows:
Cub Finance https://cubdefi.com/
ApeSwap https://apeswap.finance/
Goose Finance https://www.goosedefi.com/
My approach to these have been quite different, and I am trying to figure out why :) Yeah! Most of the time, I don't know what I am doing! For Cub, I went in with emotions, as it is our own project. It is built on hive. So I invested as much liquid as I have at the time and kept adding. With ApeSwap, I was way more cautious. I started late, bought some LP, then put that into Swamp Finance; took it out when I wanted to participate in a IAO, and then Banana exploded to the upside. With Goose, I was even more cautious. It did have a rugpull history in the past. So I put some LP in goose, and then took it out during the ApeSwap BFT IAO. I saw price of EGG drop to $10, and they rally to $20. So now, I am slowly testing the water again.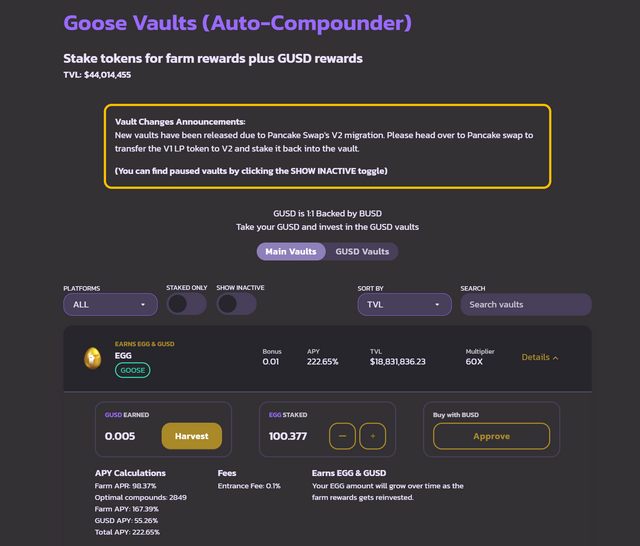 Source
One of the recent regret I had with Banana is that I was in the pool early enough, below $1, which is often the hardest part. Then banana rallied 10X. So that is substantial for an LP token. However, my issue was, since I was relatively new at Banana, and wasn't expecting the fast rally, I didn't have any banana token, all of it were in Banana/BUSD and Banana/BNB LPs. This is not bad at all for income, which was my general idea, but it is not good for growth. I had about $25K invested, just below $1, so the math is simple. If I had all Banana, my investment should have been worth $250K. However, I had them in LP, so my investment is about $70K. This is great and no problem at all. But I want to try something slightly different. So with Goose, I wanted to try something different with the Vault feature. This is simply a staking of the token. You get a compounded return, that increases your number of tokens, and there is also a portion that is paid in GUSD (which is pegged 1:1 for BUSD) which you can keep/convert or sell.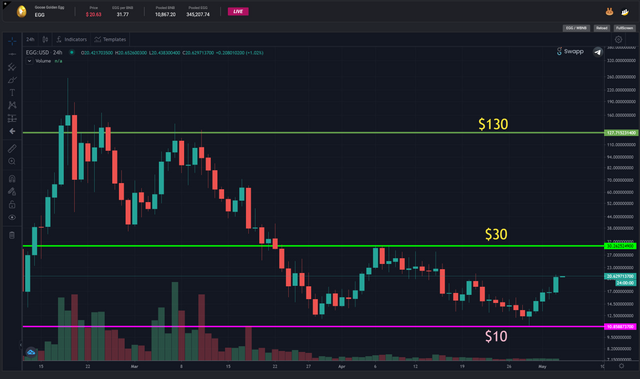 Source
The idea is relatively simple. Goose is a well known project. It was priced quite high until recently, and was the leader of TVL after the PancakeSwap. Then the ApeSwap magic happened and it lost a lot of customers to ApeSwap. However, it remains an active team, and an active social network presence. The have several innovative products like Layered Farming, GUSD Vault etc, which some of the other projects do not have. When I look at the chart above, I can say $30 may not be a stretch goal at all, and that is all that I will be playing at the moment. I started with something small about 100 EGG tokens at $20, which will be easy to remember. I will add double the amount at $15, and half the amount at $25, and re-evaluate the situation at that point. If it stay between $15-$25; I will do nothing. This is my relatively simple plan to test this out.
Price Tables
| Project | CUB | BANANA | EGG |
| --- | --- | --- | --- |
| Current Price | 2.634 | 10.522 | 20.823 |
| Token/$1000/day | 3.17 | 1.11 | 0.48 |
| $Return/$1000/day | 8.34 | 11.67 | 9.99 |
| $TVL | 18.4 M | 563.5M | 126.6 M |
| Project Start Date | Mar 09, 2021 | Feb 21, 2021 | Feb 11, 2021 |
Current prices and yield at the time of writing (updated at 07:00 PM CST, 05/03/2021)
Very similar in the ballpark between Cub and Goose (Ape is pulling forward).