Torum Finance? Yes, It Is Coming!
---
At this point, you have probably read multiple articles about Torum and its crypto-focused social network. There is also a big chance that you are already a Torum user. I am. And I love it! I can easily share my HIVE articles on my feed to get both - greater exposure and rewards in the form of Torum's native currency - XTM. It's not yet on the market but it's coming in the next few months (during Q2). I'm really excited to see what happens when the token comes out. Personally, I'm not selling. I'll use my XTM gains to invest in the ecosystem.
Invest in the ecosystem?
Yeah, similar to what many people are doing here on HIVE/LEO/CTP and other tribes by powering up their earnings and increasing the power of their votes, I will invest my XTM rewards in the Torum ecosystem. The latest thing Torum announced is quite huge and I can't wait until it comes out. First of all, Torum is coming to Binance Smart Chain. Secondly, the team is creating a DeFi project, and as we already know from CUBs, having a DeFi project can get a lot of exposure to a certain community or token!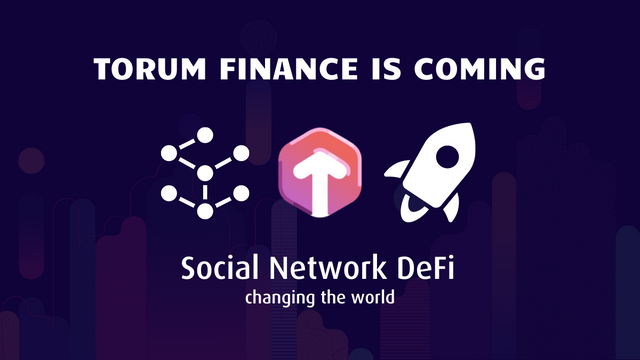 Official Announcement on Torum, impossible to read without having a Torum account. Use my invitation link and we'll both receive 75 XTM when you verify you're a real person. It's easily doable in the official Telegram group of Torum.
Torum Finance Teaser
Torum will cooperate with the company called Blocklime to create a DeFi project with the development starting at the end of March. From what I'm reading, they will have it all - the governance token, staking, cross-chain transactions (ETH and BSC), NFT's and more.
The Project will be created in three phases:
Phase 1 - ETH x BSC Bridge (cross-chain transactions)

Phase 2 - Liquidity Farming * Shard-Dust Multipliers + Metamask Integration

Phase 3 - DeFi x NFT Staking Mechanism
I took it from the official announcement that I mentioned earlier. I also chose to add some teaser pictures from the same post. If you're asking me - the design looks awesome and not like 99% of other DeFi out there (no pun intended to CUB - I love it.)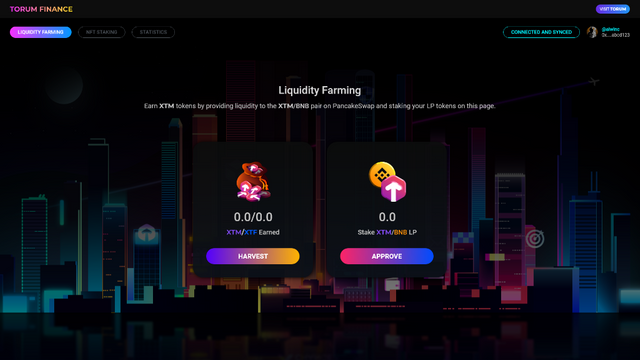 As you can see in the image, there are two tokens - XTM is the native token of Torum's Social Network that we're receiving by either completing missions or in rewards from other users. XTF will be the governance token for Torum Finance. Similar to what CUB's are for CUB DeFi and UNI is for Uniswap.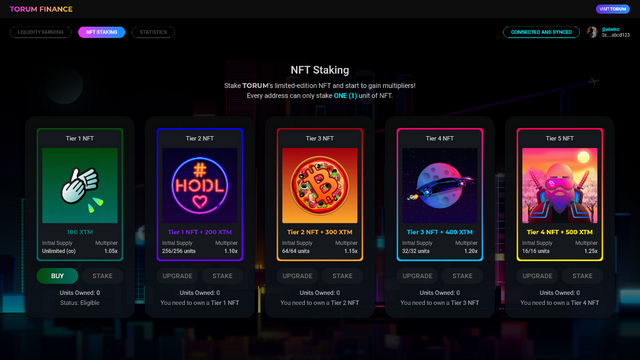 In the next image, Torum is teasing with the NFT staking. To receive these NFT's, you only have to give gifts to other users. The more you give of the reward, the more NFT's you are getting. Lovely to see that they will have a use-case and we'll be able to stake them.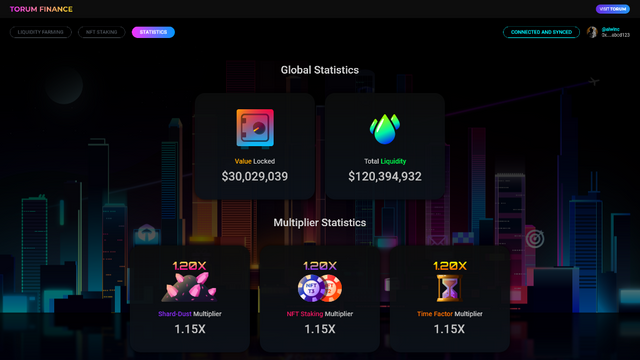 Thirdly, there's a statistics window where you can see some multipliers that will be implemented. From what I can make of it, everything seems logical and the more shards you have, the bigger your multiplier will be. Same goes for NFT's. Overall - the more active you are, the bigger your rewards. And it's in your interest to be active on the platform because that's how you attract more people to it. Nobody will use a place that's empty. Look at Steemit.
Conclusion
The future of Torum looks bright. More and more people are joining up every single day. Now, with the Binance Smart Chain and Torum Finance announcement, things will heat up even more. I can't even imagine what will happen once XTM token comes out on the market. I'm happy to be on Torum and use it together with Leo and Noise. Sinergy is the key and together - we can do anything!
Thank you for reading!
---
Read some of my other stuff:
Cub Finance - DeFi to Rule Them All
Social Media Platform that Connects Blockchain People and Projects Together - Torum Review
Top Crypto Accounts You Must Follow - Crypto Twitter Top
Must Read - 33 Reasons Why You Should Be Using HIVE Blockchain!
Crypto Faucets That Really Pay - Browse Here
SwissBorg Lottery With a Guaranteed Bitcoin Prize - Look Here
---
---