Rising Star - Close to level 75 | Bought and opened 12 packs | Going to be investing more in the coming weeks
---
Rising star has always been one of my favorite games and I always regret for not getting into the game sooner. But never too late right. I still find this game very interesting and this is one of the games that I consistently play on Hive. I'm close to completing 75 levels in the game currently.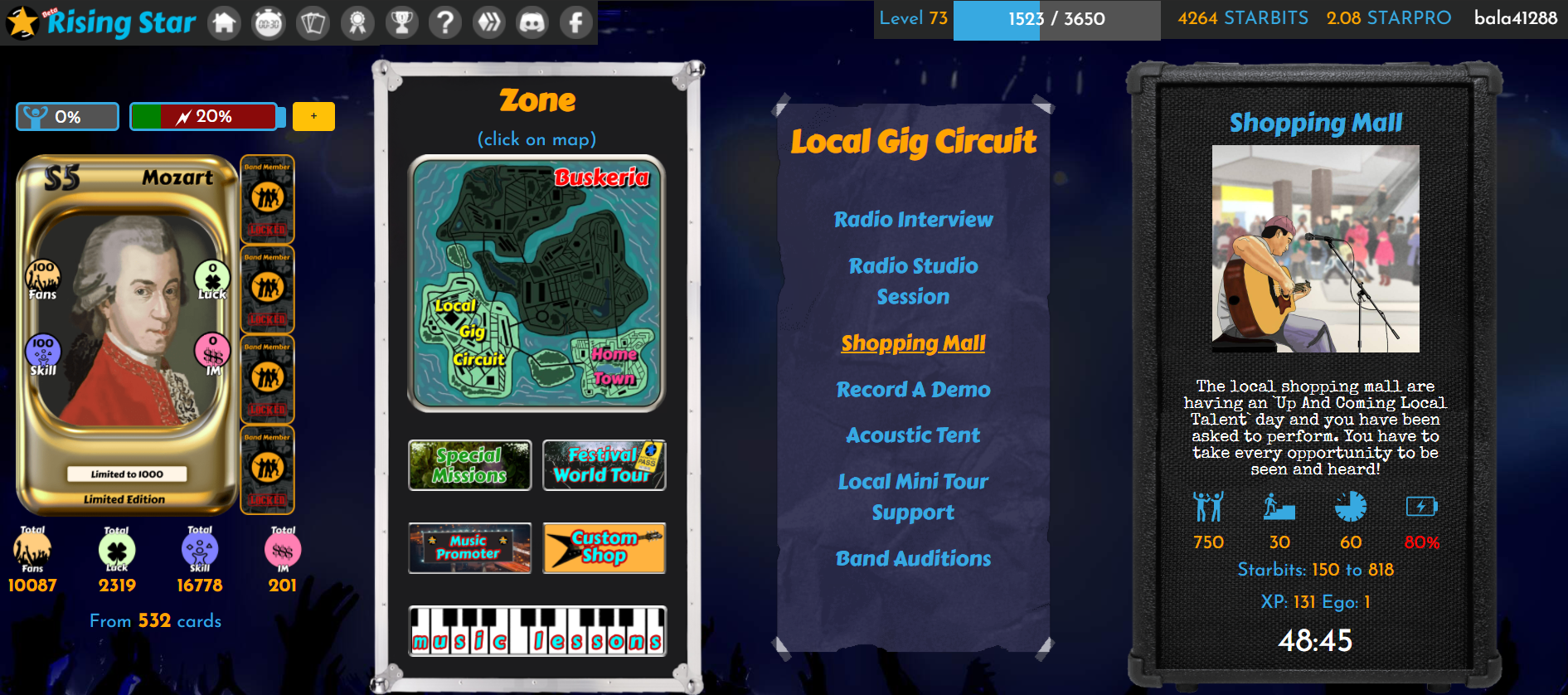 I was only doing bigger missions but recently I found out that I have been wasting the Pizza slices that I get in the game. I think I should be doing lots of smaller missions so that I can progress faster. I have been trying to do that in recent weeks.
Opened 12 packs and below is the outcome
I recently bought and opened 12 packs. In recent weeks I have been getting lots of starbits tokens especially after I became a starbits millionaire. I'm very happy and glad that I'm able to afford 12 packs every 10 days if I play regularly and do the Starbits Millionaire missions every day. I guess I have been doing that except I missed it only one day in the last month. Things have been really good.











I planned to use the starbits that I have been gaining from this to purchase packs and also purchase individual cards which I have been doing now and then. I do purchase lots of individual cards because I want to improve my ranking in the game. Though the ranking rewards are not very great it is definitely a big motivation inside the game. That is one of the biggest reasons why I have been trying to increase my ranking.
Increasing the ranking
We have to be consistent about increasing the ranking by purchasing cards frequently. If we don't keep the deck updated, there will always be someone who will surpass us in terms of ranking. That's how I was pushed from around 90 positions initially to 132. Then I decided I should be improving the ranking and recently I was able to get back to around 84 right now.

I know this is not going to be my ranking forever unless I purchase more cards and advance further. That is one of the reasons why I have been purchasing individual cards from the market that would specifically improve my ranking.
I was inspired by @r1s2g3 to write this post today after seeing his post and I guess we have been traveling together in this game for a very long time along with the other fellow members. Healthy competition is very good. I guess he is also on a mission to increase his holdings in the game.
If you wish to join the game and know more about Rising Star, please feel free to use my referral. The game is free to play and more than that fun to play.
https://www.risingstargame.com?referrer=bala41288
I will soon be back with another pack opening and furthermore updates from me.
---
---
Posted Using LeoFinance Beta
---