Rising Star Game - I bought 12 packs today for 100000 Starbits and opened 3 packs
---
As Hive is pumping, most of the Hive Engine tokens are getting cheaper. Especially the ones that are wrapped as ETH tokens are having a great hit lately. Though we are happy that Hive is pumping, it also gives us a great opportunity to make some good investments in games that are on Hive Engine.
One such game that caught my attention today is Rising Star. I have been playing this for a long time and I'm glad that this game is slow and steady in terms of growth giving us a steady opportunity to enjoy this game. I have made some investments in the past and today again I wanted to try my luck by purchasing a few packs.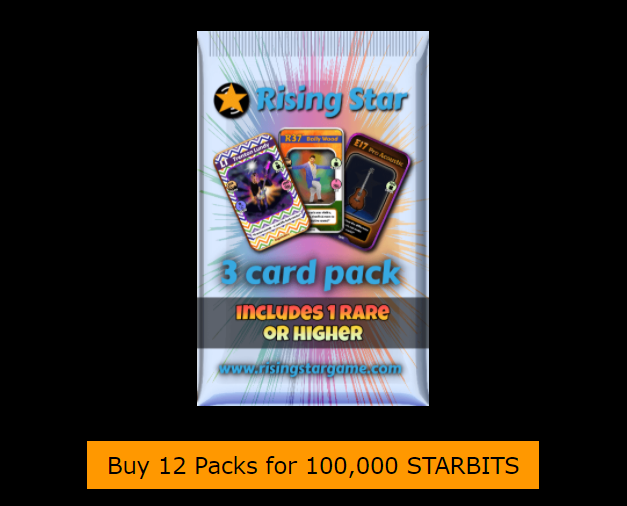 I initially thought of purchasing individual packs and try my luck but then I identified that it would be worth to purchase 12 packs in one shot and save 20,000 Starbits in that. The reason is that Starbits is pretty cheap right now. I would say that it is a great opportunity for people who would like to purchase some packs and grow further in this game considering the price of Starbits.
It all depends on the cards I would get from the pack. Though I bought 12 packs today, I'm not going to open all the packs in one shot. I'm going to open 3 packs per day and check my luck. This will also give me an opportunity to write about my Rising Star gaming experience every single day.
To start with, today I decided to open 3 packs from what I purchased and share the results in this article itself. Let's go for it.



I guess my luck was not very bad in opening the above packs. As I said, I'm not going to open all the packs in one shot. Another reason for that is because I would like to increase my skills a bit before I get ready for more fans. I think I already got enough fans and I'm not sure if I would have enough skills that would help me get more starbits revenue from the missions. If I have more fans and not enough skills, I might end up getting more ego which is not very good.
Let's hope the other 9 packs give me similar good cards as well. I will write about my card opening experience in the coming days.
---





---
Posted Using LeoFinance Beta
---