Travel the World of Postage Stamps - Palekh Art Miniatures - The Ploughman, I.I. Golikov (1924) - USSR, Soviet Union 1976 - Michel USSR 4521 - my hobby
---
Travel the World of Postage Stamps - Palekh Art Miniatures - The Ploughman, I.I. Golikov (1924) - USSR, Soviet Union 1976 - Michel USSR 4521 - my hobby.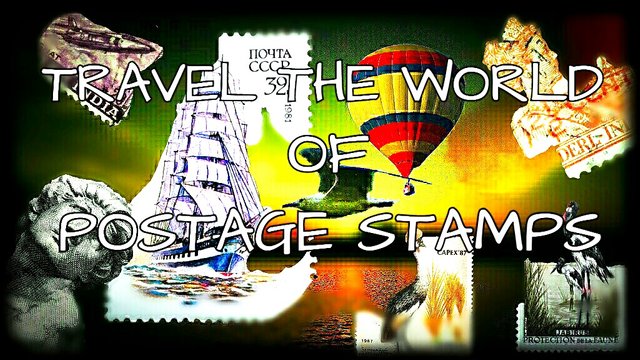 Greetings friends!
Our journey through the world of postage stamps continues.
For us, there are no boundaries, both in space and in time.
We are free to choose the direction of travel, but we always want us to take out the maximum of positive emotions, impressions and new knowledge from the journey.
Each postage stamp contains a huge amount of information, it all depends on how deep you are willing to dig.
Yesterday we finished completing a series of stamps Miniatures from Fedoskino, issued in 1977 in the USSR, which shows us the magnificent work of masters, artists who performed their work in the Fedoskino style.
These works were carried out on papier-mâché, or wood with oil paints, but the Fedoskino style did not appear on its own, it has roots going deep into history.
I propose to turn the clock back and visit the USSR, but in 1976 and see a series of postage stamps called Palekh Art Miniatures, which will shed light on where the Fedoskino style originated from.
Syria of postage stamps Palekh Art Miniatures, issued in 1976 in the USSR, begins with a postage stamp with a face value of 2 kopecks of the USSR, on which we see a miniature The Ploughman, I.I. Golikov (1924), in the style of Palekh.
Namely, Palekh miniatures gave life to the Fedoskino Style.
As in the Fedoskino style, Palekh style miniatures were made on wood and papier-mâché, but these were not oil paints, paints called "Tempra" were used.
Tempra consisted of natural ingredients based on water colors, chicken eggs and other fillers in the form of various oils. the finished work was varnished.
Palekh miniatures appeared in the small town of Palekh, where there were many talented people who glorified this town throughout the world.
This city was famous for its icon painters, which means that the Palekh style also has its roots and this is icon painting.
We can say that we plunged into history and business with our heads. Yes, I did not make a reservation, the ability to create such miniatures is a good and profitable business.
Yesterday, I said that fabulous creatures are the first manifestations, or people's dreams of a passive dakhod, and each fabulous creature, in essence, is a miner that brings income.
On a postage stamp, below, we see a plowman who follows a fiery horse, which, with ease and tirelessness, pulls a heavy plow.
We must pay tribute to the plowman, in most Russian fairy tales the main character lies on the stove and does nothing, spits at the ceiling, and the horse plows the ground.
Let's take a look at this postage stamp.
Description of the postage stamp:
Type: Postage Stamp.
Country: USSR, Soviet Union.
Subject: #Art, #Painting, #Picture, #Miniatures, #Fedoskino, #USSR.
Series: Palekh Art Miniatures.
Name: The Ploughman, I.I. Golikov (1924).
Denomination of a postage stamp: 2 USSR kopek.
Michel's USSR catalog code: 4521.
Episode release date: September 22, 1976.
Perforation: comb 12¼ x 12.
Postage stamp size: 52 x 37 mm.
Printing technology: Offset lithography.
Circulation: 6,300,000.
Estimated price for a clean postage stamp: $ 0.14 - $ 0.24.
Estimated price for a canceled postage stamp: $ 0.06 - $ 0.12.
Photo: original from @barski collection.
Canceled postage stamp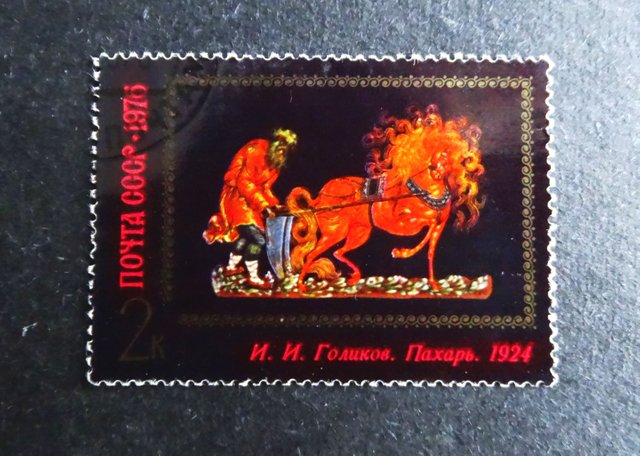 To be continued.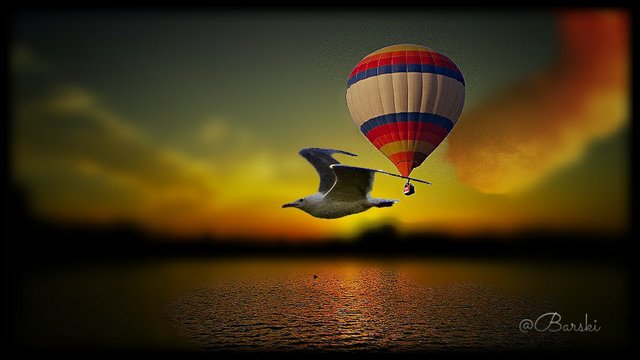 You can see the development of the story of my postage stamp collection on my Leofinance blog
I edited a photo in the program PhotoDirector, which I also installed on my smartphone.
Author @barski
Ukraine
For my publications, I do not use stock photographs, it is fundamentally important for me to use photographs that I have made with my own hands for publication and I can name them - authorial work.
You can go to our blog on the Hive platform by clicking on the bee.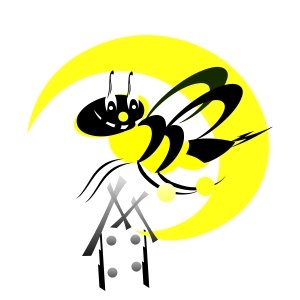 Posted Using LeoFinance Beta
---