Progress Report - August 2020
---
September 1st, 2020
Monthly Progress Report August
My monthly progress reports serve a couple of purposes.
The first one, and primary reason for doing them, is that it allows me to see where I have been, where I am going, and where I am falling short in my personal goals.

The second purpose they serve is to let people, new accounts and old, see an honest representation of an account built from scratch and not really knowing anything at all about cryptocurrency.
Monthly Charts and Tables
The Monthly Progress Report Table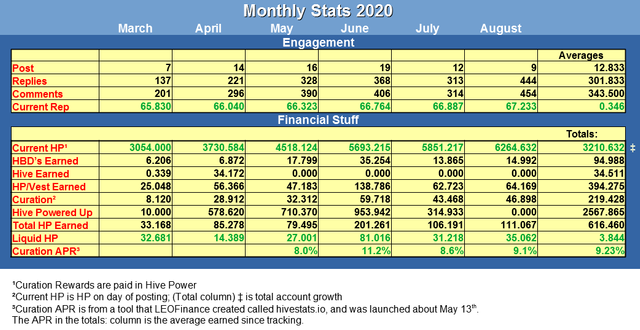 Since the beginning of Hive Block Chain with the airdrop, my total Current HP has doubled. This is a result of power downs and earnings. My steem power down ended mid month, so from that point on it is mostly earnings and conversions of other hive-engine tokens to Hive.
June was a pretty banner month for me earnings wise, but I was also much more active in posting. I am glad to see that HP earnings are on a par with last month even though I posted a little bit less. most of the earnings would have come from engaging on other post via comments.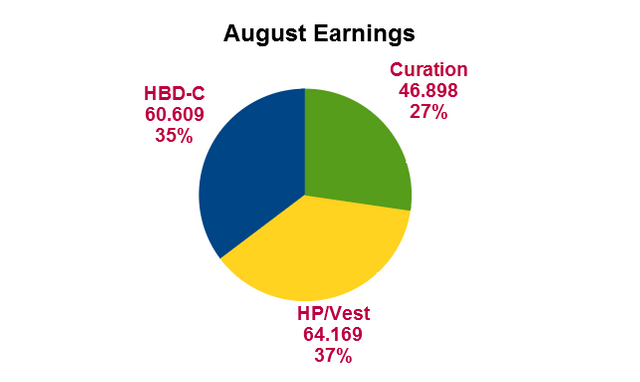 A reminder the HBD-C is a converting of HBD to Hive at current open market pricing. So that almost 15 HBD converted to just over 60 Hive. I do this so I can compare apples and apples not apples and oranges. A slight bit better on the curation front over last month, I am pretty happy with the how my earnings are coming in.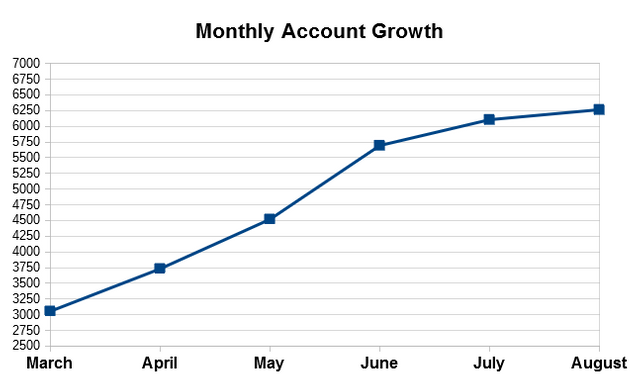 A slight flattening of the climb which was expected, the growth line has slowed now that all my steem has been converted to hive. Still a 100 plus growth of HP a month is fine, and I am pretty happy with that. As time passes that growth line may pick up.
Engagement Charts and Tables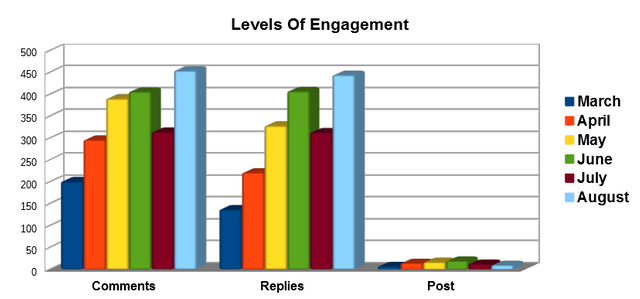 This information is derived from PeakD tools tab, and then entered into a spreadsheet I maintain on an almost daily basis, sometimes once a week.
I am hoping to be able to keep my current level of engagement up through at least the end of the year. I also hope to one of these months to return to the posting levels from June.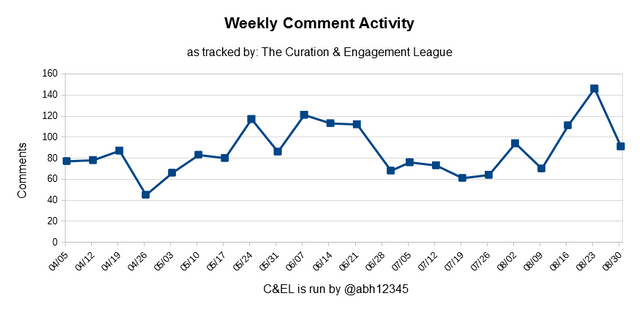 I asked to be one of the individuals that Asher, (@abh12345), would track in his Curation and Engagement League a couple of years ago. He does a compilation post of the activity of those that have requested. If you are interested in trying to track your own progress he a good resource for that. He also does a monthly script request for those that ask.
You get a nice variety of info on the Monthly script such as:
Number of Comments, Characters/Post, Characters: 462, 173925 / 9,29553

the difference in his comment count and mine is due to time zones and data pull times.

Your most commented on post
Most shared post
and this one Your average vote weight (to the nearest whole number) in August was 26%. which i have yet to find anywhere else.
That is just a few of the things he provides, you can see on my script report from him all the information he provides and back track to his original post https://peakd.com/@abh12345/re-bashadow-qfzpnm, if you are interested in knowing how your month went. You do not need to be on his tracking list, if he has time he will do a data pull for you.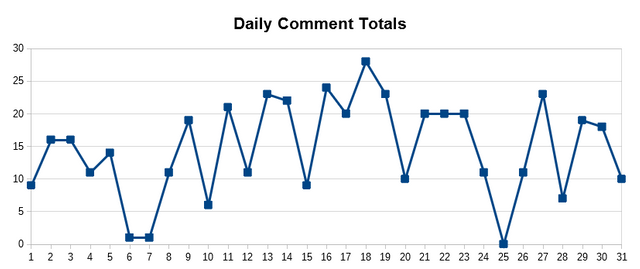 As you can see in August I did have a couple of days with less than 5 comments, and one day, (last Tuesday), with zero comments.
Daily comments is a number that I have been following closely lately and I am trying to get the line bouncing between the 15 and 25 count line daily. Part of the reason is in the next chart, but a lot of it is because I do think engagement is a key to keeping new users active and growing on hive. Votes are great and fantastic, but after awhile new users are wondering where are the real comments, from real people.

In an effort to get more real comments out and about @galenkp and myself decided earlier this month to make a year end commitment to increase our commenting and to show people that they do not need to fear dropping a relevant comment to a post, and then follow on comments if the post author engages back.
Prior to my commitment I had always tried to get at least ten comments a day out, I am finding it rather difficult to double up on that number to 20 a day, so my goal of 20,000 may not be reached, but I am still going to continue to try.
Conclusion and side notes
Along with
PeakD
and Asher and his
curation and engagement league
(8/30/2020 post) I also utilize Leo Finance's
Hivestats
page to obtain my curation APR, so far a unique offering from them, and to also check on other statistics.
The other day I ran into a post from @thekittygirl that is running a contest about stats pages similar to steemworld from steemchiller, Contest post from her, and one of them she mentioned was https://hiveworld.app/, since I was unaware of it, and know many people miss steemworld I thought I would share her post and hiveworld link. Remember to always be cautious with your keys
Well that pretty much sums my month up.
---
Related Progress Links:
---
Tiny Picture links back to my blog:

---