Progress Report - July 2020
---
August 1st, 2020
Monthly Progress Report July
My monthly progress reports serve a couple of purposes.
The first one, and primary reason for doing them, is that it allows me to see where I have been, where I am going, and where I am falling short in my personal goals.
The second purpose they serve is to let people, new accounts and old, see an honest representation of an account built from scratch and not really knowing anything at all about cryptocurrency.
So on with the charts.

The Monthly Totals Chart: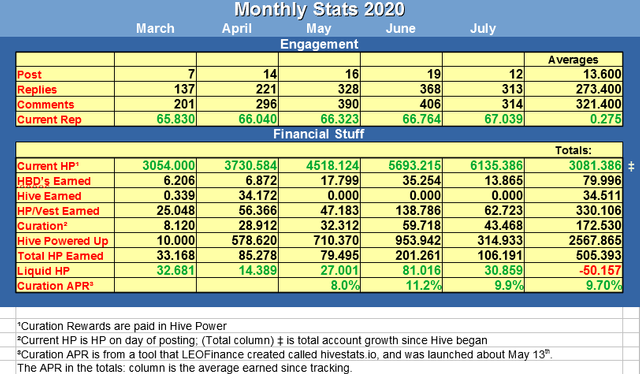 Reputation Level

August is the month I joined joined so it was my three year anniversary and I was very pleased to see the amount of comments on my post yesterday and also very happy to see that it put me up to the Reputation Level of 67. I became a member of the steem community at about 5:30 PM Alaska time on July 31st which means about 1:30 AM August 1st UTC time.

Current HP

With the power down complete of Steem, I was pleased to see that my starting Hive has pretty much doubled. Going forward total account growth will slow, however by my one year anniversary on Hive, March 2021, I may be very close to 10,000 hive and that would be great.

Hive Powered Up

My Steem power down is complete. This will effect the amount of monthly Hive powered up. That was to be expected, and will be noticeable next month, still with the 314.933 for the month I am very happy with that, and fully expect next month to be significantly less.
Where the earnings came from for July: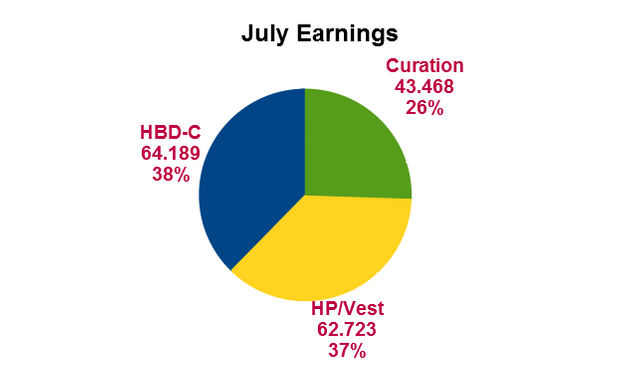 Not to bad, 25% curation earnings I think that is pretty good. The HBD-C section is HBD rewards earned, and converted to Hive at rate today. Not 100% accurate as the price of HBD to Hive changes a lot throughout the day and over the course of a month.
As mentioned above you can see by this chart how much my account has grow since Hive began.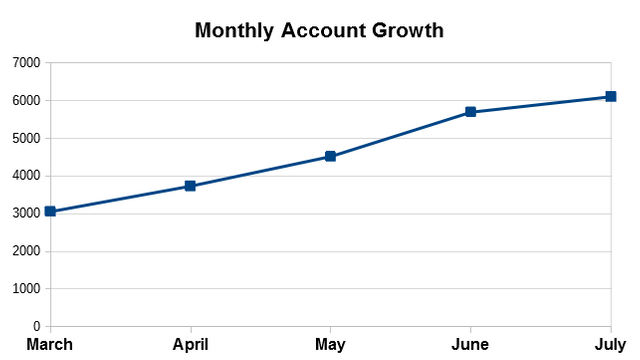 ---
Engagement Rewards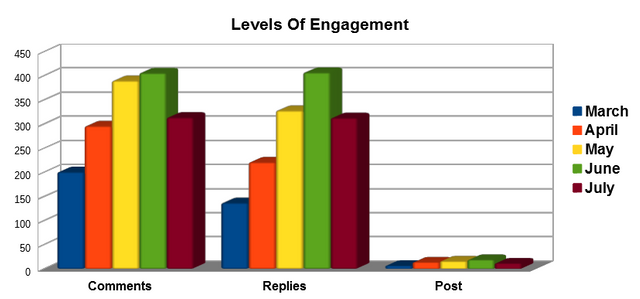 I obtain the information above from PeakD tools page, every couple of days I would enter the information in my spreadsheet
---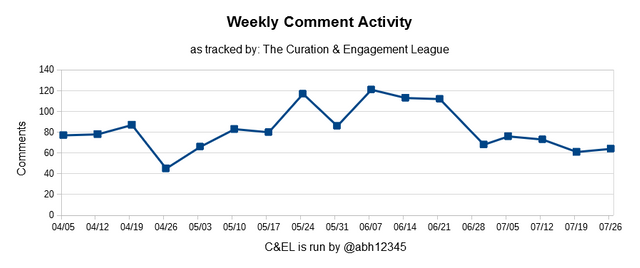 This chart I will likely be adding to. This chart is derived from @abh122345 Curation and Engagement League weekly post. It is not specific to the month but for the entire time from when things settled down in transition from Steem to Hive. My goal is to try and maintain an average of ten post a day throughout the week. I fell short a few times, and had some real chatty days at other times.
Joining the C&EL is not so much about the rewards or of comparing yourself to others, (at least not for me), it is a tool to see where you are, are you meeting your own set goals? I fell a little bit short in July but still was pretty close. Comments are only one part of the tracking.
One of the other services that Asher offers is a monthly activity report via script, Your Monthly Hive Report 📝📊 - July 2020 is this months post, so if you are interested just drop a comment on his post.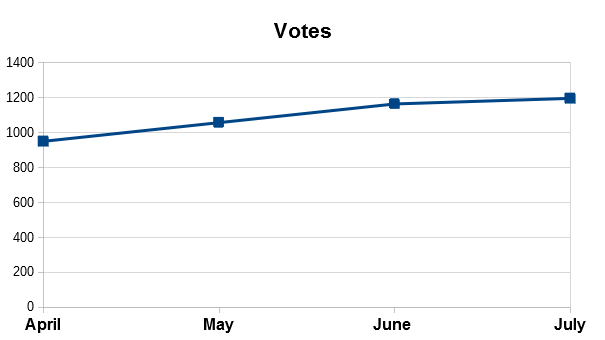 I have all my vote information available on the C&EL weekly post, but for an over-all view the monthly script by Asher is easier. No March information due to the transition phase from Steem to Hive and databases being switched over. I like how my ability to cast meaningful votes has improved with my account growth, I am now able to reach out cast a few more votes. I have been able to lower my overall vote percentage and still give out the same value vote. I went from 35% in April to a 27% vote value in July. I expect it will be stable at the 27% level for a little bit.
Conclusion:
Overall not a bad month, I did get a few exceptional payouts, I was able to maintain my comment levels, and my voting was also stable. Next update is scheduled for around the 15
th
, and at that time I will re-evaluate if I want to continue with the mid month report or not. I did/do enjoy the weekly reports, but felt that was getting to be a bit much, so moved to a Monthly/mid-month report system.
If you have questions feel free to ask, they do not even need to be specific to the post, as long as they are not rude, i will try to respond.
---
---
Related Progress Links:
*
Progress Report - March 2020
---
Tiny Picture links back to my blog:

---