Progress Report - March 2021
---
April 1st, 2021
Monthly Progress Report March
My monthly progress reports serve a couple of purposes:
The first one, and primary reason for doing them, is that it allows me to see where I have been, where I am going, and where I am falling short in my personal goals.

The second purpose they serve is to let people, new accounts and old, see an honest representation of an account built from scratch and not really knowing anything at all about cryptocurrency.
One year now of Hive, it has been a pretty amazing trip.
---
Monthly Charts and Tables
The Monthly Progress Report Table:


So one year ago on April 1st I had 3054 HP. Today 8180, a 5126 increase, granted a lot of that was from closing out my Steem activities and wallet, still my year end earnings was just under 1178 HP, and with the last three months of just under 346 HP, so 1524 HP earned for the year. Slow growth, but for my activity on Hive, not a very bad growth rate. So about 125 HP a month in earnings. I hope with the price increase it will stay that way, but unlikely.
So where did the earnings his month come from? My simple Pie Chart: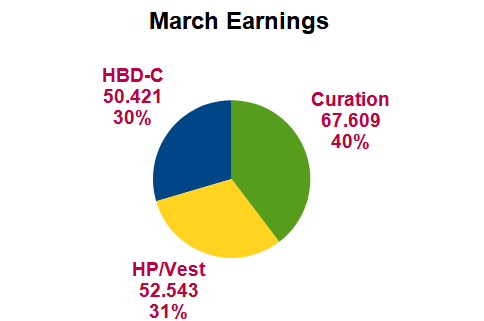 So a few things to note, we have had a few spikes in price, sort of a semi nice stair step rise in Hive Price, and then the spike in HBD, I use today's HBD conversion for my chart so that may be off a little bit but close enough. I am back to almost an even split on where earnings come from, though It seems I was pretty lucky on curation this past month.
Monthly Account Growth: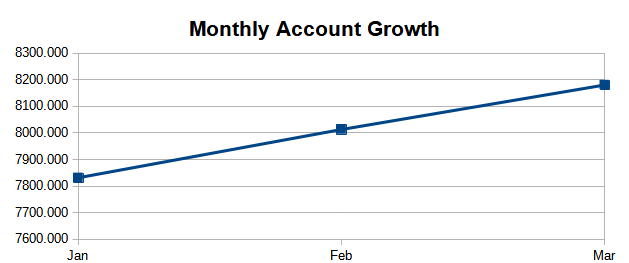 I did not like how the chart looked last month so I removed all the zero future entry months and will now just add the months as they finish. So an increase of just over 345 HP earned and a bonus 6 that was a gift for the year so far.
That is pretty much the money side for last month so on with the engagement side, and it is pretty important, because a lot of the account growth is based on not just postings but on engagement on other post as well.
Engagement Charts and Tables: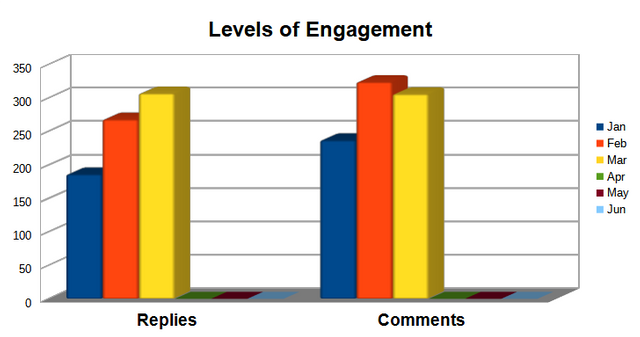 On the commenting side I was a bit slow in March, but I think it will pick up again or I may just be at my personal comment level. One of the things I liked about this month is the balance of replies, yeah I know some of them were bot comments, but still it was nice to see the balance between the two.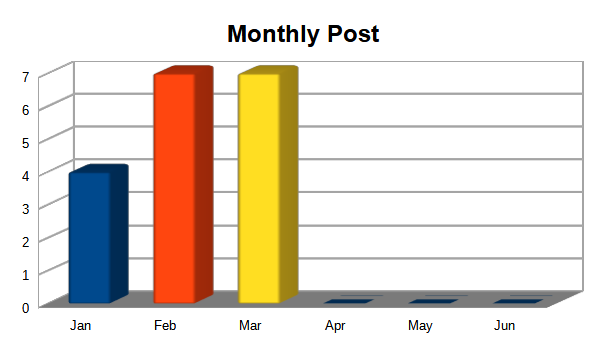 We had a pretty odd March, in that I think I had as many Driveway Saga post as in February. We still have a lot of snow on the ground and it is finally beginning to melt back some and warmer weather is coming, just not fast enough. I may have to go to the green house to take flower pictures because we are still a long way from the flowing phase of Alaska.
As always, I hope to be able to get a few more post out than I have managed in the past.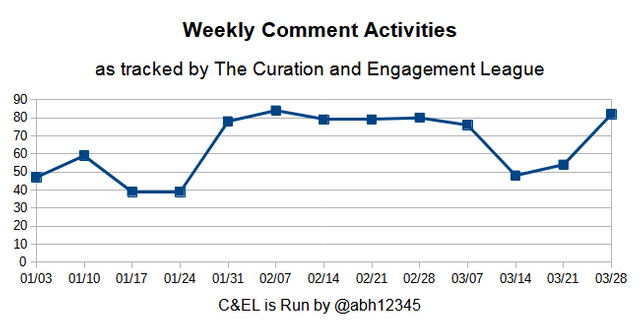 Well after the doldrum month, I seem to be a bit back on track as far as commenting goes. Hopefully I will be able to stay on track and keep my comment levels up around the 80 mark or higher in the coming weeks.

As you can see a lot of days below 6 comments a day and a couple days where I evidently was busy or just did not feel up to snuff for sociable commenting. I hope to pick back up, but we all have those days and sometime weeks of just not being up for it.
On March 20th I finally reached my goal for year end last year of 20,000 comments. Not sure how this year will go, but I do enjoy a good post and I do try to leave a comment when time/brain allows.
---
Conclusion and side notes:
March was an interesting month. The first half of it in Alaska was the snow, quite a bit of it, and then the one year of Hive. It seems that having passed that first year people are beginning to see it was not a joke and the real people of the community are building an inclusive place on line for everyone everywhere, and all types of users.
The focus may still be somewhat narrow for some but that focus from the developers is beginning to envelope a lot of territory. the foundation is being solidified, and I think the world is beginning to see we are not just a bunch of people making vaporware.
If you are new to Hive Welcome, if you are returning, Welcome Back. Things are and have changed so enjoy.
---
---
Related Progress Report Links:
---
Tiny Picture links back to my blog:

LEOFINANCE
HIVECOMMUNITY
HIVE
ENGAGEMENT
PROGRESSREPORT
ARCHON
OC
---