Is it better to buy Rift Watchers Gems now or later?
---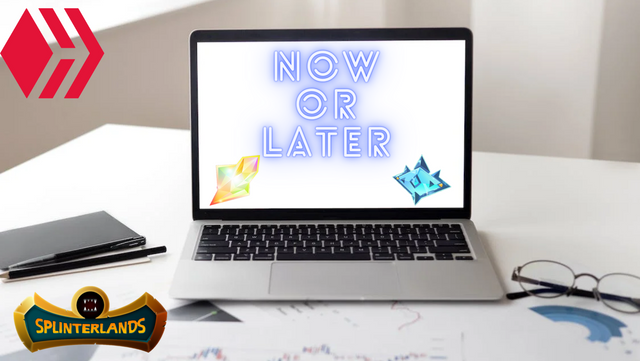 At the time of writing, there are 2.34 million Rift Watcher Gems for sale and according to the schedule, after every 500k purchases, a new monster will be released. We've actually not gotten to that point yet and judging by the pace of sales, I don't think we'll be having rapid sell outs.
Predicting the trading pattern of Splinterlands assets is a daunting task because of the number of variables involved. One minute you think an asset will sell out rapidly and another minute, things slow down.
A major part of the weirdness in the price of Splinterlands assets could be traced to the impact that the general crypto market has on assets. When Bitcoin moves, things tend to be somewhat shaken up in Splinterlands.
I'm not here to comment on the impact of the general market on Splinterlands assets because I can't figure out if it's good or bad. However, I know for sure that trading patterns within Splinterlands are definitely affected by the state of the market.
For example, Bitcoin's volatility in the past couple of weeks has most likely derailed the path that the price of SPS would have taken. At the time of writing, we have SPS trading around 8 cents and slowly dropping due to Bitcoin's recent dump.
Could I have waited for later?
This drop in the price of SPS also means that paying for Rift Watchers Gems will require more SPS tokens and that's something that I reckon investors will not like. Personally, I'd avoid anything that'll make me use up all my SPS tokens.
At the time of writing, about 40% of my total SPS holding was pushed towards buying Rift Watchers Gems. This would have been considerably less if we were in a bull market and that has me wondering whether I even should have splurged at this time.
Looking at the pace of Rift Watcher Gems, I kind of feel like that I jumped the gun a bit by buying when SPS was valued closer to 9 cents. I feel like I could wait till a much later date to buy these gems in a different time.
The way I see it, the gems aren't going anywhere anytime soon because while people are excited about the monsters in them, I don't think there will be any mad rush.
After so long in the wilderness, it is only a matter of time before the crypto market experiences some relief and I think that would have been a great time to buy SPS tokens.
In a bull market, we'll spend considerably less SPS tokens on Rift Watcher Gems. It's just basic maths and I think if we patiently wait, that will happen.
The way I see it, the Rift Watcher Gems will be on sale for a long time. There is still a bit over 5 million Chaos Legion packs on sale and like 2.34 million Rift Watchers Gems, which I reckon will take a decent chunk of time that could coincide with crypto market relief.
What's done is done
Anyway, it's too late for me now, since I've already bought the Rift Watcher Gems. I can't unbuy them and I definitely can't sell them for cheap on the secondary market, so I must keep moving.
My plan now is to slowly accumulate the SPS token that I invested into the RW gems and stake it all to earn more vouchers for the future.
The plan is quite simple; farm as many vouchers and SPS as possible while waiting for the future bull market. I'll then simply reinvest everything I farm into buying Rift Watcher Gems when the crypto market is bullish.
This play requires patience and is also dependent on the general crypto market. Hopefully, Bitcoin smiles on us all soon.
Posted Using LeoFinance Beta
---