Is the halt in GLX claim connected to Splinterlands layoff?
---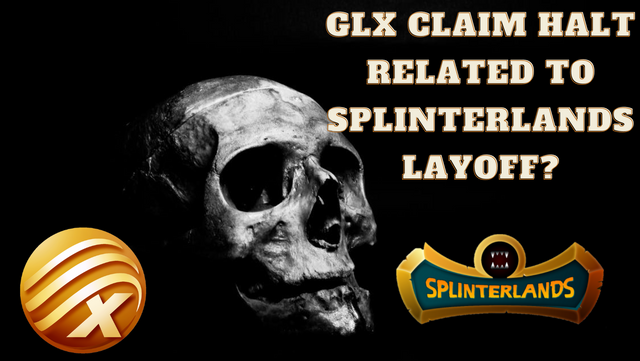 I have to admit that the current situation is worrisome but at the same time, it felt inevitable. The level of carnage from this bear market was inevitably going to be widespread and right now, we just have to learn how to take all the good with the bad.
It must have been a difficult decision to make but Splinterlands made the tough decision to layoff 45% of their staff due to the effects of the gruelling bear market. Just as they stated in the publication, this situation is not because they had funds in FTX but moreso about the bleed that the general crypto market is feeling.
To mitigate the hurt, the company opted to let go of a number of staff, including some community managers and other faces that we have grown familiar to. It is an unfortunate situation and my heart goes out to everyone affected by the decision.
The funny thing is that I could easily have been one of the staff that got fired if my job application got accepted. Losing your job really sucks and I wish the staff that got laid off the best in their careers.
GLX hump
It has been roughly 24 hours since I last claimed GLX token and it doesn't seem like I'll be claiming tokens any time soon, as the claim button doesn't seem to be working.
We're still seeing the GLX tokens number going up in the staking page, so we can take consolation in that. We're all still farming GLX but we're not able to claim or stake more GLX.
This situation means that the APR will effectively be constant as there will be zero net additions or subtractions from the pool. The only GLX that you can access right now is the GLX you had liquid since the issue started some 24 hours ago.
I hoped the situation would have been fixed by now but we still haven't gotten word about it. I wonder if the GLX situation is related to the Splinterlands staff situation.
Now this is just speculation, but considering that Splinterlands is somewhat responsible for the Genesis League Sport project, is it possible that this halt in claims is related to their laid off staff?
I doubt Splinterlnds will actually lay off the devs responsible for managing codes and all that tech stuff in the background but for conversational purposes, let's say they laid off some, could the GLX situation be related?
I mean, assuming you're laying off staff that have access to back-end codes and whatnot, it might be wise to shut down some aspects of the project to protect it from anyone with nefarious inklings. As I said, it's just speculation and should not be taken as fact, I'm not laying any accusations on anyone because as far as I know, Splinterlands staff have operated with integrity.
No need to panic
The situation is quite unfortunate and I'd completely understand if there were rage quitters. However, with the general crypto industry facing an existential crisis due to the domino effect of the FTX debacle, being unable to claim a token seems like a fart in the wind.
According to Peakmonsters, my deck value experienced a marginal drop in value in the last 24 hours, indicating that perhaps there haven't been that many rage quitters. Also, the price of SPS token has continued to stagnate at 4 cents, meaning that investors haven't lost confidence or at least haven't lost more confidence than before.
GLX tokens have been trading in a familiar pattern, hovering between the 25-30 cents range. The market makers and takers don't seem to be deterred by the situation, as the token continues to trade at this impressive bear market price.
Anyway, thanks to the situation, there won't be more liquid GLX tokens in circulation, so I guess speculators could take this opportunity to aggressively pump the token towards my $1 dream.
I try to give the situation a positive spin because Splinterlands has been consistently creating value and upgrading the game. Even in the face of this gruelling bear market, the project has promised to continue delivering updates, and reaching targets in the roadmap, and that's what you want to hear from any project you're invested in.
I obviously have no intention to quit now or ever, for that matter. I'll stick with the Splinterlands project through this difficult time, and support the project in any way I can.
Things may look bad now but trust me when I say it can get much worse, we just have to rough it. However, the sun will shine on our bags one day and when that day comes, we will reap the dividend of our patience.

Posted Using LeoFinance Beta
---