My financial goals for 2021
---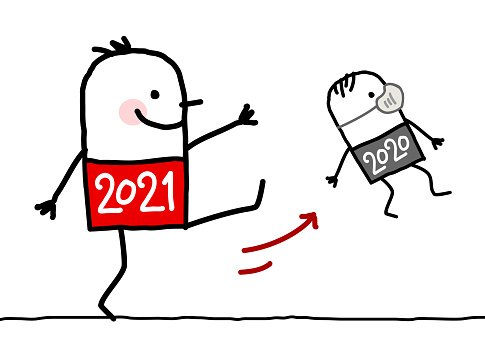 Last year was thrilling, so say the least. It was a year filled with a lot of unexpected events that affected every aspect of my life but overall, I'm just glad to be alive. I know a change in the chronological calendar won't automatically fix all the problems but at least gives a refreshing feeling and one aspect of my life in dire need of refreshing is my finances.
Right before the economic virus kicked into full gear, I took a calculated risk with my school fees that have paid off handsomely. I mean, there were times I was shitting bricks but after making a few moves, particularly with buying up lots of Leo and then investing in Splinterlands, I found myself in a long green patch that won't be receding to red anytime soon.
New Year, old me
This year, it is going to be more of the same in terms of investment and growing my crypto portfolio. I'm going to keep on putting in the work by writing articles daily, stacking and staking as much as I can to grow my portfolio.
This year, just like last year, I'm going to hold fast to my Hive-ish ways and the bulk of my investment will within this blockchain. I'll also dip my toes in a bunch of projects with a prospect out there. I've already benefited from Rune, AAVE and Vite blockchain so far, so I'll be increasing my stake in these projects and also looking out for more opportunities out there.
Savings
I'm going to trim down my recurrent expenditure this year and focus on the necessities. There will, of course, be the odd splurge but that will be calculated and very very NOT spontaneous.
My goal is to save as much as I spend, so I'll be gunning for a 50:50 split between both ends of expenditure to improve my financial position.
Spending Investing Savings
I'm not going to save till infinity because well, I won't live till infinity but I won't spend the saved money on things that don't promise some form of a dividend in the future.
For that reason, I'll be putting my savings into projects that will earn me some profit.
Outside of investing in cryptocurrencies and Fintech based projects, I'd like to invest in a physical business either owned by me or otherwise. As I said earlier, I want to dip my toes into every possible avenue of earning funds and take me to the next level.
Something Tangible
Investing in a business with a physical presence will be a hard swerve for me because I don't have experience in that area. My only foray into that neck of the woods didn't turn out well, and so I'm a bit sceptical but I'm not going to let that deter me.
My epic fails in 2018 thought me a lot of things about managing a business and the losses I accrued during that short stint at managing a computer centre/Computer and phone accessory retailer/AutoCAD tutorial will be at the top of my mind. I won't operate in fear but as a person aware of the fact that things could go down the toilet in a flash.
Selling drinks
My plan is to put money into a small scale business, and the one at the top of my mind is opening a drink shop. I would like to rent a small space in a nice neighbourhood where I can sell different types of wine, spirits, beer and soft drinks.
I don't want it to be a bar, so people won't sit out to drink at the shop but I could keep a few seats for some esteemed customers.
Sewing Shop
Another interest of mine is investing in @wolfofnostreet's venture into tailoring. She's an immensely talented tailor and makes nice dresses that get great reviews.
She intends to go hard in the sewing business by making bespoke clothes for customers and I think it will be a very successful venture.
The plan is to start from her room and make them clothes. Later in the year, when we should be married, we'll like to rent a shop and go supercharged on the sewing.
More Words
I'm going hard on my writing as well, and to improve, I'm going to read a few books and stuff. I started a book some months ago that I haven't been able to work on because I always lose interest in long term projects.
This year, I'd like to officially publish that book. It is going to be a science fiction, mind fuckery type of novel that could fit into an episode of Black Mirror.
Get a Job
Finally, I'd like to get a lecturing job at a reputable institution in Nigeria. The salary I earn from the job will be used to pay for food and all that stuff.
That salary, as shitty as it may be will enable me to reinvest all my other earnings into all my business plans. Right now, I've written out applications to four different schools and I'm keeping my fingers crossed. I would totally love to put all these degrees to work and lecturing is my best bet right now.
Hopeful heart
I hope everything works out at the end of the day. You can plan all you want but you also need that bit of luck and I'm banking on faith to sort out that side. I'm not a good Christian but I try to be a good person, so hopefully, God, Allah or Buddha could fix it for me.
Please check out my Freelance gigs:
Signup for Oropcket with my referral link
Contact me

Posted Using LeoFinance Beta
---