SPS getting listed on Crypto.com is just the beginning
---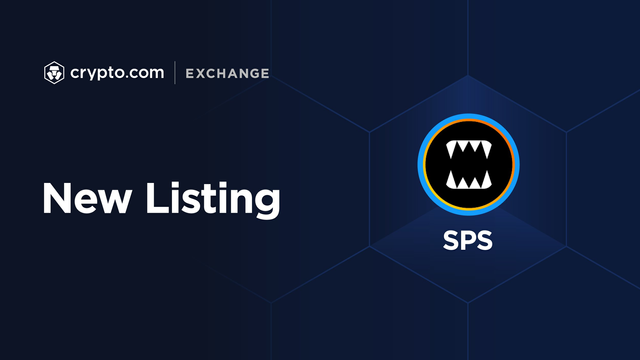 I've often talked about how I view SPS token as the most powerful token in Splinterlands. This recent listing by Crypto.com is indicative of the move to push this token into the spotlight.
Many are predicting that SPS token could indeed become the next AXS. While that is a nice thought, I hope the token has its own identity and does not get lumped in as another game token.
Anyway, it is actually a governance token of a game. It is one that has come with a lot of excitement and the announcement of this listing will further enhance its standing both within and outside the Hive community.
Crypto.com is one of the biggest exchanges in the World. They're up there, competing with the likes of Binance, Coinbase and the likes. They're so big, they'll be one of the sponsors of the world cup in Qatar later this year.
These kinds of listings often lead to a token receiving more exposure. For SPS token, this is a refreshing development because there's been some quiet on the development front.
Personally, I'm hoping this could lead to a solid and sustainable pump that lasts for a while. I know it is a lot to hope for but if we manage to get to 50 cents range and sustain that value for a while, that would be peachy.
At 50 cents, the total market cap of SPS tokens will be just shy of $340m and considering how valuable the token truly is, I think that is a fair valuation at this point.
If we actually get to 50 cents per token, that would be a really nice avenue for me to raise funds for my future endeavour. It is all wishful thinking now, but it's not impossible.
Buying packs and reinvesting
I suspect that any monumental pump in the value of SPS will see some of the value trickle down into other aspects of the game. I believe that the interconnected nature of various assets ensures that the value always moves around seamlessly.
For example, considering that SPS is still airdropped daily and the airdrop points are derived from various NFT assets including monsters, there's a strong possibility that we'll see a rise in the general value of monsters.
Other than that, I also expect that DEc, the token that I've maligned for quite a while will also experience a little pump as well. This is also because DEC is integral in your daily earning of SPS tokens from the airdrop.
Generally speaking, when SPS pumps, everybody gets to eat because all roads currently lead to the governance token. This means that regardless of where you decide to set up camp in SPlinterlands, you're going to be benefiting from the potential pump that comes from the listing but some people will eat more than others, naturally.
Personally, the potential of a major pump in the value of SPS means I'll have more funds to invest in packs and bolster my chances of getting the incoming airdrops.
So far, I've added another 110 Chaos Legion packs to my collection, getting my total to 791 packs and at least another 210 packs on the way.
At the time of writing, I hold 150 packs after caving into my desires and opening like 20 packs yesterday. It turned out to be worth the stress because I ended up with a gold foil legendary.
Anyway, if SPS pumps vigorously, I'll swap a small stack of SPS tokens and invest it into buying packs. If I manage to scrape up $1k out of the lot, I'd buy 275 packs(including 25 bonus packs from vouchers). That would be a real coup for me and a big step in my development in the game.
It will also be my last major crypto investment activity until further notice. I intend to liquidate a decent chunk of my crypto portfolio to sort out an emergency need in my life, so I can't afford to put more in.
For now though, it is all speculative and I'm just hoping for something that may or may not happen. In any case, I'm still very confident in the long term success of SPS tokens and whether it comes now or later, any major pump in the value of the token will see value trickle down across virtually every other asset in the game as well.

Posted Using LeoFinance Beta
---