Thoughts about selling vouchers, buying packs and crypto expenses
---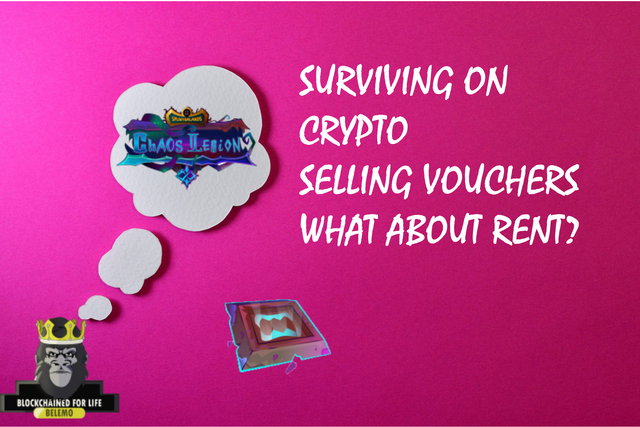 There's always a decision to make, and whether you like it or not, you have to make the decision, or else you won't move forward. Right now, I'm stuck in between a Waka and vouch place.
The big news about Splinterlands' marketing partnership with Waka Flocka has been met with mostly positive reviews. The announcement of the price also led to a small bump in the value of both vouchers and SPS tokens.
In case you haven't heard, the official price of the Waka Spiritblade summoner is going to be 500 VOucher + 5000 SPS. This is a steep price for most people and the chance of us average joes getting it is very slim.
Instead of being down about it, I figured I could just do something else with the situation. I figured that I might as well cash in on the few vouchers I have now, then send the funds into the credits that I'm accumulating.
As I've said on a couple of occasions, my plan is to buy another 500 packs, so that $2k has to come from somewhere. For now, I'm accumulating the funds the only way I know how to, and that's through straight-up grinding.
I honestly don't know any other way and while it is a slow process, it has worked for me over the years. of course, this approach requires a lot of planning and stuff but it's working.
So, with that in mind, I decided to sell the few vouchers I have in my possession. It added $40 worth of credit to my collection. So, I took a small step towards my $2k target.
At the time of writing, I've been able to stack accumulate $340 worth of credit. I am still verrrry far away from the target. I should be getting to $400 before Sunday and then when my 50 Hive power down comes through, I'll convert it to credit to get me closer to $500.
Getting a quarter of the way is pretty huge to me. Seeing my Credit stock rise with each passing day pushes me to do even more.
If only I had more time
I don't consider anything to be beyond my reach, all I need is time and opportunity. For the Waka spiritblade, it is, unfortunately, a load too much for me.
The funny thing is that I have over $2k worth of HBD in my savings but the official plan for that one is to get it to 10K before the end of the year. I'm going to need intervention from Jesus to be able to reach that target.
I'm really betting big on Splinterlands when you think about it. I've already spent about $2k on packs so far, and I'm about to place another $2k bet. The first $2k was on cards, the second will be on packs that I'll just hodl.
Assuming I had just converted these funds to HBD and put them into my savings, I'd be up to $6k in a short time. That will offer low-risk monthly earnings of around $60 per month.
There is also the little matter of our house rent that we're accumulating for. I'm doing everything possible not to pull out from my savings, so that means I have to accumulate the only way I know.
Last year, we paid our rent for about $800 but at the current exchange rate, we'll be paying around $720 this year. If the currency continues to plummet, we'll most likely be paying rent of around $700.
Our rent expires in July, and while that may seem like a lot of time, these things have a way of creeping up on you when you relax. So, I'm also saving for that one as well, from my daily crypto earnings.
I was originally saving for a PS5 by sending 4HBD a day to my @arsenal4life account, so I've decided that half of everything I send to the account will now be for rent. There are still about 150 days before the rent is due, so I'll be fine. Oh and my wife is chipping in with about half of the rent from her own HBD savings, so we'll definitely be good.
Time is my most valuable asset right now. All I can hope for is to stay healthy and consistent, seek out more opportunities and hope that my stars align.
Contact & Support

Posted Using LeoFinance Beta
---