Work space improvement paid with crypto profit, more staking, and weekend cool down
---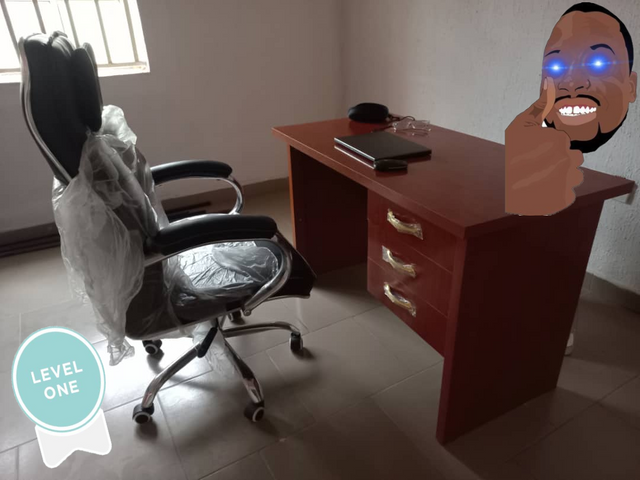 So after weeks of deliberation and planning, I've finally gotten myself a decent workspace that I can be proud of. It is as spacious as I'd want it to be and will enable me be more productive.
I went to the market with the hope of checking multiple stores before making my choice but I actually hate spending time in the market and I think I got lucky.
I parked at one store right on the road to enquire about the equipment I need and the lady at the shop showed me her stock. She had a no-bullshit approach to selling and didn't even give me the option of haggling.
The total cost of the chair and desk was 90,000 Naira or roughly $180. I checked at a couple of online stores and the price was pretty much the same.
Staking and back pain
I've been having back pain due o my previous setup but just a couple of hours working with this one and I can already tell that I'll be fine. @trumpman already reminded me of the dangers and while a disability cheque would have been nice, we DON'T have that shit here. If you're disabled, you hustle like everyone else to make our daily bread.
Spending $180 to improve my work is a fair price to pay and once again, the entire sum came from my proceeds. I've had to sell a reasonable portion of my profit from blogging but that didn't stop me from staking.
So despite taking profit for my life, my Leo stake has risen to 5559, POB stake at 436, Cine at 1668, and CTP at 1636. I've also been piling up a bunch of other tokens like SPT because of the SPS airdrop, and Neoxag because I like how the name sounds.
On top of Hive-engine tokens, I've also been making strategic purchases in Splinterlands, Cub and a couple of other tokens that offer staking rewards.
My mode of operation is pretty simple, no matter how much stuff I have to settle in life, I ensure that I increase my stake. I think about staking like a sort of savings that will come in handy in the near future.
Improving efficiency
So what better way to improve the efficiency of my activities than increasing my stake around here. Still, on the topic of efficiency and workspace improvement, I added some eye protection to the fray.
I and @wolfofnostreet saw this place online and picked up the glasses. My wife will make a post about it in the near future and I'll edit this article with a link to her article.
I started noticing some discomfort from looking at my screen for too long, so I figured getting one of those anti-blue light glasses would help. It largely feels better and my work experience has improved.
Level one Seller
It's a weekend, so I'll be taking it easy, as I'm still adjusting to my new life and place. The past two months have been very hectic, so settling in is a priority.
In between all the moving around, house searching and all, I've also had to work because money is important. My Fiverr gig has felt the effect of this slide but thanks to a recent job, I finally became a level one seller.
Getting a higher level on Fiverr comes with more responsibility and standards to uphold. However, I'm certain that I'm up to the task and I'll keep pushing till I reach the top of the ladder.
Thank you to everyone that patronises me and shared my gig. I couldn't have done it without you.
It's a weekend, so I'll like to take life as easy as possible but that doesn't mean I won't be working. My body is in pain because of the gym we started going to but it's all part of the process. I feel alive and ready to get paid.
Please check out my Freelance gigs:
Contact me

Posted Using LeoFinance Beta
---