Is Crypto The Issue? Or is it This?
---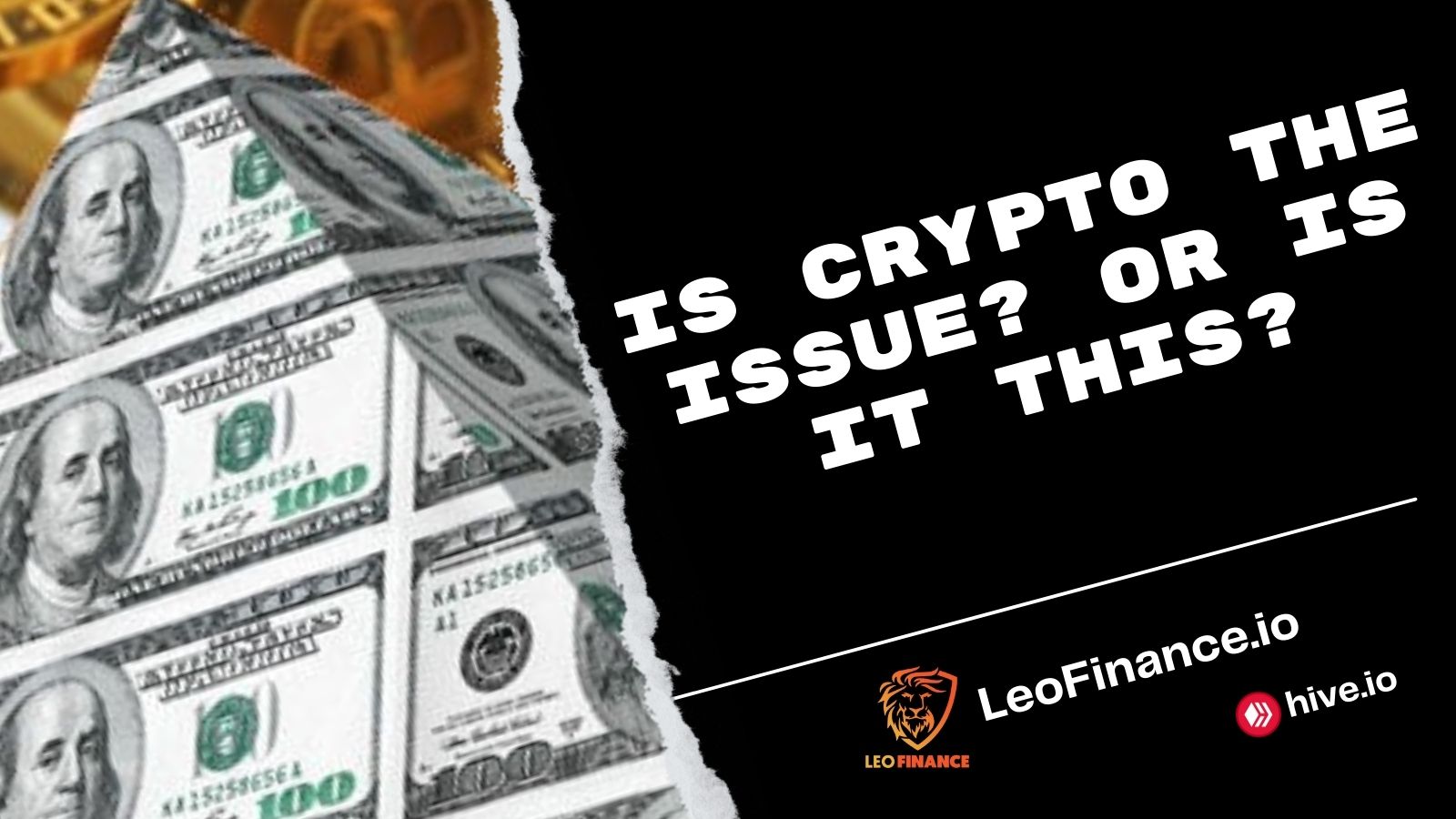 Is Crypto The Issue? Or is it This?
Lots of news continues to come out including China yet again calling crypto a Ponzi. In fact people on twitter throw this around wildly as well. If you're one of those people I want you to take a step back for a moment and look at the bigger picture. Is crypto the scam or Ponzi or is it in fact the systems trying to piggy back off of it such as DeFi, lending, NFTs and so forth.
Modern Day Lending
If you still think Crypto is the Ponzi well then wouldn't that make any Fiat currency even the USD which you use daily a Ponzi as well? The only thing that provides value to the USD is other people wanting it and the government constantly injecting new capital into it.
In fact everything would then be a Ponzi being that money has to come from somewhere in order to pay investors in all cases. This includes your banking system.
Those getting loans or other types of finances have to pay their loans to bring capital back in for those investing into a savings account to earn interest.
Another lender called Vauld just suspended withdrawals as well. This is a clear repeat of what happened in the traditional finical system during the great depression where there's a run on these lenders to pull out funds and they simply are not there. There's also no one to secure them and no on to bail them out. I hate to say it but you just have to deal with the punches when it comes to crypto. The issue is the masses wont and will now call for higher regulations which is going to drastically change crypto rolling forward in the next few years.
Unless of course a decentralized method can be found to regulate and control the system with it's users to prevent such scenarios from playing out again.
Regulations
It's clear to see that regulations and safety nets are going to be required moving forward. As much as I personally hate that idea it's the only logical step forward because 98% of investors and people simply throw their money around with no care and no research and just expect to become millionaires. What's worse is in the system that's been created over the last 20-30 years there is less and less responsibility for your own actions and people just expect their government to bail them out. It's quickly shaping this country into a government/state run system which you guessed it DOES NOT END WELL. For some reason human kind continues to repeat this over and over again and looking back through history in the next 50 years we should be repeating it yet again.
It might not seem like much now but every small move away from allowing you to keep your money and freedoms the closer we get to that type of world. The same one millions fought for and died for. Please take a moment and let that sink in this July 4th holiday and start taking responsibility for yourself and your own actions and building your freedoms once again.
Posted Using LeoFinance Beta
---