Passive Income On Crypto Splinterlands Edition
---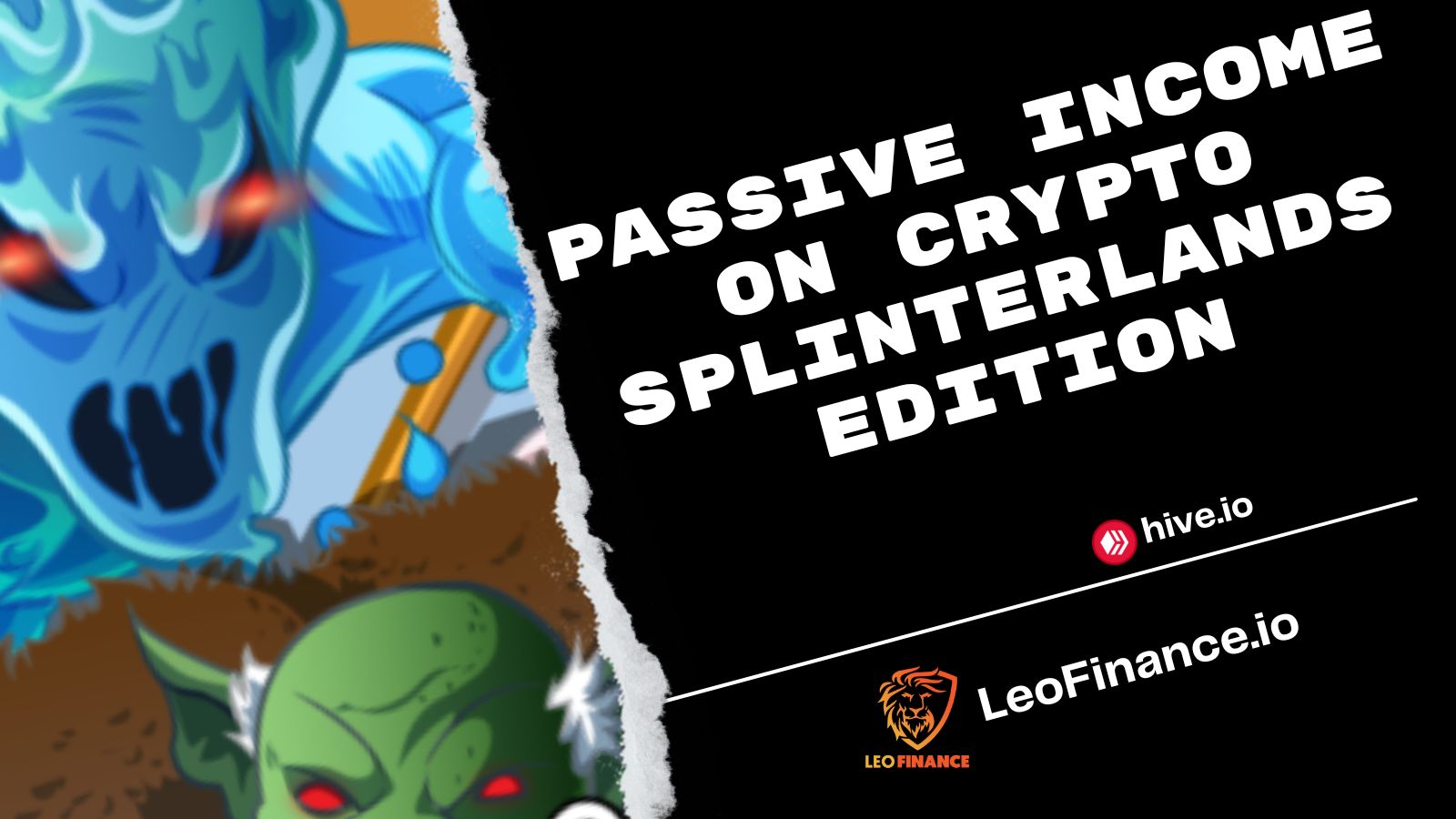 Passive Income On Crypto Splinterlands Edition
As we all know Splinterlands went through some restricting just like any smart business does in times like these. Sure there are some hurt people but one thing I learned long ago myself is a job is a job and it can be lost at any time. That's why you should always focus on bettering yourself and brings those skills fully to a job and you can find other areas of work after. Investing in yourself is critical. With that being said however this restricting is actully a positive thing. They where smart enough to take action while many other companies try and ride it out and ultimately implode from the expenses which crushes EVERYTHING. To me my hat goes off to them for being smart enough to take action so the game can survive and more importantly thrive.
In this article I'm going to go over the many ways you can earn passive revenue with the crypto game Splinterlands
Let's get this out of the way fist. *This article is for entertainment purposes only and is not financial advice.

Airdrops
We all love airdrops right? Everyone gets all hyped up about them constantly even though many fall flat. However Splinterlands has in my opinion done a rather good job with this in provide long term value and demand for those assets in order to get more of the airdrop.
SPS can still be earned however it's not so much airdropped anymore as it is owning assets and playing the game now. Things like owning land, playing battles and playing in guild battles will earn you the SPS governance token.
However this SPS token is now airdropping another token at the moment called GLX and the demand for it has been pretty high. Sure it's lost some value but that's mainly because the hype died down, there's no card pack opening yet and there's no game yet. So sure it's not going to fetch a lot of demand right now but when opening packs and the game do launch I can see GLX rocketing in price again as new players pour in. That means right now owning SPS to get GLX could be a double positive at these prices.

DeFi
I guess you could call Splinterlands GameFi as it has a number of parts in it that make it a very powerful platform. That's what I love about Splinterlands it has more then one method to generate revenue and it could be as passive as you want or as active as you want. It pretty much fits everyone.
Currently Splinterlands has 9 total DeFi pools in which you will earn SPS rewards for contributing to those pools. At the moment APRs range from as low as 6% to as high as 64% and of course these rates can change at any time as people add or remove funds from the pools.

Card Rentals / Other Rentals
Card rentals are a ok method to earning passive income right now on Splinterlands however I believe later in a few month this will become a bigger thing as people start to put lands to work and need the NFT to work those lands.
Which brings me to the next thing. Lands from the sounds of it will also be able to be rented out. That means simply owning land and having someone else work on them will provide passive income. But if you put those lands to work yourself and create the basic resources or craft up into spells etc you can most likely build a rather strong passive income from this as well. This is going to be something I will be closely watching myself to see how much production gets pushed out. It's going to be interesting to see if there's too much or to little for the player base as it grows and changes and is going to add a unique method to the game.

Licenses
I left this one at the end as I'm not big into it myself. However you can buy Licenses for nodes to run the game which help support the game and the decartelized aspect of it. Right now they have no purpose besides earning some airdrop of vouchers and SPS. Perhaps at a later date this might be a good investment but right now I see it having little demand and value.
Other Articles On Passive Income
How To Make Passive Income With FIAT | How To Make Passive Income With HIVE Blockchain
Posted Using LeoFinance Beta
---