CaifuNFT - a binance smart chain-based DeFi NFT project, raised $200,000 so far during private & seed rounds. The public presale is now open and going very very hot. Its smart investor vesting is one of the primary metrics that could lead a long term success for investors' funds. Token vested 20% monthly for all presale buyers.
Its primary products are the NFT market, Cross-chain support, NFT liquidity, NFT lending, NFT staking, Game development.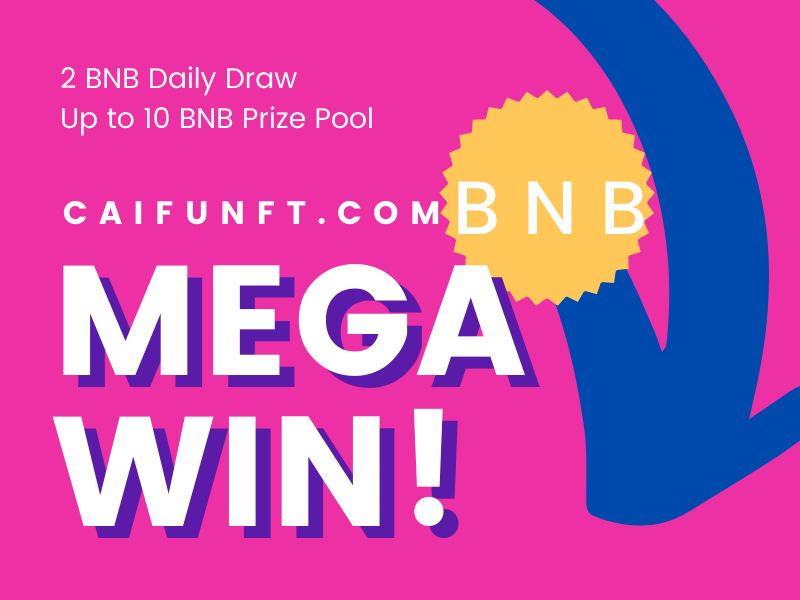 Win Up To $6500
Presale participants can win up to 10 BNB that is currently worth over $6500. Everyday raffle draw of 2 BNB, and after five days the prize pot could be 10 BNB.
Up to 10 BNB Prize To Be Won, 2 BNB Raffle Draw every day
Win up to 10 BNB by participating in NFTC presale. It's a win-win situation for your and your friends. The only requirement is to purchase any amount of NFTC during the presale. The draw happens every 24 hours, and the daily prize pool is 2 BNB.
How does it work?
Buy a minimum 0.2 BNB worth NFTC token.
Every time you buy NFTC in presale, you got 1 ticket. Your ticket number is the last 6 numeric digit of your tx hash.
Every 24 hours, we pick a hash to determine the winner. The ticket which matches with the hash becomes the winner and rewarded with 2 BNB.
When we take hashes, only the last 6 numeric digit counts, it means any abcd will be cut off from the hash.
1 wallet can win only once.
If no one wins one day, the prize pot goes to the following day and the pot becomes 4 BNB, and the same rule applied, one winner, takes it all.
Winning blocks
For winning blocks, please read our earlier post here.
We will pick the last 6 numbers of this block hash, and match it with the user's ticket number.
If no one wins for a consecutive 5 days, then the total pot (10 BNB) goes to the highest contributor. And then a new prize pot starts if the presale still lives. To check out the daily winner announcement, kindly join our telegram and follow on Twitter.
NFTC presale has an allocation of 45,000,000 NFTC at a price of 150,000 tokens per BNB. And do not forget the listing price will be 90,000 tokens per BNB. Once this round closes, we will have the final round on Gate.IO startup incubation and listing on their platform as well as PancakeSwap. Tokens are vested 20% monthly unlocked, so no one can dump the price at once, just by taking the early stage advantage.
You can learn more about the token sale on https://caifunft.com/nftc-sell
If you have more questions, kindly visit https://caifunft.com/ and check around. Also, you are welcome to join our Telegram community here https://t.me/caifunft
CaifuNFT token contract: 0xd5442f00b8a6636f6ec48b729fdb7a544ab963be
Website: https://caifunft.com/
Twitter: https://twitter.com/caifuNFT
Caifu is the world's first project that offers lending up to $1000 against NFT as collateral, this can make artist's life more efficient when they ran out of funds or gas fees.
Posted Using LeoFinance Beta