$NFTC Softcap Reached & Huge Token Burn Update
---
CaifuNFT team thrilled to announce that it has reached its soft cap goal earlier this week and continues the presale round 2 starting from today. it also burned 3.494% of total supply tokens forever. Check out the details and buy some NFTC right now.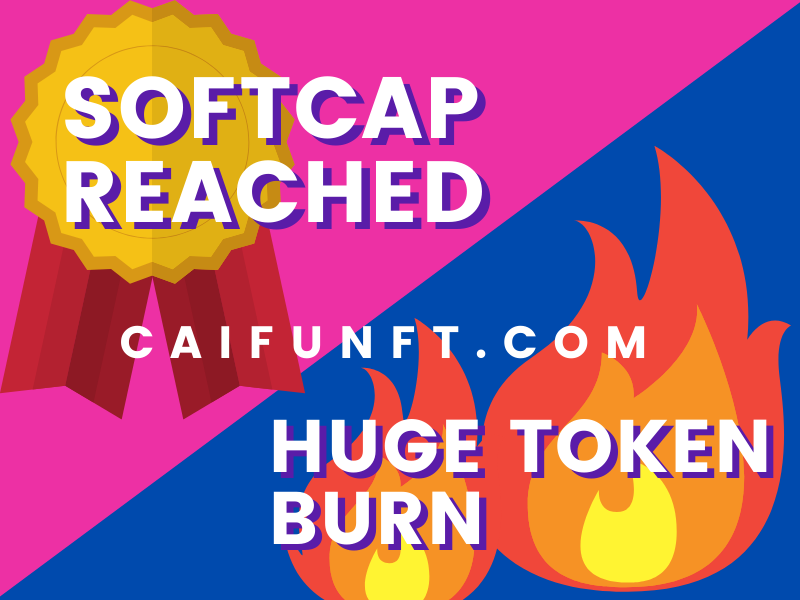 NFTC Softcap Reached
CaifuNFT soft cap was set to 150 BNB which has already reached earlier this week by the overwhelming interest in seed rounds and presale 1 investors. Now the holder counts have been increased to 1380+ and counting. That's really huge achievement as we build everything from scratch. thank you for your strong belief in building the next big marketplace - CiafuNFT.
NFTC presale round 2 starts from today and will end at any time. For the exact ending time, you should follow our social channel. Remember, only 20% tokens are unlocked to trade each month. So, if you have 100 tokens, you will be able to trade 20 tokens each month. This mechanism is to protect all the investors from early adopter dumping hands. Good luck.
Current presale price - 1 BNB = 120,000 NFTC
Exchange listing price - 1 BNB = 90,000 NFTC
Caifu NFTC is a decentralized ecosystem built on #BinanceSmartChain. It leveraging the underlying technology with the BSC and provides a bunch of dApp services like non-fungible token market liquidity, lending, and staking to earn more NFTs and tokens. Learn more here.
3.494% Token Burn
As promised we have burned all the unsold tokens from phase 1. That's 3.494% of the total supply of NFTC. Don't you think it's huge? It's huge enough for now, and we will burn more tokens as time flies.
34941674.1704221841658 $NFTC burned
Here is the burn tx, check it on BSCscan.
What to remember:
Once you invested in presale, you are our premium customer. You get discounts upon using our platform.
Only 20% tokens are tradable each month, that is to protect market manipulation by early investors.
You can stake and earn more NFTC or raw NFT items.
Price increases over time, listing price is 90,000 per BNB.
We have a mission to go beyond moon, you have to help us grow the community.
We together can change artists' life and the way NFT industry currently treats.
90% of the fund raised will be used to provide liquidity for NFTC and the marketplace liquidity for other NFT creators.
You are free to trade all your tokens after 5 months (20% each month)
You should buy before the price goes up
All vesting starts from listing in late May and then linearly distributed over time.
Posted Using LeoFinance Beta
---