CAKEPOP IDO Is 100% Committed! | Thank You to the CubFinance Community | Get Ready for the Real Launch Event!
---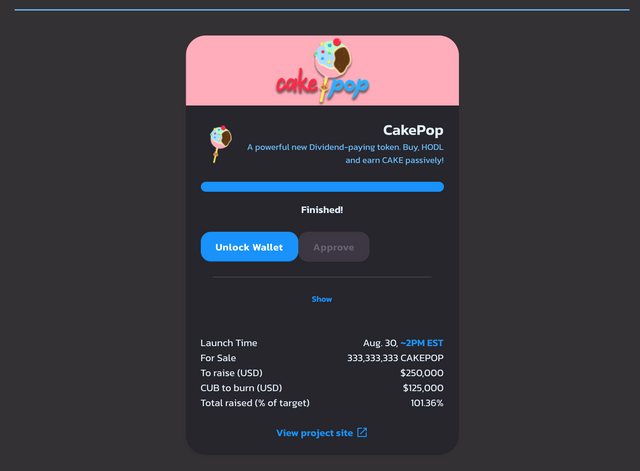 Our CAKEPOP IDO is officially 100% committed and the raise event is now completed. In the moments that follow, you will see the beginning of our full launch event.
The $125k BUSD + $125k CAKEPOP is ready to be added to the Pancake Liquidity Pool
Dividends will start paying out immediately to any CAKEPOP holder with more than 200k CAKEPOP tokens (no need to stake or anything. Just HODL)
Track your dividends immediately on https://cakepop.app
The telegram groups and shilling organizations are ready
CAKEPOP to the Moon!
---
This launch event is highly anticipated by the CubFinance community and our international supporters on Telegram. If you see the buzz around this community and on TG, then you're gonna be really excited about the launch of CAKEPOP!
Thank You CubFinance Team and Community!
We want to thank the CubFinance team for all their help both in developments and in the launchpad and being the first to try out the IDO system. This is great for us and we are happy that Cub got to benefit from being able to test their launchpad with us before their next major launches.
What to Do At Launch
Now that CAKEPOP is live, it's time to close out the IDO.
LeoFinance will surely release their own post with details as well, here are some instructions on how to harvest your IDO tokens and any leftover LP tokens that might be waiting for you in the IDO contract.
Click harvest
Claim CAKEPOP
Good to go!
Track your $CAKE dividend rewards on https://cakepop.app by pasting your BSC address at the top menu bar!
How to Trade CAKEPOP!
Here are some important links for trading and tracking CAKEPOP:
How to Buy CAKEPOP on PancakeSwap:
1). Go to https://pancakeswap.finance/swap
2). Click the bottom swap field to enter a token. Paste the CAKEPOP token address (0x2F0De2CFa6F4B3a7FD4B650A4C771e07718Bb4b0)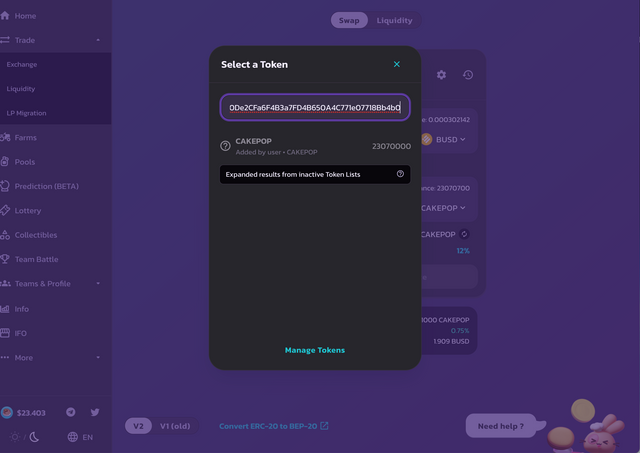 3). Set slippage to up to 12% tolerance so that the transaction does not fail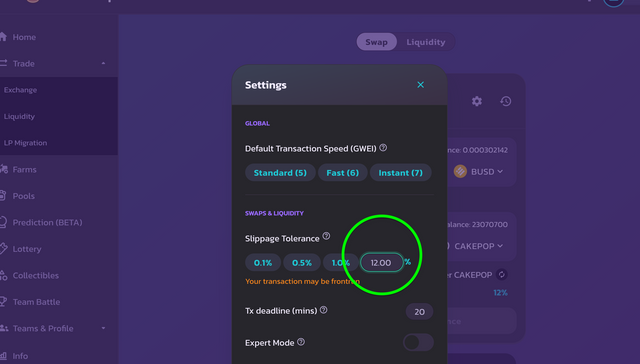 Marketing
A massive wave of marketing is just getting started. As many know, our international audience wakes up about 8 hours from when this post goes live.
This gives our marketing a bit of time to kick in - Telegram announcements, AMAs, post publications and groups of freelancers who work to spread the message in various DMs and public crypto DeFi chat rooms.
Key Upcoming Developments:
Our Marketing plan is the core of how we grow CAKEPOP to the moon. The marketing initiatives take off in a few hours when the Asian markets begin trading. Right now is a good time to accumulate, HODL and prepare to earn massive CAKE dividends when the trading frenzies begin later in the day.
CAKEPOP-BNB Liquidity Pool on CubFinance!
The CUB team has graciously offered us a liquidity pool on CubFinance. With a 1x multiplier in CUB rewards, users will be able to pool CAKEPOP with BNB and earn LP incentives.
This will create a second pairing for CAKEPOP. The importance of this is a multiple number of important tokenomic factors:
A second pool will create continuous arbitrage-seeking bot trading volume between CAKEPOP-BUSD and CAKEPOP-BNB. With each arb trade comes trading volume and with that, a 7% transaction Tax which is paid out as $CAKE to $CAKEPOP holders
Liquidity providers will also pay a 7% tax when entering and exiting the Liquidity Pool for CubFinance. This will bring in more $CAKE rewards for $CAKEPOP hodlers but these LPs will earn back their TX fees over time through CUB rewards on CubFinance
Other Platforms:
One of our next goals is to find other platforms to support CAKEPOP pools. If we can continually expand out and find liquidity-based platforms, then we can really take CAKEPOP transaction volumes to the next level. All of this volume will equate to a lot of dividends for early hodlers of $CAKEPOP!
Posted Using LeoFinance Beta
---