CIB: Crypto I Bought #13 - VeChain, Avalanche, Enjin Coin, Faded Arcade NFT, Quant , Staking LEO, PolyCUB
---
The last 6 weeks has been hectic addressing some outstanding tax matters. That has left crypto in the shadows. So I am a little late in putting out the latest CIB bulletin.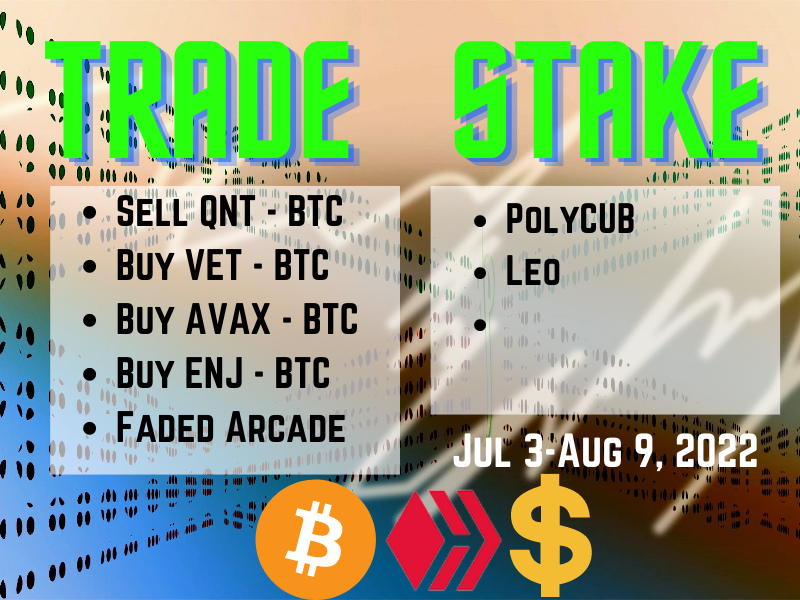 Portfolio News
Bitcoin price move for the period from July 2 to August 9 saw a 26% jump in price and a trough to peak range of 34%. The chart tells the story of price making higher lows and higher highs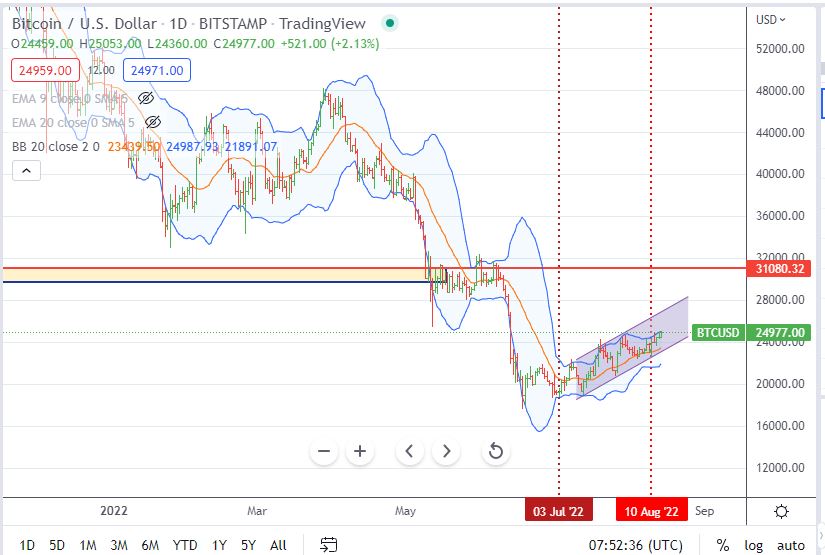 The trading challenge is whether price will push to the top of the parallel channel or whether it will respect the top of the Bollinger Bands and pull back. Those higher lows suggest to me, the former.
A quick snapshot of CUB and PolyCUB available to harvest. The airdrop is past and the 90 day early harvest penalty has gone. Work to be done to work out what to do next.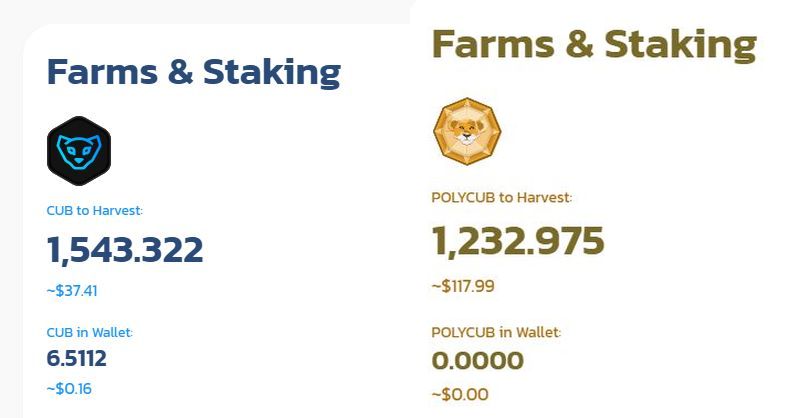 I did find a good source of weekly crypto news updates - these two items come from there as I am invested in a small way in some of the coins.
Nomad cross chain hack used to drain Solana from hot wallets.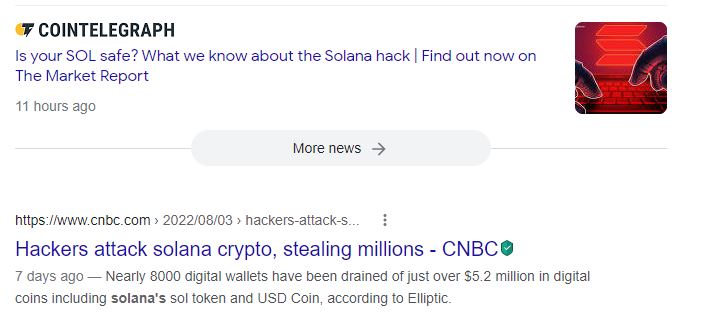 My SOL is sitting in an exchange account and is currently locked away in savings - that keeps it safe from being hacked in there - exchange will nto unlock them from savings without my 2FA codes. There is a [big lesson](big lesson) in here - Solution - keep assets in cold wallet and only use hot wallets for transacting. Protect hot wallets with MFA. And spread things around a bit - that is what I do.
Instagram launches NFT's which drives FLOW token higher as this is the platform of choice. It just took price to my last entry point - always helps to get a bump like that.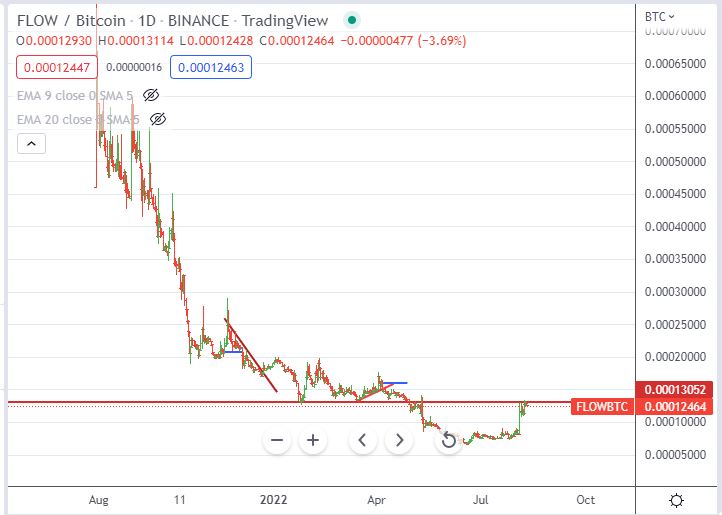 Crypto News: ETH Forks, SOL, FLOW, Hacks, Conflict & MORE!
I found this weekly review on crypto topics - neat.
Of note in this weekly review (now 10 days old) is he does a review of Top 5 Coin movers for the last week - good news is I am holding 3 of the 5 (underlined)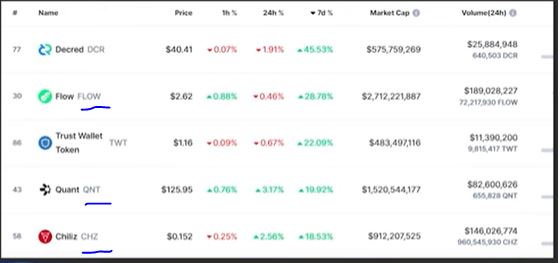 Bought
VeChain (VETBTC): Ran the regular price scans looking for reversals and bought VET to average down entry price. The chart has shown a break of a downtrend and a bottoming out formation. Price could not hold the break off the lows and fell back again but did then make a higher high. That is signal enough to make a trade.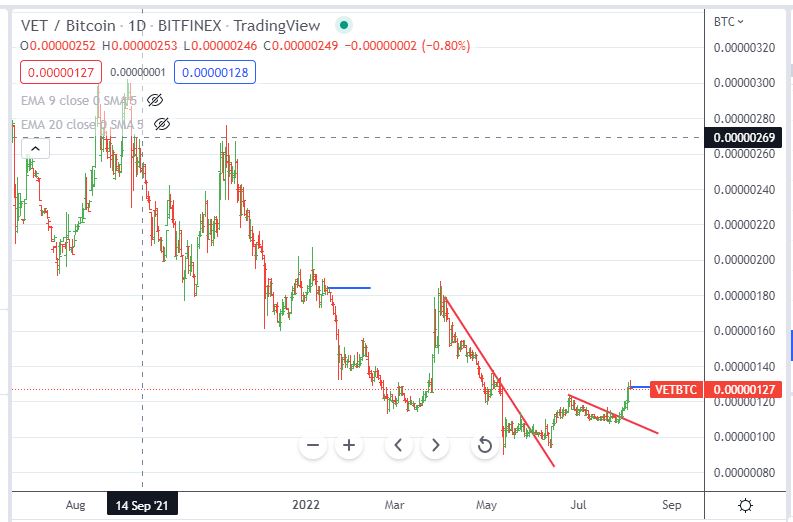 Have changed approach and will sell averaged down portions at 50% profit. Pending orders are set up at buy time. I have missed too many pump and dump spikes.
The next two trades are a little more text book technically and form part of Rising 10 Portfolios.
Avalanche (AVAXBTC): Price has broken the downtrend and made a series of higher lows and two higher highs. This created an entry price a little higher than the initial entry but well below the last partial exit. 50% profit target will take the position out above the initial entry in the middle of the last consolidation zone.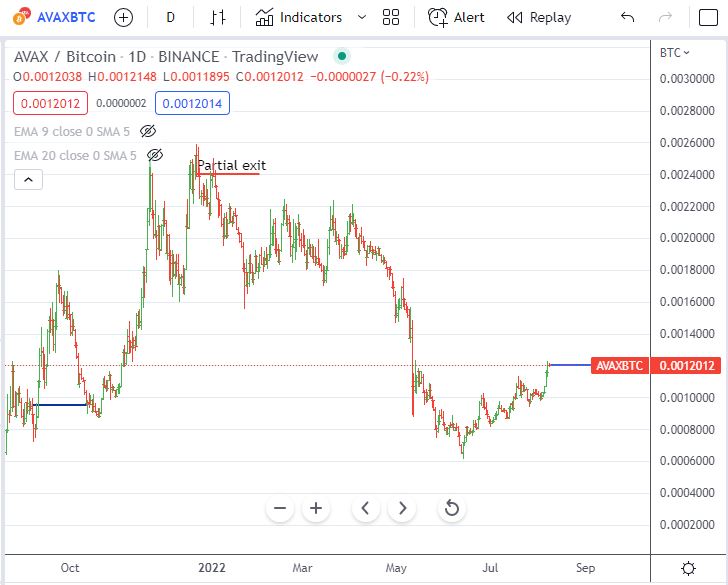 Enjin Coin (ENJBTC): This is almost a carbon copy chart - break the downtrend and make higher lows. 50% profit target will take the position out below the initial entry.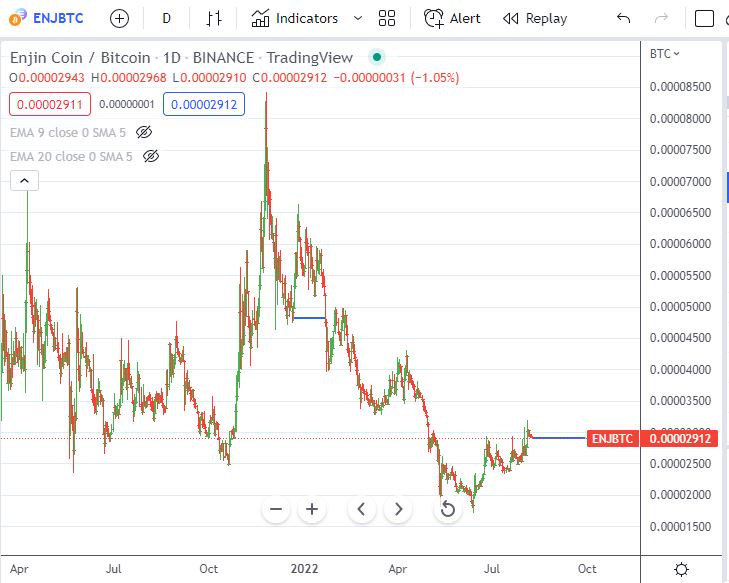 Faded Arcade Faded Arcade is a new gaming venture from some stalwarts in the Internet Marketing and Gaming industry. Their credentials is why I chose to dabble. One of my friends who knows them personally endorsed the effort they had put in. This is the team - I know 3 of them from past business
Creative Director – Simon Hodgkinson
Game Director – Simon Philips
Executive Producer – Jeremy Gislason
Technical Director – JP Schoeffel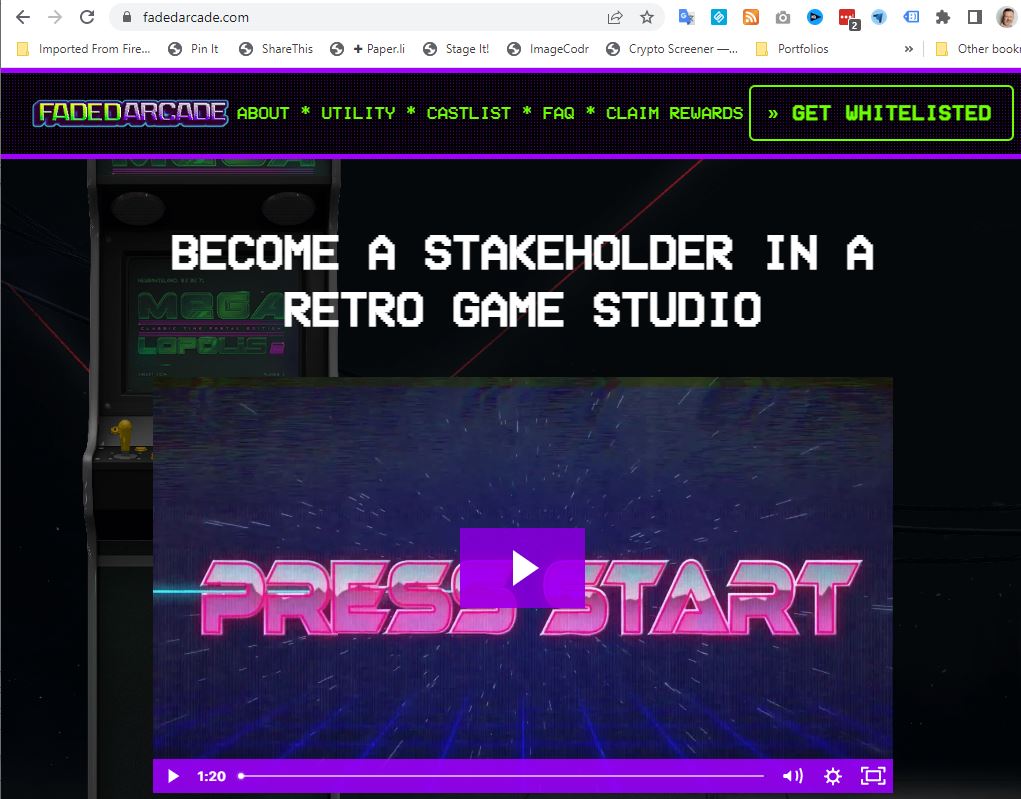 They have launched the the "first ever NFT-powered gaming metaverse" with first wave minted NFT's getting access to 10% profit pool rewards and a free NFT for wave 2. Now I am not into gaming at all - just imagining the NFT will grow in value as the reward pool grows. One thing I do not quite get is the minted NFT is required to access the games - but they only launched 420 - that does not lend itself to creating blockbuster games. I did spend a little time wandering around the metaverse - this stuff does not do it for me.
I did buy one for 0.1971 ETH - I find that there are different rarities and mine is the least rare (55%)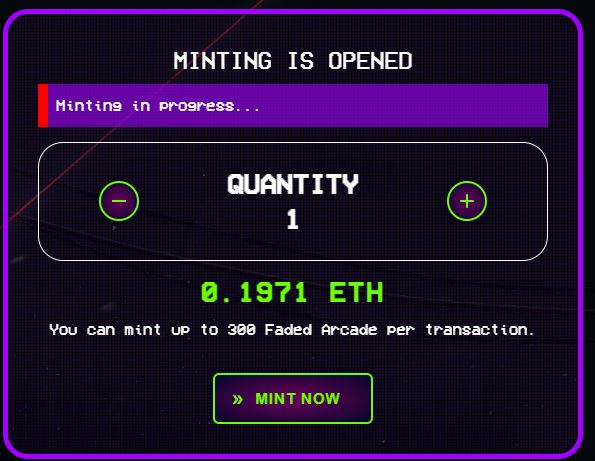 and then saw my friend had bought quite a few and so I bought another one. Of note is price being sought on OpenSea has already bumped up now the first wave has sold out. There has been one sale of the same rarity as mine by FadedArcade at 0.6 ETH = 204% profit.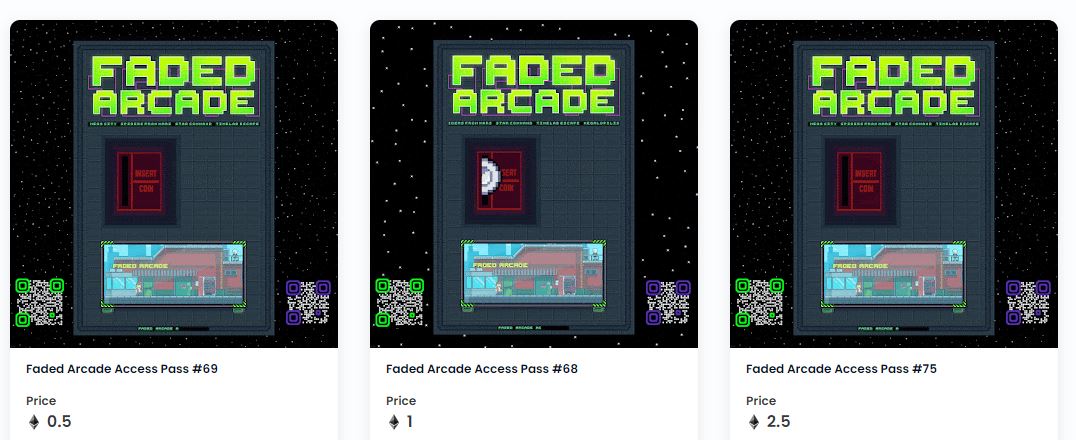 Sold
Quant (QNTETH): Detected a big price move and put in pending order to sell. Bad news is I had already put in a pending order some time ago and had forgotten about it. That had me selling more than I wanted in two separate trades. Profits on the two tranches were 94% and 31%. Averaging down certainly helped.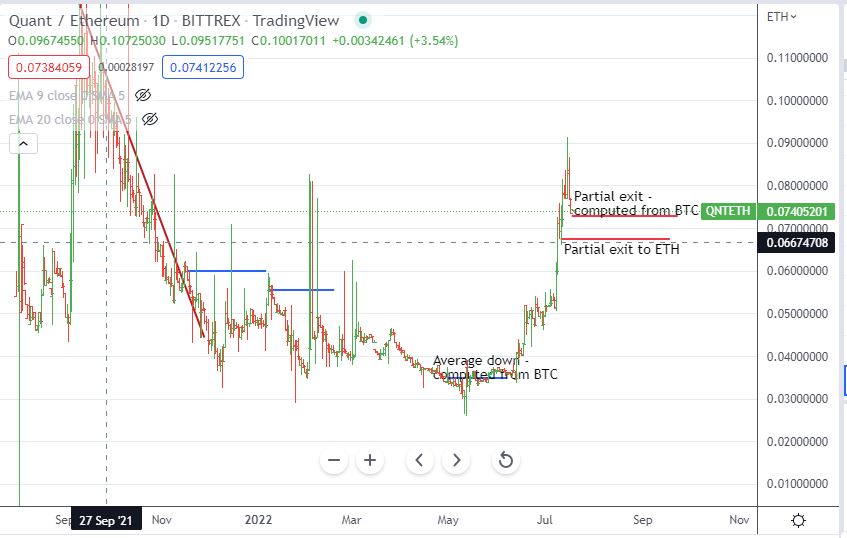 Staking
LEO Powered up 624 LEO tokens (Jul 12). The plan is to delegate 1,000 of those each time I get past that amount powering up. I do not have the time to put a focused effort into curating stuff - best left to someone who does. @leo.voter seems to do a good job.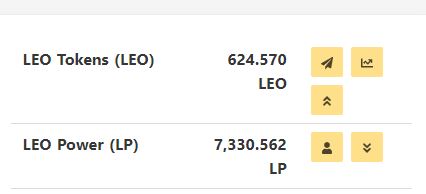 PolyCUB Unlocked 149 PolyCUB and decided to stake them directly into xPoloyCub as the APR offerr is crazy (and the amounts I risk are modest)
Process steps:
Claim the unlocked PolyCUB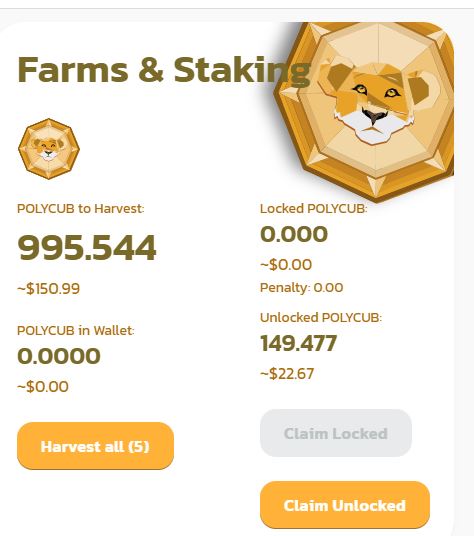 Stake xPolycub - just hit the + button

Staked at 544% APR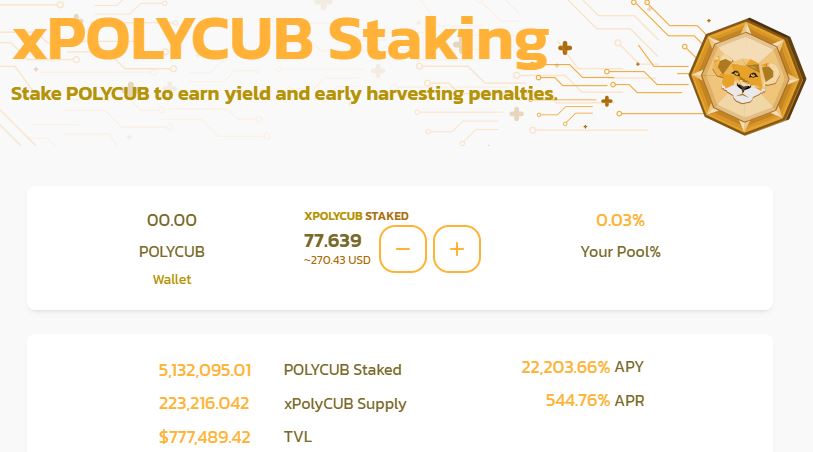 I do need to plan a path forward for the CUB and PolyCUB that are available. I found a really neat post about the opportunities for staking Hive. I have a few Hive that have not been powered up and they make good candidates for staking in some form
Stacking HIVE
Found this article from @forexbroker - I am borrowing the ideas to shape how my HIVE gets deployed.
Power up. I already have a solid amount of HivePower and also LeoPower - not going to add more this way other than staking LEO.
bHIVE: CUB on Cub Finance: As I can harvest CUB this is an interesting idea with 55% APR.
pHive: PolyCUB on Polycub. APR's are higher on staking xPolyCUB and there is also the vexPolyCUB opportunity to explore. That is where my harvesed PolyCUB can go.
SWAP.HIVE:BXT LP on BeeSwap. With APR's of 95% this is also an interesting idea. I have a few BXT but do not know a lot about it. Beeswap also offers pure BXT staking option at 33% APR.
SWAP.HIVE:SPS LP on Splinterlands. APR has come off from the 140% to 112% at the time of writing this. As I dived back into Splinterlands, I see that I have SPS to claim and card packs to open and a whole lot more. There are a few SPS pools that have APR's over 100% like BNB (128%), WETH (133%), Swap.HIVE (114%). The challenge is how to choose. It comes down to the risk of impermanent loss where price increases for one token in a liquidity pool - the pool owners now own fewer of the more valuable token. If price comes back the pool rebalances, if not the loss is permanent.
This was a really good tutorial on impermanent loss topic https://jamesbachini.com/impermanent-loss/
Next report, I will have got my head around a strategic approach. I am thinking 3 ways to deploy spare HIVE and claimable SPS and harvestable CUB. I will see how much I have in each and work with equal size pools
Key Links
Polycub Farms For staking PolyCUB https://polycub.com/farms
FadedArcade Join the Whitelist for the next round. You will need 0.05ETH in your connected wallet https://fadedarcade.com/
Cautions: This is not financial advice. You need to consider your own financial position and take your own advice before you follow any of my ideas
Images: Trade/Stake image is based on royalty free photo under CCO public domain licence from piqsels.com. All other images are created using my various trading and charting platforms. They are all my own work
Tickers: Crypto tickers come from TradingView
Charts: http://mymark.mx/TradingView - this is a free charting package. I have a Pro subscription to get access to real time forex prices
Trading: Binance offers a wide range of coins to trade, tight spreads and low fees if you use BNB to pay https://mymark.mx/Binance
Kucoin offers a wider range of altcoins than many of the other exchanges. I do like to diversify my holdings in case an exchange gets knocked over. Grab 15% discount on your trades when you open an account on this link https://mclnks.com/kucoin15
Tracking: Keeping track of your crypto trades is a whole lot easier with CoinTracking.info. Get 10% off all your account upgrades https://mymark.mx/CoinTracking
Jul 3-August 9, 2022
Posted Using LeoFinance Beta
---