XCHAOS - Allocated Splinterlands Packs With Airdrop Value!
---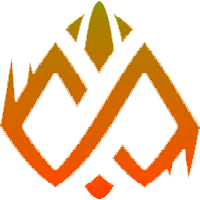 Worried about missing out on Chaos Legion and want to get guaranteed packs?
Too Long, Didn't Read: Buy XCHAOS and get guaranteed Chaos Legion packs + airdrop values. Go to https://tribaldex.com/trade/XCHAOS and buy.
Read on to find out how....
How We Got Here
The time for Chaos Legion is upon us. The Phase 1 presale is coming to a close, and with it, the first 1,000,000 Chaos Legion packs will be sold.
After that, there will be a short break of a week or two, and then Phase 2 will commence. During Phase 2, packs will be available for immediate purchase if you spend an equal amount of vouchers. As of this writing, those vouchers are trading for $18.64. This makes the total cost $4 + $18.64 = $22.64 during Phase 2 (again, prices as of this writing).
But once Phase 2 is complete and those 2,000,000 packs are sold and/or 1 month elapses, Phase 3 will begin!
Everybody is looking forward to Phase 3 where anybody can buy packs without vouchers. And by everybody, I mean everybody.
There has already been a lot of discussion about how fast Phase 3 will sell out. $45-$50 million dollars sounds like a lot of money, and it is. But in the world of NFT gaming there is huge amounts of money out there looking for places to invest. As Bulldog1205 has said:

And gank has been making a strong case for 1-day sellout in the chat as well.
Into that mix, we got this announcement from aggroed yesterday: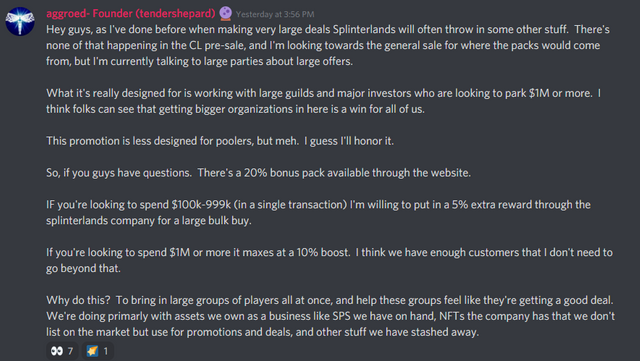 Now this is nothing new. Splinterlands has always had white glove service for large purchases. What is different this time is the surrounding environment of pack sales. In previous editions, we weren't in danger of running out of packs entirely at the same time as these large sales were happening.
Already people are worried that they will not be able to buy any packs because these large organizations will crowd out the smaller players. And it's a reasonable concern.
The Solution
The solution is straightforward. We (gerber and nealmcspadden) are creating a large purchase group that anybody can buy into.
Introducing the XCHAOS token that is available for purchase on tribaldex.com
For each XCHAOS token you purchase you will receive 1 Splinterlands Chaos Legion pack and associated airdrop value.
This is unlike buying packs on the secondary market. Second-hand purchases do not receive any airdrops from the game. Only original purchases directly from the game qualify for airdrops.
Your Airdrop Value
Every holder of XCHAOS will receive the value of their airdrops. But cards are not divisible. So the fairest approach is siply to sell each airdrop and and distibute the DEC and SPS (converted to DEC) earnings to each XCHAOS holder.
Every holder of XCHAOS will get a daily distribution of DEC from the balance held by the pool at a fairly steady rate until both the SPS airdrop and the Chaos Legion cards airdrop are complete.
This creates an interesting case where you may end up wanting to sell your XCHAOS at some future point if you feel that others have a higher valuation of the future airdrops than you do. Then the market will market.
Pricing
There is no fixed price for XCHAOS. We will respond to market conditions until we receive the packs from the game. Once distibution of packs occurs, all trading will be among XCHAOS holders and will vary depending on what the market thinks the value of the remaining airdrops are.
To check current pricing and buy now. Also available on leodex.com
Questions?
Join the dec101 discord xchaos channel at https://discord.gg/2fc2MS46DS
Posted Using LeoFinance Beta
---