How Hive is impacting the life of people around the world in 5 ways.
---
In early and mid of 1st decade of the 21st century, social media revolution was started and in the current situation it has become an integral part of our life around the world. Similarly, the Web 3 revolution has already started, and we are lucky to be a part of this revolution in early stage. Hive is also a part of this revolution and already impacting life of many individuals around the world. I love Hive due to some of its amazing use and potentials.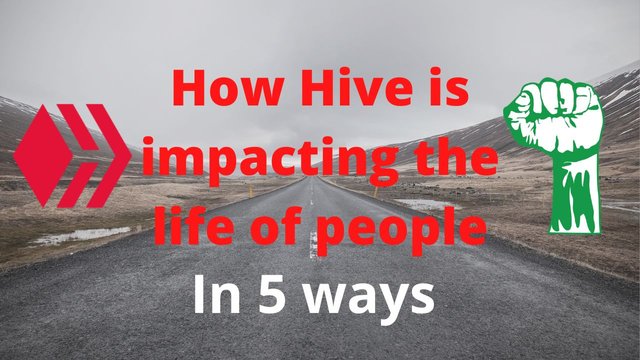 Learning and developing new skills
Learning is a never ended process and every time we learn something new it enhances our skill. Hive gives this opportunity to all who understand the Hive ecosystem. Various communities on Hive platform continuously provides a lot of opportunities to learn to and showcase their ability by participating in activities and writing a blog in respective community. Here photographer, traveller, chef, crypto enthusiast etc not only learn something new every day but also can exhibit their work to the world. A person with no idea can get a lot more idea here by joining communities and start sharpening their skill. Interesting point is that it all rewarding!
---
Making new friends and contacts
Social media is a great place to meet new like-minded people and socializing with them sitting at home. Different social media dApps are developing on Hive ecosystem like ecency, leofinance, leothreads, liketu, pinmapple etc, All have some specific features and uses. One can choose the dApps according to their area of interest, skill.
Soon Hive fest is also going to organize where Hive friend will get opportunities to meet each other in real to share their experiences and strengthen the bond of friendship in real world.
---
Entertainment and fun by Hive Gaming
With different hive gaming applications, not only one can enjoy the blockchain gaming, but also socialize and earn crypto. Splinterlands and dCity are the most popular blockchain NFT based games on Hive blockchain. Including me, thousands of people around the world are not only playing these games but also building crypto wealth. These games are not just fun and entertainment but gives an opportunity of investment also.
Thus, blockchain gaming completely changing the perspective of online gaming.
---
Freedom of speech and work
Unlike any centralize social media or blogging platform, any decentralize social media gives complete freedom of speech and work. There is no any central entity who can suppress your thought you want to share with the world. Here one can express him/herself via video, blogging or microblogging. 3Speak is a great way to speak freely and express themselves, which otherwise was not possible i any centralized social media platform. Here I want to mention COVID-19 period. There was no freedom to express thoughts and knowledge against WHO guideline and all major centralize social media like Facebook and YouTube were deleting any such posts and videos. In such situation, Hive could be a perfect choice to use your right of freedom of speech.
Freedom of speech and expression is a fundamental right of human being and can only be protected by any decentralized media like Hive!
---
Financial support
For any social cause, there are so many ways to raise funds in centralize world, but all have so many restrictions and limitations. One must have to complete so many formalities to raise fund by any fund-raiser platform. Here on decentralize world there is no such formalities required, even an anonymous can get help from community if it seems genuine to community. There are several examples on Hive like Hive Water Project, helping Ukraine war victim and other individuals who got funded by just getting upvote on their posts. No bank account, no documentation, no ID is required, only requirement is the trust of Hive community!
Hive is a great source of income for regular content creators also. A serious blogger or content creator can earn here from day one, which is not at all possible on YouTube or any other blogging platform.
This power of unique crypto rewarding system, changing the life of so many people in the world and empowering them.



Posted Using LeoFinance Beta
---