Bitcoin heading to the $70,000 level
---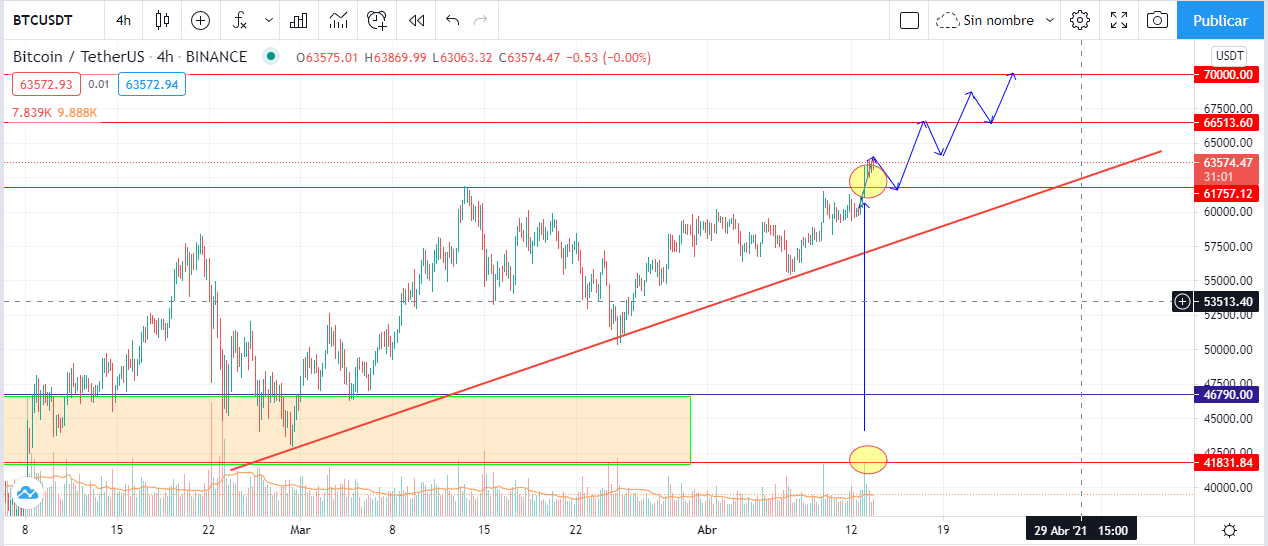 The Bitcoin has been in my favorite investments for a long time, and as it has made a good recent move surpassing its last historical high at approximately $61,700, I wanted to make a technical analysis of what is currently happening with the currency and I think it is about to make a good upward movement that could probably take it to $70,000 as my main goal.
For this reason, in this opportunity I will analyze again in two temporalities the situation that Bitcoin is living, these time frames are 1 Day and 4 Hours, which are commonly the ones I use for my analysis and in which I take most of the decisions to invest according to the little I know about the markets, of course, something that I know perfectly is that I must protect my investment and I never forget to place a Stop Loss, because I do not want to wake up surprised with a big loss if my prediction does not go as I expect.

BTC Chart Analysis
1 Day Chart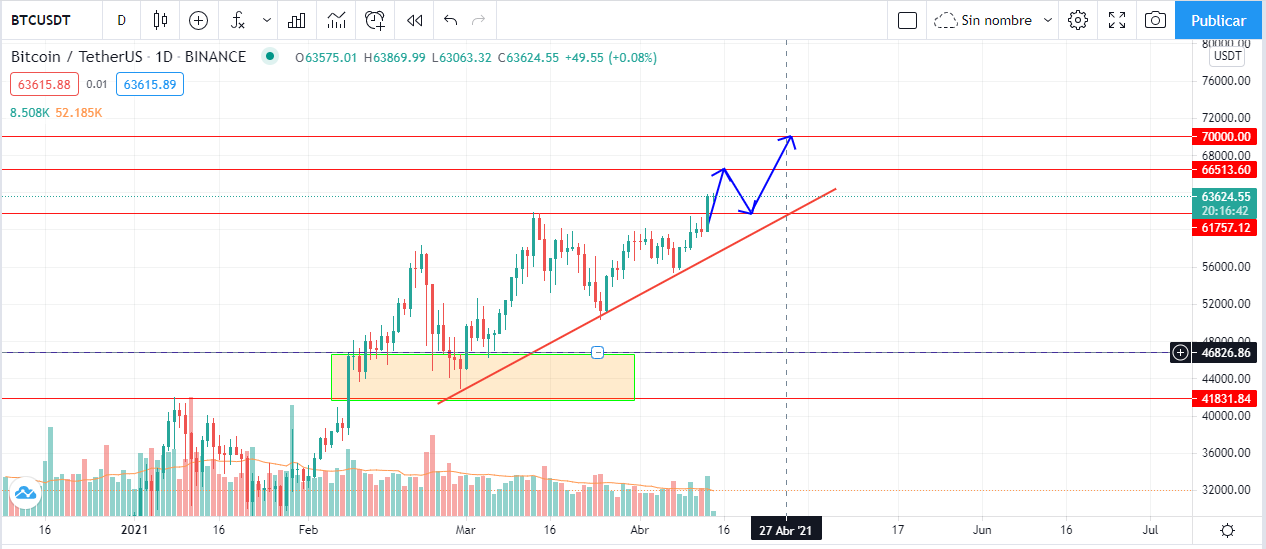 As we can see, the price has been making higher highs and higher lows, which of course tells me that there is a clean uptrend in place, just as I like to work. Based on this I have drawn a trend line joining the last 3 lows, because as it broke its last resistance, this last low becomes valid and is the one I have to watch to be aware of a possible change of direction at that point that may lead the price a little lower but still with an active uptrend, which would be a deceleration of the current trend.
On the other hand, I have drawn a rectangle at what I identified could be a good support in Bitcoin, this gave me an opportunity to further increase my investment in the asset, buying Bitcoin at a price of $46,790, which so far is going very well. Now, the price has broken $61700, which was the last resistance, this last move can take Bitcoin first to $66,500, where it could make a possible pullback to $63,300, support the trend line and this time look for $70,000 as the main target to keep in mind.
4-Hour Chart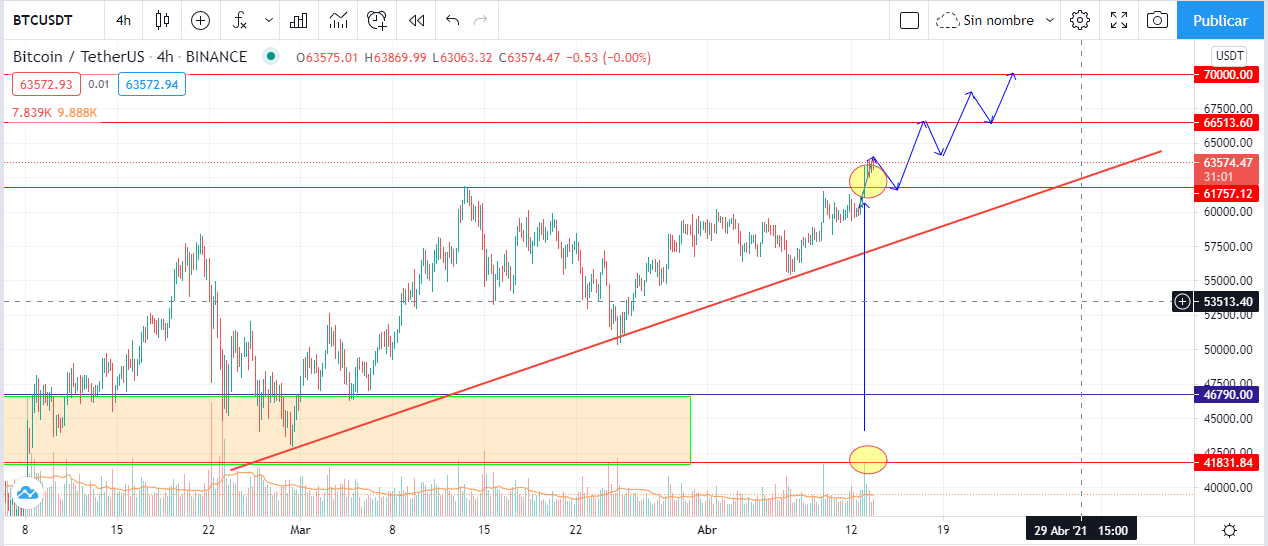 In 4 hours the context does not change much, but as the price gives me more details of how it has been its trajectory in lower time frames, I identified several things that I did not see in 1 Day charts, the first thing is that when I see my trend line and the last resistance that marked the price at $61,700, it formed perfectly an "Ascending Triangle", which is a bullish chart formation. If I see even more detail I see that when the price broke that area, it did so with good volume, if we go exactly to the breakout zone, we see that it aligned perfectly, now as the price will relatively make more undulations in this temporality, draw with arrows what I think can happen before the Bitcoin reaches $70,000.

Conclusions
In my opinion it is a good time for Bitcoin also in addition to other currencies that have given very good movements, I am very attentive to the movements of Bitcoin, since the market sentiment is basically managed by Bitcoin for having the ability to influence some confidence in the entire cryptographic environment thanks to its movements. Clearly this is not an investment recommendation, but in my opinion Bitcoin is heading towards $70,000, for this reason it is always good to have some Satochis to be able to capitalize little by little.
And what do you think! Bitcoin can go to $70,000? I would like to see your opinion in the comments.
Until next time and happy investing.

Join the official community here Discord
---
Join the official Spanish community here Discord
Posted Using LeoFinance Beta
---