Doge records new ATH at 60 cents as eToro Lists the Shiba Inu breed memefaced coin
---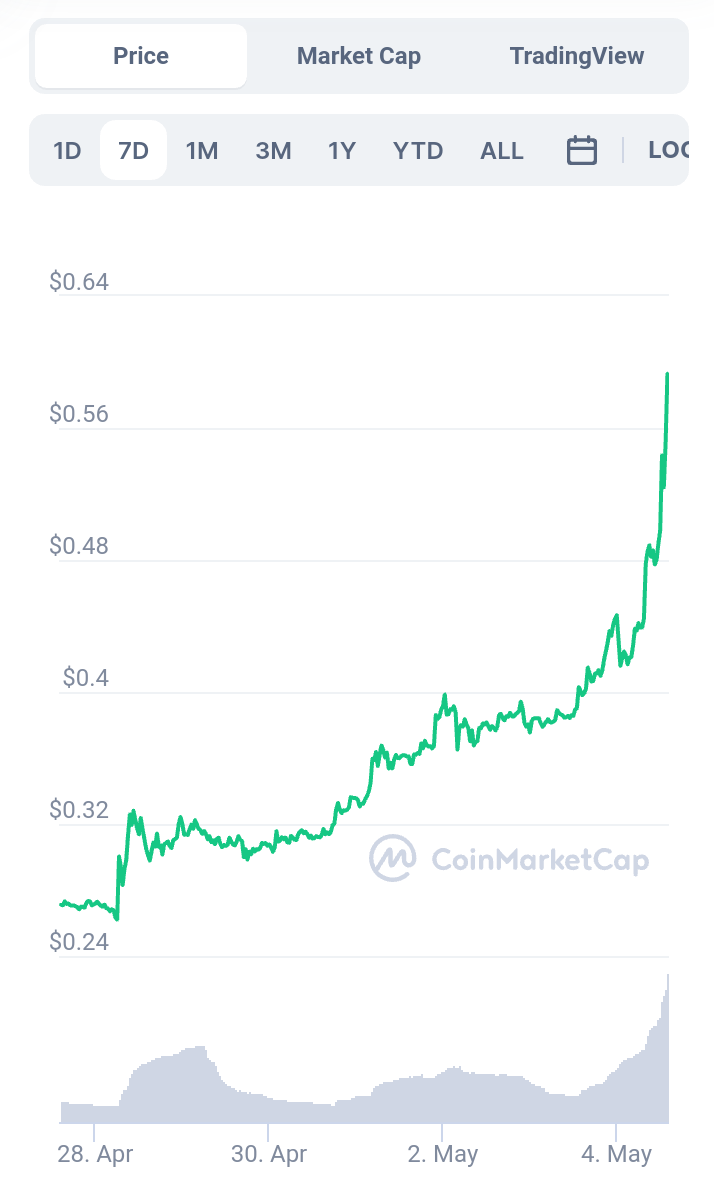 A 7-Day Doge Price Chart On CMC
On Monday, 3rd May 2021 A multi-asset brokerage platform called eToro had announced support for the dog-face memed coin called Doge. The coin is currently the 4th highest ranked coin based on Market Capitalization displacing XRP which is now at number 5. Just after Dogecoin got listed on the brokerage platform, the coin reached fresh highs on Tuesday morning at $0.48 after a crash on April 23rd. This shows that once the coin dips, there are usually a lot of buy-ins. As at the time of publishing this article, the coin is worth $0.6029 on CMC. In the past 24hours, it has had an increase of 51.12% according to CoinMarketCap

New ATH for Doge
eToro platform doge listing will give over 20milliom users an opportunity to get a hold of the coin. Doge's market capitalization is now over $59 billion. Miner revenues on a daily basis also recently reached all time high of $3 million. Doge has strong support from the likes of Elon Musk the Tesla boss, CovCare a huge medical supplier, Dallas Mavericks of the NBA team and other influential people globally.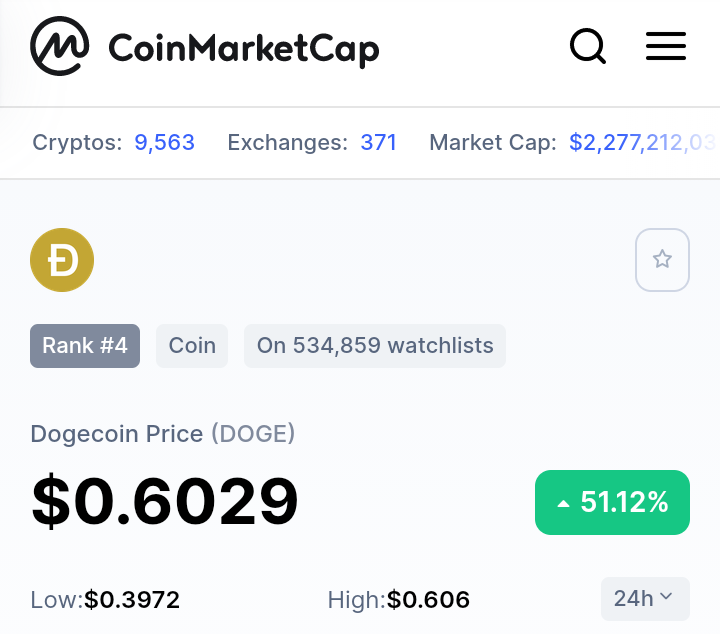 Doge Price on CMC
The price of doge has gone up over 9000% in this year only. Investors of the coin earlier this year have been speculating Doge at $1 including myself and with the kind of effort being put in by Hodlers towards the purchase of the Shiba Inu breed meme coin, the smart investors still have a chance to get a ton of the coin before it hits and probably exceeds $1.
Disclaimer: This is not a financial advice.
Posted Using LeoFinance Beta
---
Posted from Telokanda Hive Dapp
---
Posted from Telokanda Hive Dapp
---