Getting good APY with SPS
---
Splintershards commonly known as (SPS) is the official governance token for Splinterlands. SPS has a big role to play in the coming days and the people who have a good amount of SPS stake can have a say in the proceedings of the game which we have seen in the past. Every one of us who plays the Splinterlands games knows about the value of SPS which it can be in the future. Since the SPS airdrops are going on the prices seems to be on the lower side but once every one of us stops getting that airdrop then the real value of the SPS will be known.
As of today 68 days of SPS airdrop are remaining and seems like the price will remain constant for another two months or so. People have already got their SPS ready for the Validator Node and other things. But there are some people like us who have limited SPS and for us getting that sweet APY on your SPS is the best way to go forwards. So now we have two options of getting good APY
Staking SPS in Game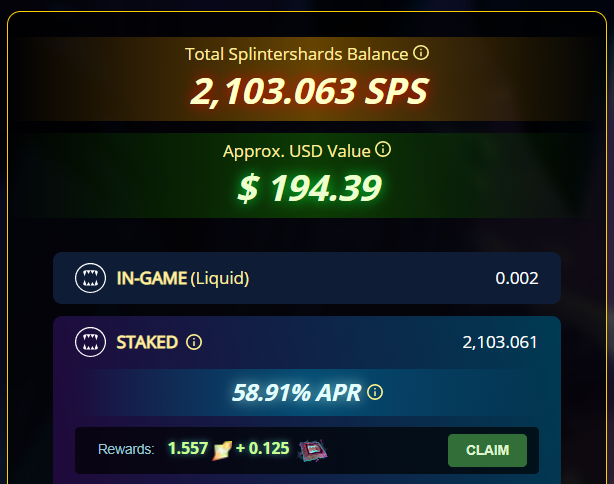 So as a player we have an option of staking that SPS in-game itself to get SPS APR after staking. Previously when it first started we were getting more than 60% APR but it dropped to around 25%. But recently with vouchers being added to the rewards, the APR for staking SPS is increased to 58.91% as of writing this post. I know that we were getting the voucher previously too, but adding it to the APR calculation is actually a feel-good factor for us as the APR percentage is quite high now.
Staking it as pSPS
So recently LeoFinance team has created a pSPS token which is a wrapped version of SPS on Polygon Network. Now as of writing this post the APR is around 89.32% which is more than 30% APR than in-game SPS staking.

So now the players or investors have an opportunity to diversify their investment and get the benefit of both worlds.
Now there are other options too like a liquidity pool and others but I feel getting good APRs in these two places is quite awesome.
If you want to play Splinterlands then you can join it here.
Posted Using LeoFinance Beta
---