There's A New Stablecoin Coming To The Cosmos - Livestream Attempt Replay
---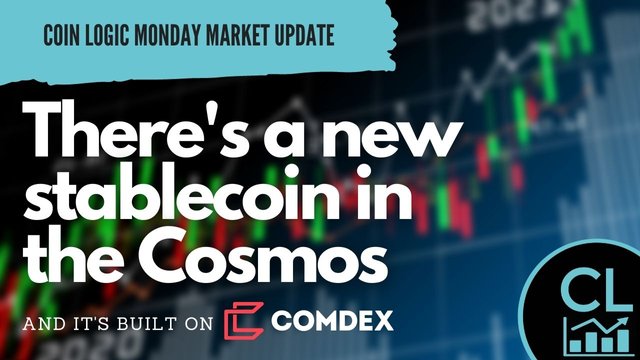 ---
Hello everyone, welcome back to another Monday Market update here on Coin Logic TV! As always we are checking out the conditions of the crypto markets and taking at look at the overall Macro look brought to you by Comdex.one who sponsors our validator node over at carbonZERO.
We are also taking a look at Comdex's new stablecoin called Composite. It is a collateralized stablecoin similar to Maker's DAI, and will have similar mechanics.
We will be taking a look at it through the lens of our partners at carbonZERO and their post on Leofinance.
https://leofinance.io/@carbonzerozone/taking-a-look-at-composite-a-collateralized-stablecoin-for-ibc-build-on-comdex
Here is the official Comdex article about the Composite token.
https://blog.comdex.one/introducing-composite-a-collateralized-stablecoin-for-ibc-bc76e15fa2ec
Hopefully this livestream will work well on the new mobile internet connection so we can do these more often and on more platforms! I will be working on improving my live streaming skills as we go on, lol.

Nothing we say is financial advise.
This is for educational and recreational purposes only!
Stay safe in these volatile markets and don't get rekt!
Stake with our Cosmos ecosystem validator, Infinity https://coin-logic.com/staking
Follow us on HiveHustlers.io and LeoFinance.io, both on the Hive Blockchain:
https://hivehustlers.io/@coinlogic.online
https://leofinance.io/@coinlogic.online
As well as on Twitter at https://twitter.com/coinlogiconline
Now posting to Odysee https://odysee.com/@coinlogictv
Videos by @thelogicaldude are posted to 3Speak through his account and posted to the Coin Logic TV channel on Youtube.
---
▶️ 3Speak
---