Gambling Dapp Dividends Report | Small Dividend Dip
---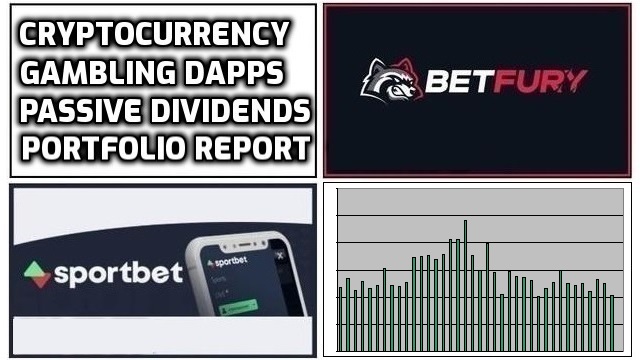 I am keeping close track of my Gambling Dapp Portfolio that now only includes includes BFG (Betfury.io) & SBET (Sportbet.one) with regular updates on how exactly they are doing showing what can be expected for those interested...
---
Since most of the income from these dapps come from Sports Betting and is based on volume, there was a small dip in dividends due to the international break which makes it that there are far fewer matches. The coming months however should be pretty packed with action as The leagues resume while the 4 group stages in the European Leagues also have to be played in a short period of time. The NBA also will start again and most importantly the World Cup which always tends to be a big event for betting. So I'm expecting things to hold up at least above 200$ a week for me despite the bear market and current recession the world is in.
---
SBET is most affected by the amount of sports betting action there is along with what the price of EOS does as it's the only pair it is trading against. WIth not that much action and EOS going back down toward 1$ it still was quite a good week in terms of Dividends. The main difference is that SBET became cheaper again with a 34% drop in value the past weeks. Since I'm holding for the longer term mainly looking at the dividends, this is not really a concern to me.
Stability and reliability have both been strong points for SBET which continues to pay dividends week after week. At the current price this is around +33% but I do expect slight higher dividends going forward the coming months
The aim that I'm looking for right now is for SBET to reach back to 200+ weekly active users and at least maintain that.
---
Betfury now allows withdrawals of earnings to be done in BFG for those that want to compound giving them an easy way to do so. Those that want to cash out also have an easier time just having to do 1 withdrawal and sell that instead of getting 5 different currencies. What I don't like is that BFG has become the default withdrawal option and it needs to be changed to get what it used to be. I like the idea of BFG being a way to cost-average different currencies.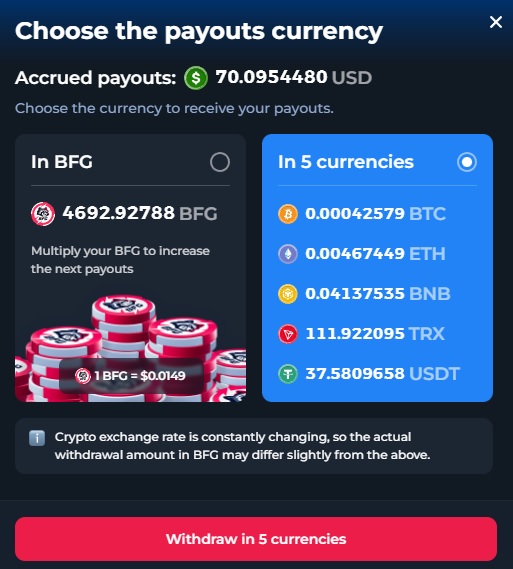 The overall trend however is clear that things are going down slowly while the overall rate of inflation is also going down. This both comes because farming stopped and likely because the incentives for players to play2mine is reduced mostly leaving the site with core gamblers who just play for fun.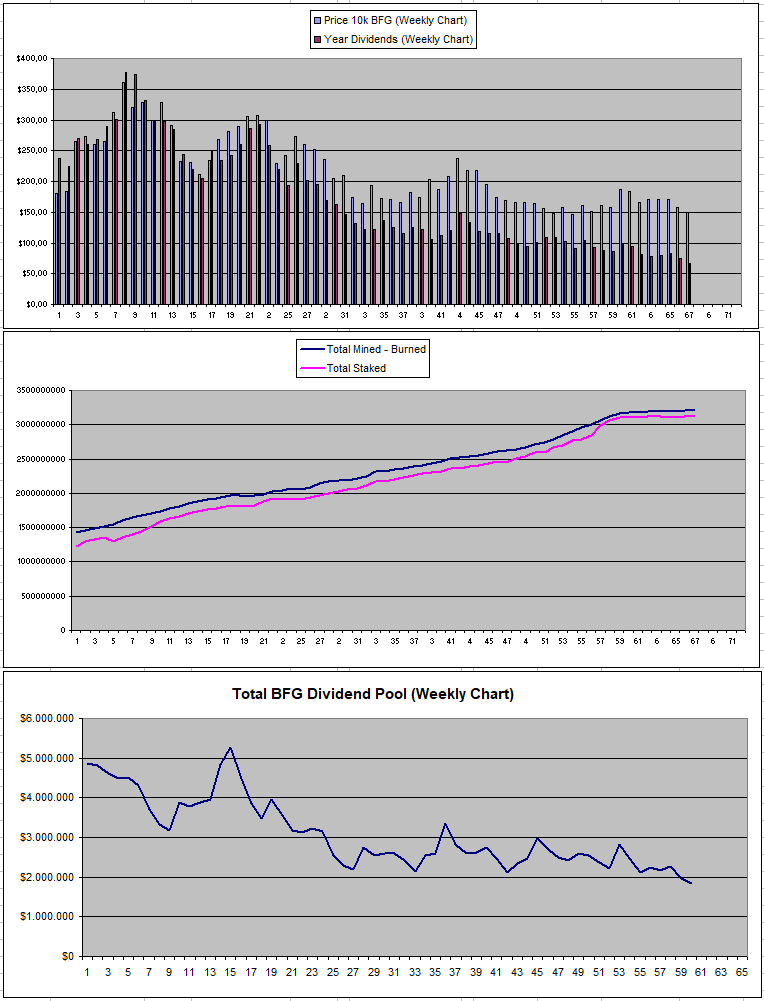 ---
APY Based on Current Price and Dividends from the last 7 days
All these numbers are based on prices of Monday
Note: Token prices going up or down have a major influence on the actual returns going forward either amplifying them if they go up or destroying them when the price goes down.
---
Personal Gambling Dapp Portfolio
Last week provided 250$ of Dividends from holding 7M SBET & 550k BFG. I am looking the diversify more looking for good gambling dapps that pay the losses or fees from the gambler to those holding a token, so if you have one on your radar make sure to let me know...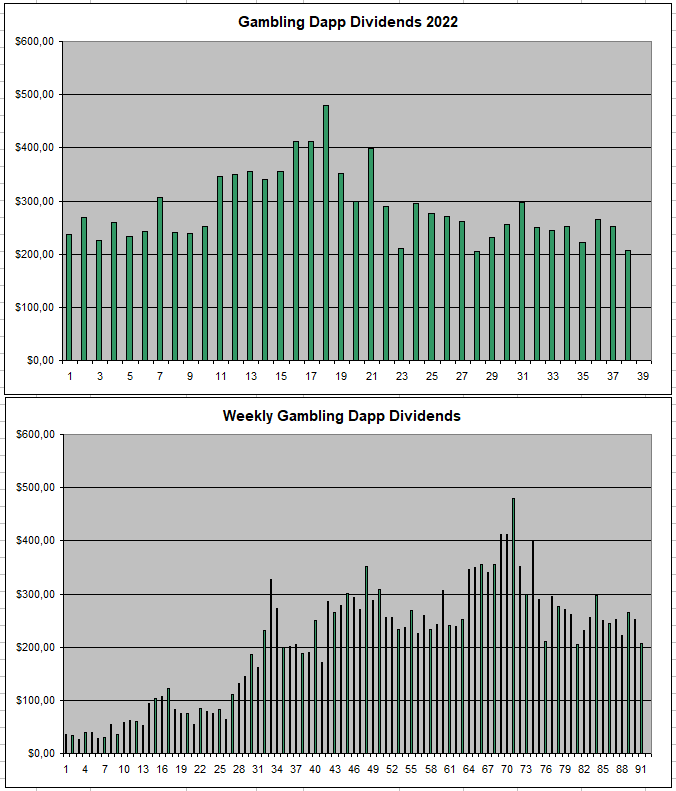 ---
Crypto & Blockchain-Based Bookies and Exchanges that I'm personally using as they allow anonymous betting with no KYC or personal restrictions...
---
I'll be back with another update next week!
---
Play2Earn Games I'm Playing & Social Media Links...
Posted Using LeoFinance Beta
---