Mobile MiniGames: Play & Earn | News & Progress Report September 2022
---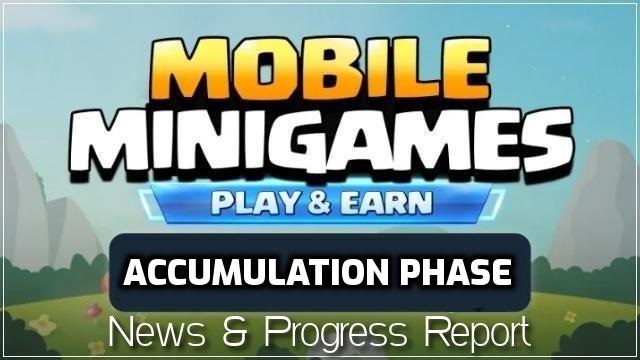 I continue to play and grind my way up in the Mobile Blockchain NFT Play2Earn Game Mobile MiniGames while keeping up with the development. This is everything that happened last month...
---
Splinterlands Deja Vu
Mobile MiniGames right now feels to me like it's in a spot similar to where Splinterlands was mind 2020. There was not that much adoption yet aside from the internal Steemit/Hive community while earnings were really low as some of the whales were dumping their assets which created a lot of doubt and uncertainty.
As the game was actually solid with a great development team that continued to build, that was pretty much the time to 'Push & Shove' and accumulate as much as you possibly could which I partially did. I wrote an article about it Here

This bad period was followed by some crazy adoption mostly because the devs came up with the SPS Governance Token which made all prices & earnings skyrocket like crazy.
The State Of Mobile MiniGames
So the state of the game itself is really good, it's a polished product that can rival the best Mobile Games & Play2Earn out there and I have seen multiple players coming in who really like it and are drawn to come back daily and continue playing with an urge to spent money aside from any play2earn expectations. I have been playing for well over a year myself and the fact that 5 to 15 minutes a day is enough as a playtime requirement on your phone to get most of the progress makes it easy to keep enjoying it. There is also a big expansion coming that will focus on the Play2Earn mechanics and add crypto Land followed by ranked PvP that will include a Reward Pool.
However, the economy & marketing side of things right now is a total mess. The game was built over the course of 5+ years fully by a group of volunteers and from what I understand, everything was funded by the community and the people that work on the game investing in PRPS. The idea was that Locking PRPS for a year would pay 4% in DUBI which could be sold to a buy-wall the team puts up. The price of PRPS due to the tokenomics is also set to slowly increase as more of it gets bought.
As the numbers of the game showed a lot of promise at the start and the team needed PRPS to give out to players who want to cash out their Crypton, they manually raised the price of PRPS a couple times first from around 3.5$ to 6.3$ by increasing with 1 level each day for 100 days and afterward from 6.35$ to 10$ in 1 go at the start of 2022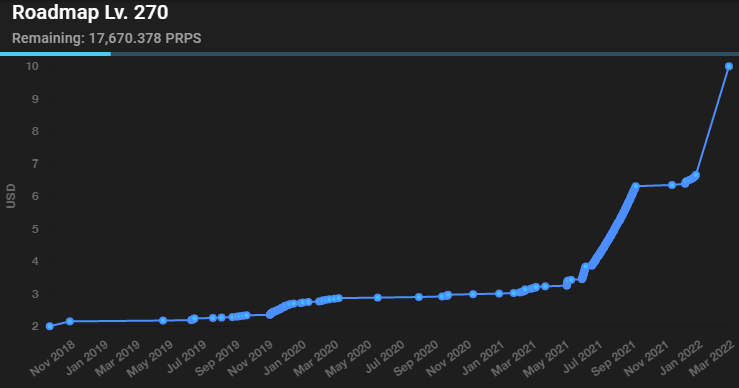 However, none of these increases were actually backed up by real money and they were based on the premise that the game would do well and make enough revenue as the numbers suggested to be able to back these prices also giving the team cheap PRPS to hand out as rewards that at that time would be valued a lot higher. All this while the buy-wall for DUBI was going to be sustainable. The idea was also to run profitable advertisements where 1$ spent would be earned back within a reasonable amount of time with money on top of that to keep scaling them and grow the player base. Again, based on the numbers, this was not an unreasonable expectation.
Current Situation
So thinks pretty much took longer than expected due to many different factors as the initial numbers of returns on advertisement for the poorer Philippines not scaling well as they are mostly interested in getting as much out of the game with just small initial investments. The facebook advertisement platform being rather unprofessional causing a lot of delays. PRPS falling in price as people that got in early wanting or needing the money during this bear market (PRPS is down -22.4 since the Bitcoin top while BTC is down -70%). Everyone who has PRPS locked to get DUBI is also selling it to the buy-wall which they did not anticipate which left them having to use all the earnings from the game after covering their costs to buy it all up (well over half a million).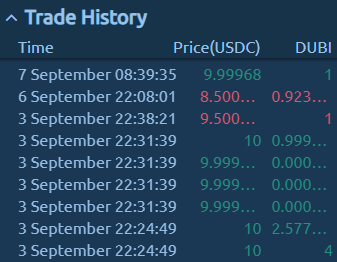 This leaves the game with not enough adoption because they don't have any marketing budget, price of PRPS down a lot compared to the 10$ sell wall price which counts toward Crypton conversion. This also decreases the earnings to a point where it's not worth it for most players who have a short-term mindset. On top, it looks like they also stopped the DUBI Buy-Wall for now which currently breaks their entire economic model as the only way to sell DUBI is in a low liquidity pool where the DUBI price is trading around 7.7$
---
Solutuions
So pretty much what needs to happen is for the prices to restore back to where they are supposed to be especially for DUBI since the entire credibility of the project relies on that buy-wall. There also needs to be an advertisement budget in order to grow the player base and get some actual traction.
Right now I assume they temporarily stopped the buy-wall and are doing a daily fundraising on their stream (which already brought in over 200k) where people that donate will get 1 DUBI for every 10$ that they donate. In the meantime, they are working on the big Crypto Land Expansion which should release hopefully somewhere in the coming months. Once that is out, they will raise the in-game purchasing power of 1 DUBI to 26$ and give all people that donated money their dubi. They are also looking for bigger crypto investors who can drop a significant amount 500k+ in order to get to really get advertisements going. Since the entire game and company runs on volunteers it's hard to find investors in the traditional way and while they have access to loans, the risk is simply too high despite the numbers looking good as them failing to repay would be rather disastrous for the entire project.
---
Risk & Worst Case Scenario
The main risk factor again in my view is the current economic situation in the world and the question if enough people are going to be willing and able to throw money on mobile games. If this isn't the case, it will be harder for advertisements t be profitable to grow the player base. At the same time, if the economy goes to shit, it pretty much affects everything and it will be a matter of time as they are not planning to just give up on PRPS & DUBI as all future projects will work with them.
Rewards & Best Case Scenario
The game is there and it is solid with just not enough ways right now to get wide adoption and the team behind the project is (in my view) solid and trustworthy while they will continue to work hard to fix what is currently going wrong and improve things making that reflect in the price of the tokens. The Crypto Land Expansion should spike interest in the game along with the money that comes in most likely having a rather big influence on the price. Also at a reported circulating supply of 7.3 Million PRPS and 7.7 Million PRPS locked according to PRPS.MOE, the market cap at the current price would be lower than 40 Million Dollars and the needed yearly to buy DUBI would be around 3 Million. If the game is somewhat successful just looking at numbers from other mobile games, this is still peanuts.
My Personal Approach & Plan
I have enjoyed the game since the start and played with an eye to get as much early-player-advantage as possible which now leaves me with an account at level 195 that has all the Insanity Boosts that give Sale Points and over 200+ Exclusive skins along with 2 Exported NFTs and over 1 Million Crypton saved up for the Land Expansion along with my own community.
Even though if I were to sell everything I own in the game right now, it would most likely put me around break even in what I put into it, I probably would not sell my account assets and progress if I could for less than 25k. I will continue to build while the prices are low and accumulate as many exclusive skins as I can since few seem to yet understand the value they will have in the game going forward (if the game succeeds)
When it comes down to PRPS it remains one of my biggest Crypto positions and I continue to cost average more. The best Crypto opportunities I have come across in the past are solid projects with a working product and a good trustworthy team at the time there is Fear and doubt because of issues that need to be fixed. This is pretty much the state where the game and the project is in right now with the main difference the economic state of the world. There is a Quote saying "On the road to success there are no shortcuts" and this is also the case for Mobile MiniGames
---
Concerns & Future Problems To Overcome
While I remain optimistic on the project, I also don't try to be blind to some shortcomings and I still have some concerns that likely will have to get fixed in the future.
Why is nobody Scooping up PRPS below 3$ ? The only real explanation is that everyone who sees thinks similar to how I see them is already overinvested or totally dry. This is a way is the case for me to really invest a larger amount even though I continue to cost-average.
Too Free2Play Friendly: The game in my view is still way too free2play friendly allowing everyone who has the knowledge on how everything works to extract value out of the game with a minimum investment. I have seen this evolution in Splinterlands which went from a game where it was easy to earn it being a game where players are actually spending more than they can recover within a short timeframe even if they were to sell all their assets.
Crypto Space Disconnect: To this point, I'm quite sure that almost none of the Play2Earn crypto influencers even heard of Mobile Minigames let alone tried it out or take it seriously. One of the things that made Splinterlands Succeed is the fact that the team has a deep understanding and collection to the crypto Space. For the Mobile Minigames team, this is almost not existing and it feels like they have no clue whatsoever on everything that relates to the crypto space. They are more focused toward the mobile gaming space missing out on a lot.
Double Spending Problem: Something I never understood is how they see advertisement budget. If feels like everything they earn from the game will go to advertisement in order to grow the number of players but at the same time all those new players that pay money to recover the advertisement cost will have in-game assets that somehow need to be backed up by the money that was used to run advertisements.
---
Development Updates
---
1. Community Challenges Update

This update has been released now for over a month and made the game much more social. I have found a good schedule for challenges in my own Community and wrote an article on that last week how everyone is able to earn some by joining these challenges. To be part of my community, download the game using the QR code or this
link

---
2. Crypto Land Updates
I haven't followed all the streams since they switched the daily updates to the sellout crowdfunding streams but I did see that they shared a demo of the upcoming Crypto Land Expansion. Some Screenshots...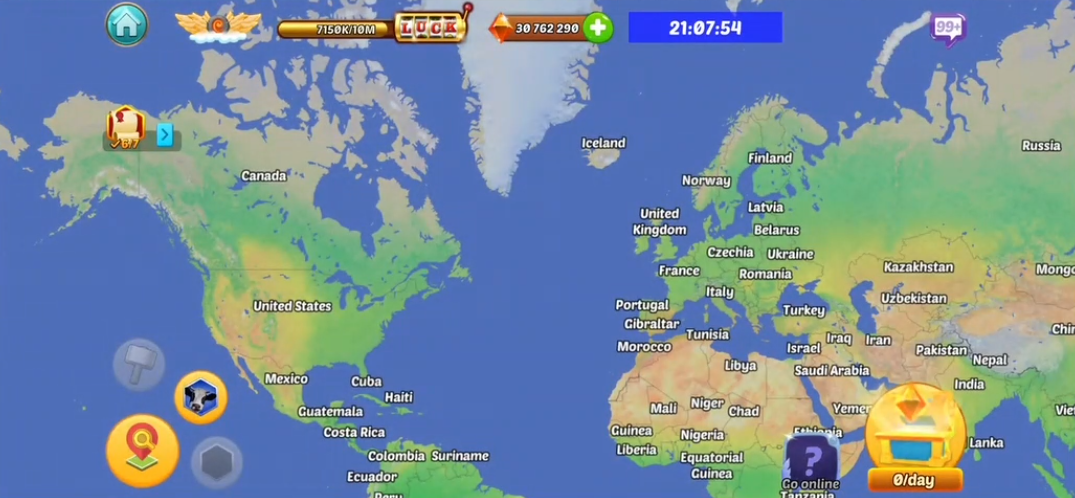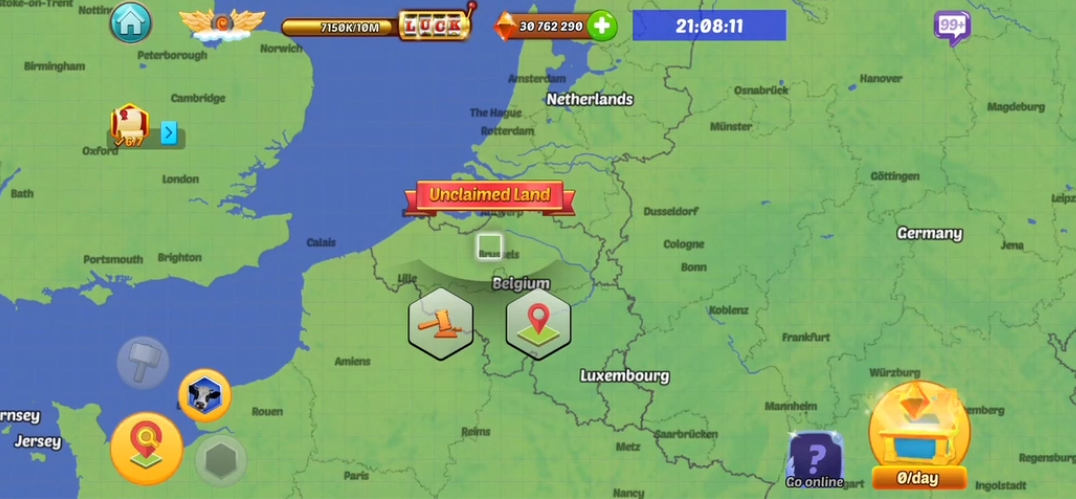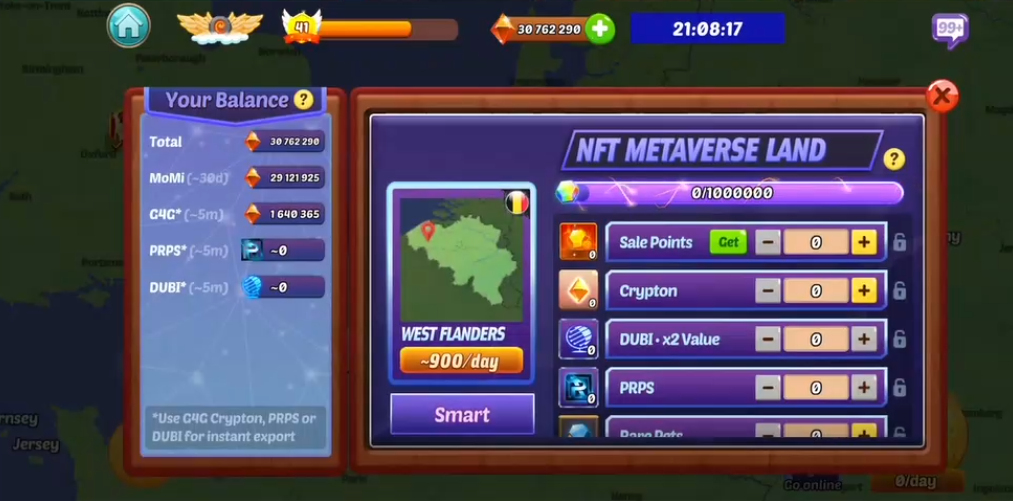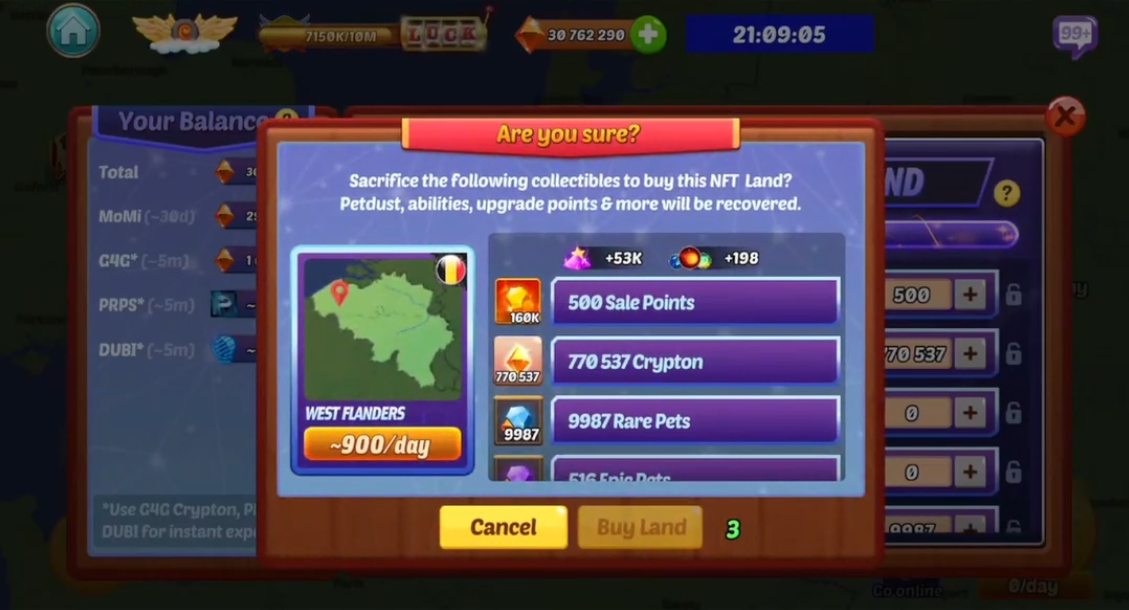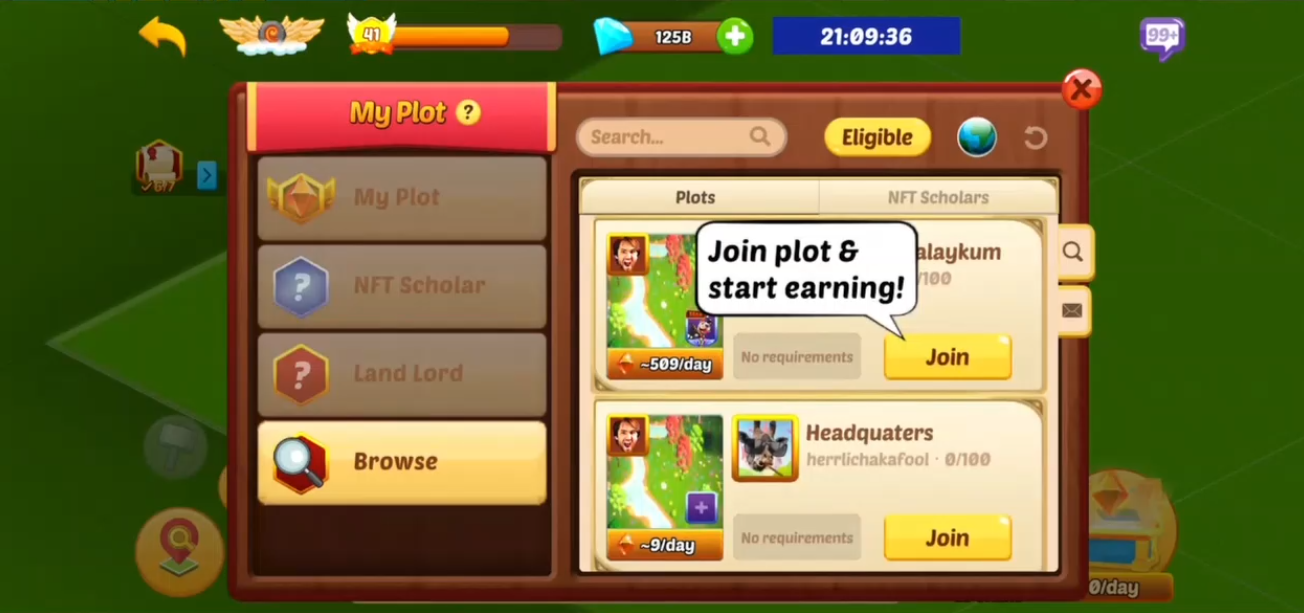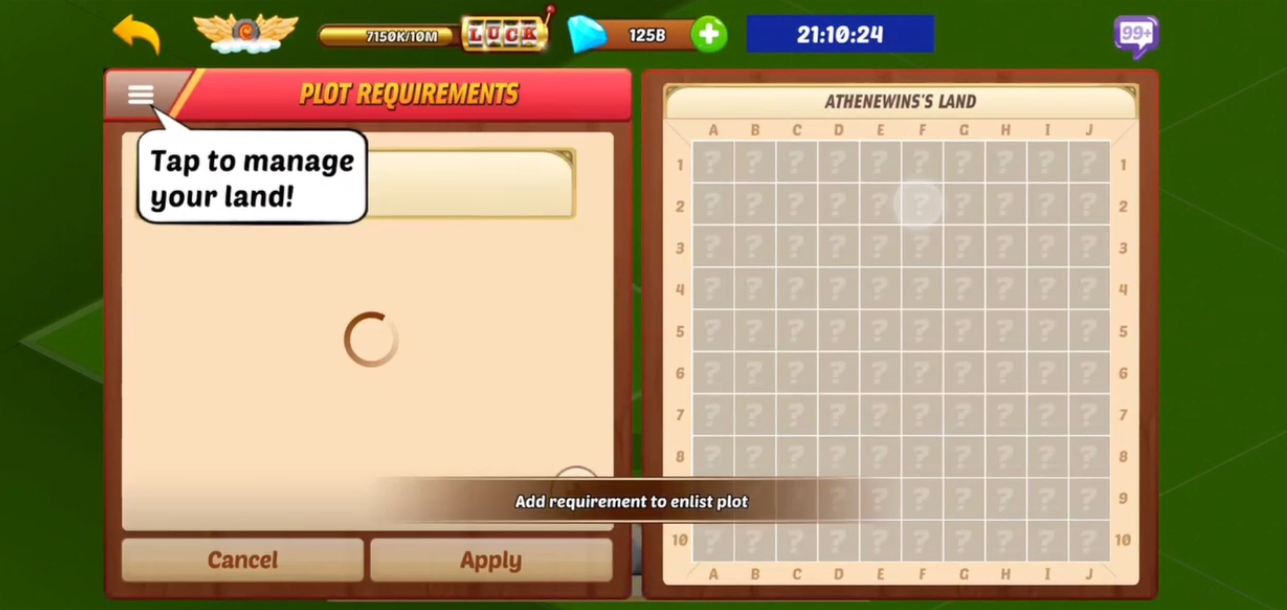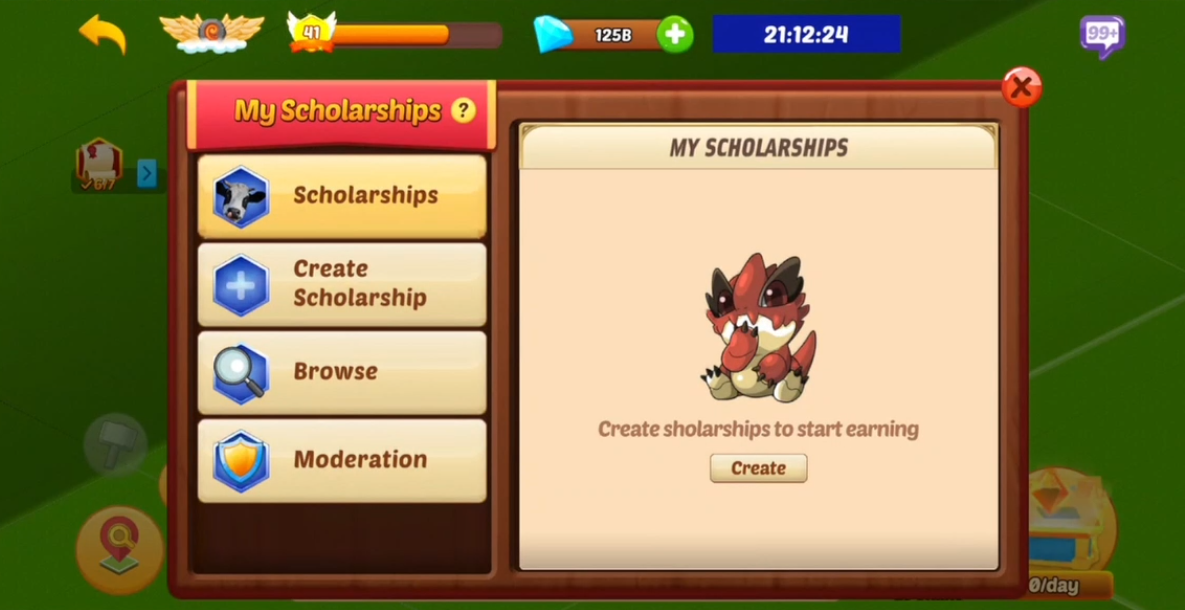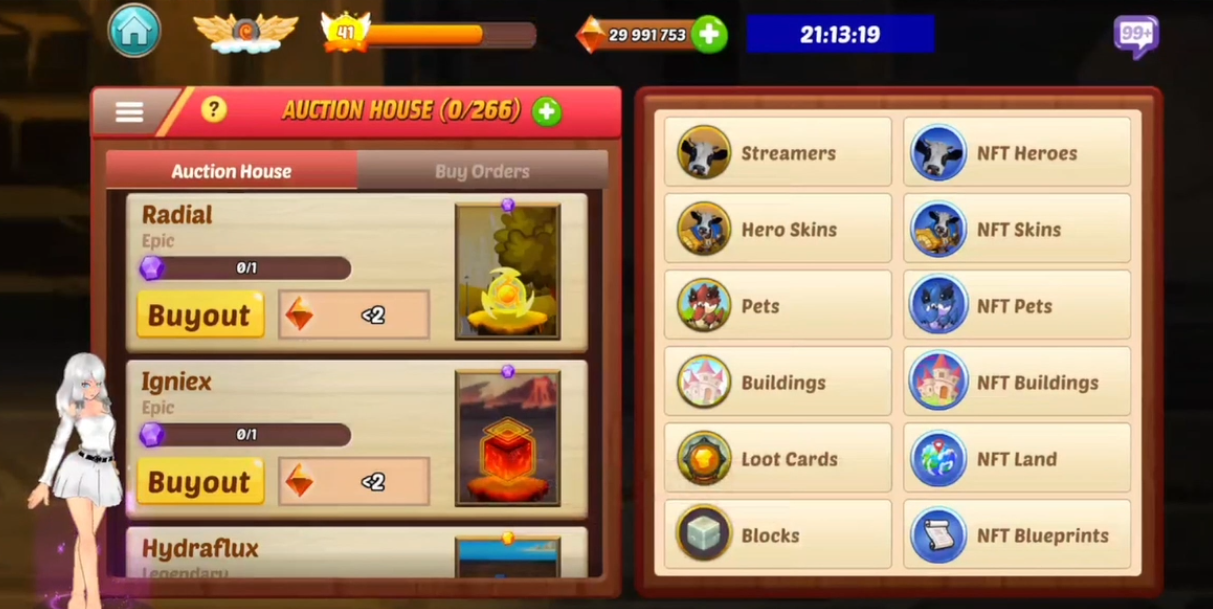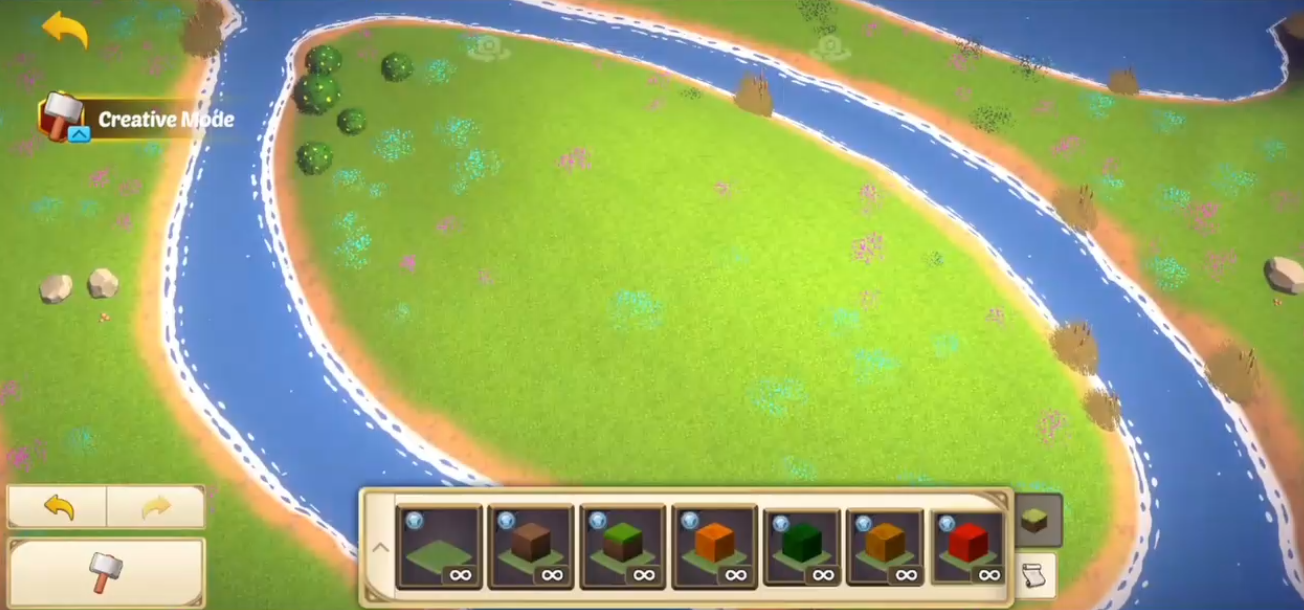 ---
PRPS & DUBI Update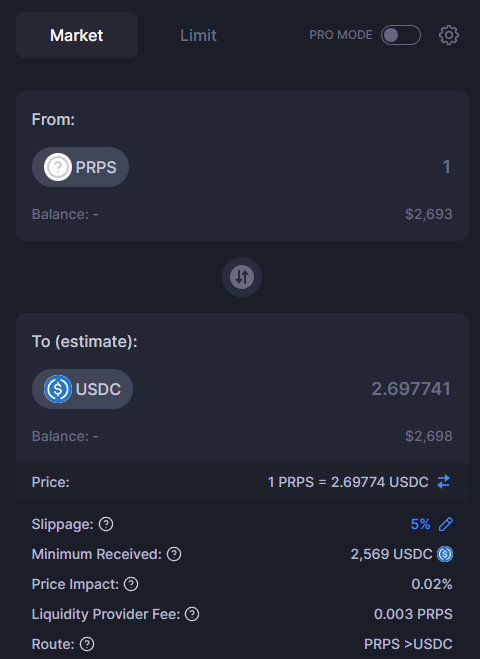 The price of PRPS fell even more and the Buy-wall of DUBI having gone down probably has many holders worried. I explained the entire situation how I personally see in above in this post and I just continue to cost-average more as the price continues to go down as I see the situation more as an opportunity. The fact remains that I'm in a position where I don't need to worry about money short-term and that I will be fine even if PRPS went to zero (even though that would really hurt). The 2.7 PRPS price is also based on low liquidity and right now limited demand for the token. Once the Crypto Land is released the demand should increase a lot and I doubt these prices will remain available. At the same time, I never thought the price would go lower than 6$, 5$, 4$ and recently 3$ so for all I kow in the update next mont the price could be below 2$.
---
| Month | Price PRPS | DUBI APY |
| --- | --- | --- |
| November 2021 | 6.31$ | +6.33% |
| December 2021 | 6.32$ | +6.33% |
| January 2022 | 7.65$ | +5.23% |
| February 2022 | 7.01$ | +5.70% |
| March 2022 | 9.53$ | +4.19% |
| April 2022 | 7.01$ | +5.70% |
| May 2022 | 6.59$ | +6.07% |
| June 2022 | 5.85$ | +6.84% |
| July 2022 | 4.81$ | +8.31% |
| August 2022 | 3.71$ | +10.08% |
| September | 2.70$ | +14.8% *** |
(*** assuming Buy-Wall will be put up again)
---
These are the Token Contracts
PRPS (Polygon): 0x972999c58BbcE63a2e398d4ED3Bde414b8349eB3
DUBI (Polygon): 0x950e1561B7A7dEB1A32A6419FD435410daf851B0
a full overview of on-chain activity can be found on prps.moe
---
Personal Clash Of Streamers Game Progress
I continue to play daily leveling my account while stacking as many exclusive skins as I can. Vouchers right now are selling for a lot less and I have some left to get Crypton from to buy more skins. I also for the first time reached a point where I'm merging 5 Level 10 Heroes into a level 11 hero. At this pace, I guess it will take a couple more years before I'm able to do this with level 12 heroes.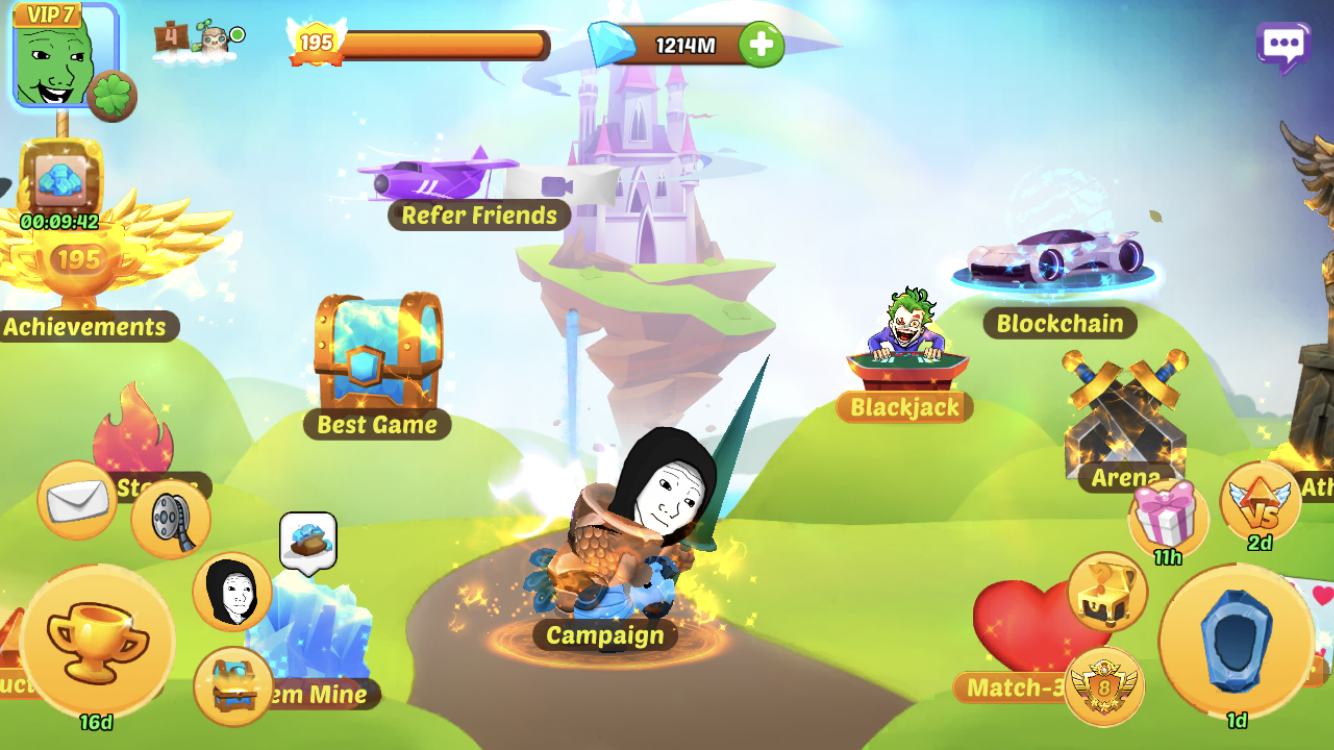 | Progress | May 2022 | June 2022 | July 2022 | Aug 2022 | Sep 2022 |
| --- | --- | --- | --- | --- | --- |
| Account Level | 148 | 163 | 174 | 183 | 195 |
| Account Trust | 241M | 267M | 287M | 303M | 325M |
| VIP Level | 7 | 7 | 7 | 7 | 7 |
| Strongest Heroes1 | 6x L11 | 7x L11 | 8x L11 | 8x L11 | 10x L11 |
| Strongest Pets | 6x Max Level | 7x Max Level | 8x Max Level | 8x Max Level | 11x Max Level |
| Gems Balance | 1.4B | 2.2B | 1.0B | 1.5B | 1.2B |
| Spellbook Heroes | 10000% (Max) | 10000% (Max) | 10000% (Max) | 10000% (Max) | 10000% (Max) |
| Spellbook Pets | 10000% (Max) | 10000% (Max) | 10000% (Max) | 10000% (Max) | 10000% (Max) |
| Crypton Saved | 43k | 439k | 1M+ | 1M+ | 1M+ |
| Sale Points Saved | 298 | 359 | 361 | 304 | 318 |
| Pet Luck | +696% | +713% | +727% | +745% | +784% |
| Campaign Progress | Prestige 62-1117 | Prestige 64-1155 | Prestige 69-1228 | Prestige 70-1274 | Prestige 72-1312 |
| Community Members | 78 | 86 | 99 | 108 | 118 |
| Export Discount | 5.9% | 6.2% | 6.4% | 6.6% | 7.0% |
| Total Money Invested | 820€ | 1140€ | 1580€ | 1900€ | 2250€ |
| Exported NFT Pets | 2 | 2 | 2 | 2 | 2 |
| Exported NFT Heroes | 0 | 0 | 0 | 0 | 0 |
| Exclusive Skins | - | - | - | 201 | 315 |
| Total Estimated Account Value | 2000€+ | 2000€+ | 2500€+ | 2000€+ | 1500€+ |
---
Conclusion

If I was not already invested in
Mobile MiniGames
and have the understanding of the project with funds on the side, right now would likely be the time to really start deploying seriously for me (No Financial Advice). The entire situation the game is in right now very much resembles when
Splinterlands
was at the time of maximum opportunity. This is also the time with highest uncertainly and doubt especially given the economic situation in the world. The game itself is Fully Free2Play on Mobilel and I can highly recommend everyone to try it out, especially when being part of my
Community Sign-Up Deal
as I put up challenges each day where you can earn while I already have the Crypton set aside for a Full Crypto Land with 100 Sub-Plots. (See
Clash of Streamers | How To Get A Free Land-Plot & Earn !
). By scanning the QR code you can directly download the game and be part of my community.
---
Previous CoS News & Progress Report Posts
August 2022
July 2022
June 2022
May 2022
April 2022
March 2022
February 2022
January 2022
December 2021
November 2021
---
More Info & Guides For Clash Of Streamers (some things might be outdated already)
---
Other Play2Earn Games I'm Currently Playing...
Posted Using LeoFinance Beta
---