The value of life
---
Good morning friends. I decided to start this morning with something abstract. Some thoughts, for the sake of thoughts. To do this, I chose this photo, which I took last summer while walking near an artificial pond.
---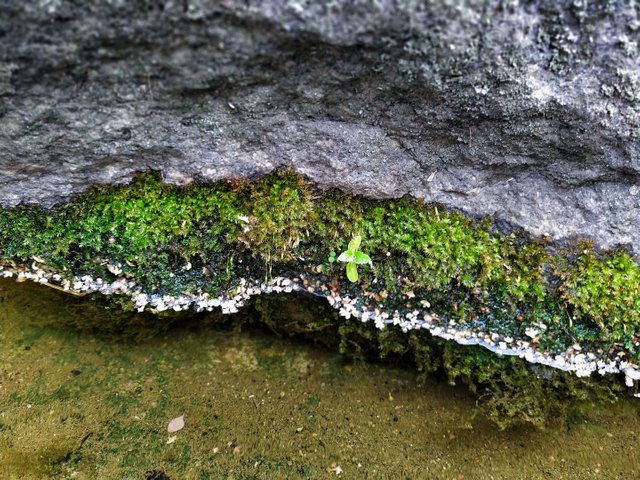 ---
My attention in this photo was drawn to a small plant growing on a thin layer of silt stuffed with a huge granite stone. I don't remember what I thought when I took the photo. When I started editing this photo, I thought that whatever the conditions of existence, and the thirst for life can overcome all obstacles.
---
This plant did not have the opportunity to look for easy ways. Perhaps her only choice was to live or not to live. And then, the option to give up and end the existence of a kind of self on itself was not even considered by her. Instinctively, this plant struggled with everything, taking those small crumbs of nutrients that it received as a result of circumstances that could clearly be ten times better.
---
Probably due to the inability to "think", but simply existing "by instinct", this plant has coped with the struggle for life. Unfortunately, people periodically forget that the opportunity to live is the greatest happiness. So personally, how much money or things are you willing to pay to continue living? Strange question, and when in extreme situations it comes to the value of all things other than life recedes into the background. If the parasite of self-sacrifice has already infected your brain, think about what you are ready to do to save the lives of your loved ones, I am not talking about children…
---
So, why do we postpone the opportunity to enjoy our lives and the company of these relatives and friends in everyday life and postpone "life" to earn new things or new amounts? Unfortunately, I have no answer. I will not postpone life any longer - I will go to enjoy communication with parents and son. Have a good day.
---

---
Useful link
---
Exchanges
Binance | Poloniex | Huobi | Cryptex24 | Ionomi | Okex | Bitwired | Qtrade | Kuna | WhiteBIT
Cryptogames
SORARE | Doctor Who | Oceanplanet | c24 games | Splinterlands | Cryptobrewmaster | Exodegame | Rabona
Cryptoblogs
HIVE | STEEM | lbry.tv | noise.cash
---

---
Posted Using LeoFinance Beta
---