COTI Treasury Updates Plus Upcoming Airdrop
---
Finally we have received an update into the stats since launch which was only 4 months ago. So much has happened and so many lessons have been learned or not so as some of the latest info does still astound me. Greed has no boundaries it seems and with the volatility not even close to being over many more liquidations are on the cards and I am not complaining.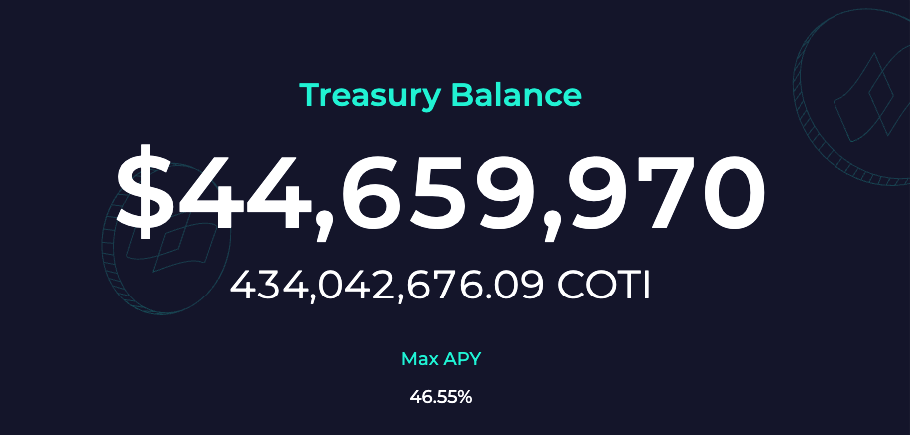 The balance has stayed fairly constant over the last couple of months and is up around 1% over the last few weeks. This represents roughly 40% of the total supply of COTI. This is decent considering many countries like the USA are still waiting for regulation to say it is now ok to stake. I see that happening within the next few months so patience is definitely required now.
for those that are unaware we have 4 levels of staking being 1 (no risk) 2 ,3 and 4 which is the highest risk with the highest APR. There is also a time period you choose between 0,30,60,90 and 120 days for locking. All of mine are level 1 and 120 days plus.
There are currently 13 064 active deposits making up the 434 million COTI staked. 877 deposits were liquidated adding to the $22.1 million rewards distributed thus far. $10 million in rewards has been claimed already.
Around 70% of all deposits are staked for 120 days. Here is the odd part as 40% of level 4 deposits are staked for 120 days. This is liquidation heaven as when the price drops you have 60 minutes to take action or lose that deposit. The price needs to drop 12.5% which is nothing and could happen at any time. I am not judging but it seems super dumb in this Bear climate and if they want to gamble I will gladly accept the coins via increased APR.
Once the MultiDAG2.0 has been launched there will be an airdrop of Treasury Governance tokens for those that are staking within the treasury and active within the community. I am hoping my Leo posts help score me some extra tokens as this is surely adding to the community?
The Viper wallet is being updated with the moblie ios COTI treasury feature and are waiting on Apple to review this. The COTI treasury is also having the automated rewards distribution updated which I hope means we don't have to claim and it happens automatically.
The rewards should start to increase as of next month as DJED is launching end of July for Cardano DeFi. We still have the Enterprise tokens launching in Q4 which we still have no clue which companies are involved as this is top secret. My guess is Amazon or Walmart or both as that makes sense as the numbers would tie up financially along with the time line of 2 years which this has been going on behind the scenes.
Posted Using LeoFinance Beta
---