Partnerships And Adoption Are Key To Opening True Value
---
We all saw that fake news story today stating Walmart and Litecoin (LTC) had teamed up creating a stir in the market with a quick pump and dump. Possibly another reason to stay well clear of LTC as how can they do this and get away with such lies? Deleting your tweet is not saying sorry and compensating all the investors now holding bags of LTC at inflated prices. You don't tweet something out of error that is false if you are creating that tweet.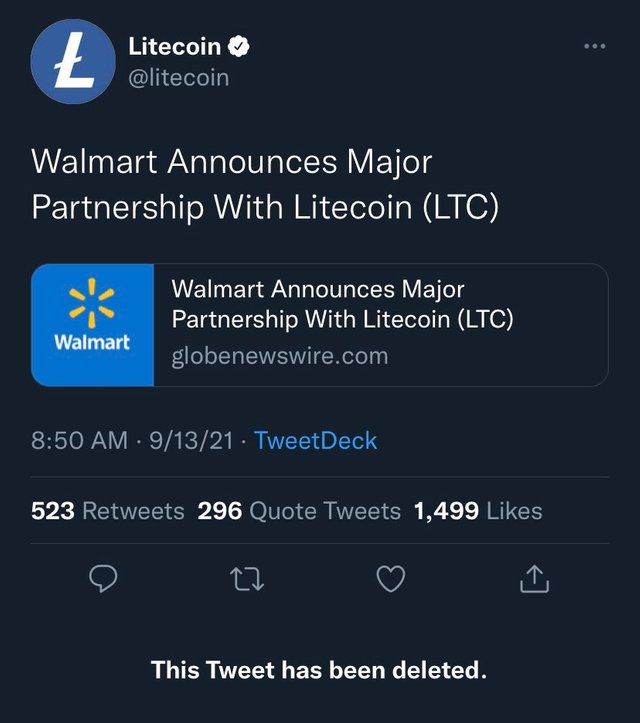 source
Crypto has a long way to go before it can be trusted. I for one will never own LTC as the founder has a shady past and knowing that is not investable. Trust is something that is earned and why people are wary of so many crypto projects.
Partnerships can take a while to come together and why doing research into anything you invest in is crucial. We saw how the Walmart news story triggered a space hike and this type of thing can happen and will happen for real in the future.
Thankfully today unlike 4 years ago there are many alt coins that have genuine use cases. Having a use case is of paramount importance otherwise you are just gambling on hype.
The one alt coin I have bought into and adding to on a regular basis is COTI and I am not shilling here either. Everyone is smart enough to make up their own minds whether something is good or not and don't need to be spoon fed. I thought I would share with you something I came across today. This is an article from 2 years ago and nothing has changed except Cardano have now got their act together and have finally started with SMT's.


As we all know ADAPAY is already up and running and Cardano has been waiting for the SMT's which have taken years to develop. I think it is interesting to note that an agreement or partnership was formed with New Balance/Cardano and Coti way back in 2019 and nothing else has been said since then. I have no clue whether the time has passed ,but I think it hasn't and this is still on track. Getting things right takes time and when you set out targets and make these sorts of announcements it was done for a reason and that reason hasn't changed.
The article can be found here
CARDANO: Collaboration with New Balance and Partnership with COTI to develop an ada payment gateway
For those of you that don't know Coti is basically a blockchain bank using the trustchain for transactions. It is a bank as we know it in every sense offering merchants/retailers a payment gateway. Currently in excess of $30 million is being processed monthly. This is up by 20% since June and as more merchants are bought into the system those volumes will rise considerably. New Balance revenue sits at $4 Billion per annum according to Forbes and expect this partnership to be announced later this year or at the Cardano summit this month.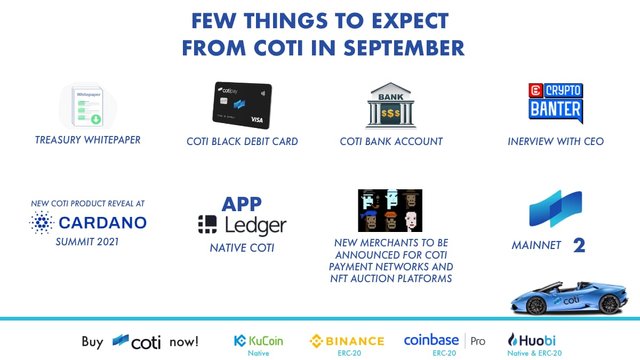 This is what sold me on COTI and nothing else to be honest as development and partnerships are what unlocks the real value of the project. There are many other alt coins out there with massive development and partnerships happening all the time. We just have to do our own research and make up our own minds without shilling if it is a good or bad investment.
Posted Using LeoFinance Beta
---