How has stable coin marketcap changed since 2018? Are stable coins really stable?
---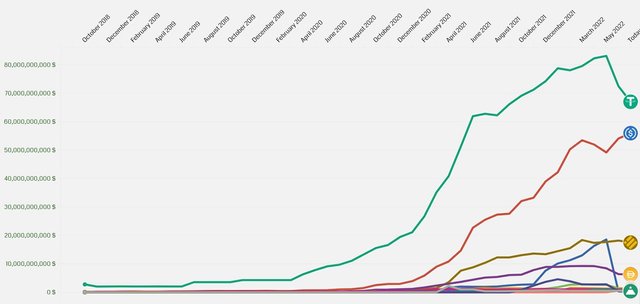 At the end of 2018, we only had 4 stable coins with a market capitalization of more than $100 million. Number 1 was Tether with a marketcap of over $2 billion. Alongside it were TrueUSD, USD Coin and Pax Dollar.
Today there are 22 stable coins with market capitalization over $100 million. Number 1 is still Tether, but its marketcap is already over $67 billion. There are new big stable coins like USDC, which is on the 2nd place and everything indicates that it will soon overtake USDT. The total marketcap of all stable coins is over $155 billion according to Coingecko data.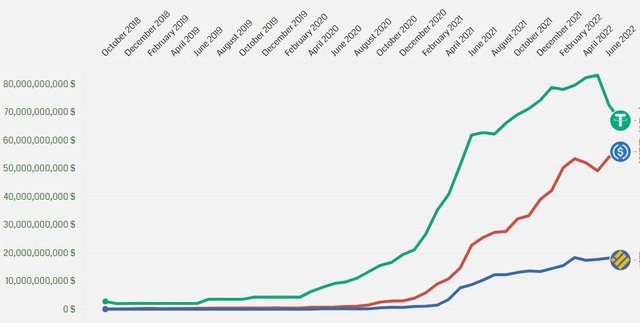 USDT, USDC, BUSD marketcap.
How has the market capitalization of the most popular stablecoins changed?
Are stable coins really stable?
The popularity of Tether was taken advantage of by others who also created their stable coins. Unfortunately many if not all of them are not backed by 100 % of the dollar. This means that there is no guarantee that 1 token will ever exchange for $1. Creators of 'stable' coins back them with other cryptocurrencies which is a huge risk. We saw this recently with the example of Terra USD, whose value dropped from $1 to less than 1 cent.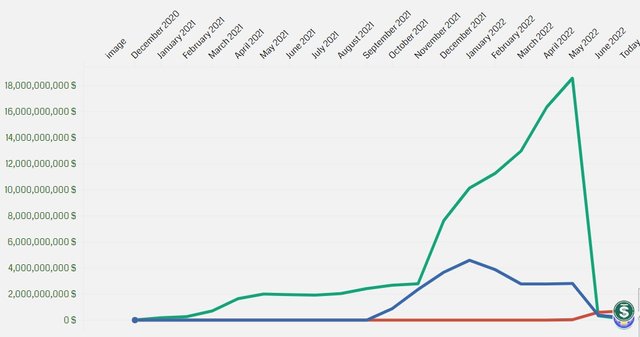 UST, USDD and MIM marketcap.
Min. and max. '1 USD stable coin' price
This is how the prices of the most popular and biggest stablecoins fluctuated:
Tether 0.57-1.32
USD Coin 0.89-1.17
Terra USD 0.006-1.09
Binance USD 0.90-1.15
Dai 0.90-1.22
Frax 0.89-1.14
TrueUSD 0.88-1.62
Pax Dollar 0.86-1.13
Neutrino USD 0.73-2.52
USDD 0.93-1.03
Magic Internet Money 0.91-1.04
Fei USD 0.67-1.11
Hive Dollar 0.42-3.97
As you can see some stable coins have little to do with stableness.
Are stable coins a ticking bomb?
Will stable coins fall when a multi-month bear market occurs? Some people think so. Those projects that are hedged like Terra USD could have huge problems. No one knows if or how many dollars Tether has secured. Is it big to fail? We haven't seen this kind of thing before in the financial world. The collapse of Tether would shake the market badly and people would lose confidence in stable coins.
Some of you may have noticed that Tether has started removing tokens from the market for the first time ever instead of printing them. Why? No one knows because they guard their treasury from independent audits.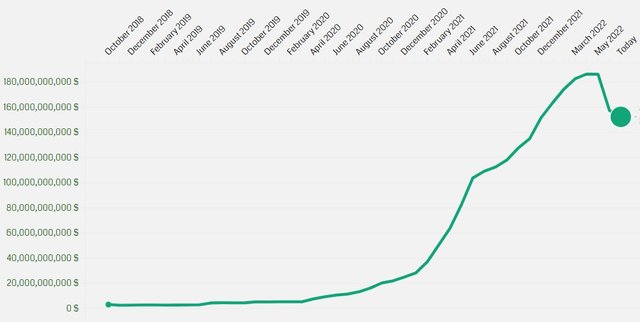 Do we need stable coins?
They make it easier to buy and sell tokens, because we can see their price on the exchange. This is their main usefulness. You have to admit that it is much easier to exchange ETH for USDT/USDC than for satoshis. Unfortunately as the history shows stable coins prices are not that stable and some of them may fall.
Do you trust stable coins? Which of them do you have the most confidence in, and which will fall like Terra USD?
---
---
---