Properties & SQM-Token | Learn more about the Hive Game "CryptoCompany CEO"
---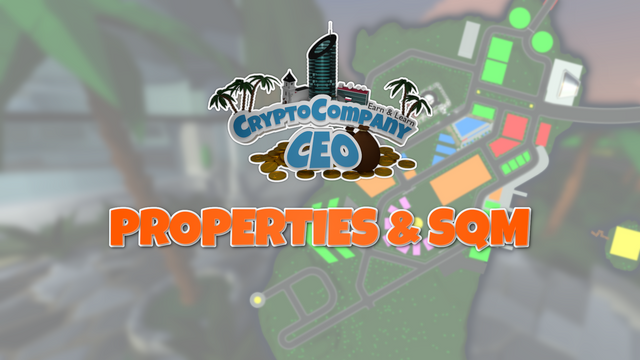 [@PowerPaul:] In the last article we talked about the purpose of the SQM token. Today we want to go into this in more depth and introduce you to the different types of properties. Still briefly in advance:

Since the publication of the SQM a partly active trade has developed - about which we are very happy. No matter how: we are happy if you could sell your SQM at a good price, but we are even happier if you were so clever and accumulated all the SQM.
Some have made a tidy profit, others are accumulating, hodeling and paving the way for their bright and profitable future.
No matter how: You are smart!

To make it clear where you'll acquire your plot: CryptoCompany CEO is a multiplayer 3D adventure in your web browser and a genre mix of free third-person and point-and-click. Even though it is set on a limited island world, it can be considered open-world.
In this island world, on the one hand, you can follow a storyline in the game. But you can also interact freely with the world and the contents in it, independent of a storyline. In addition, there are mini-games that can be played at any time, but are also organized in special competitions.
In the main story the player learns about the different aspects of the Hive blockchain and rises from trainee to crypto and mediamogul through interaction with the chain. OK? Questions?

With the SQM token you can buy plots of land in the game world. SQM is derived from the English square meter and thus also corresponds to an area in the game - a square meter.
Each plot and the building on it is unique and exists only once. As a buyer of a plot you can - together with the "architects" of CryptoCompany - plan your plot and we build it accordingly into the world, linking storyline, minigames and game world with it. Speculators can even sell it again later, when the prices have risen due to the exclusive location.
There are different types of plots, indicated by different colors:

Here you can do and create what you like. You want to promote something? Awesome! Sell something? Great! Speculating with real estate and land prices? Perfect! Demonstrating power and wealth? Let it rock!

Are you selling something on the blockchain or offering services? Do you trade NFTs, sell handmade stuff on the blockchain, wine, beer or pizza (token)? Games? Market spaces provide the perfect opportunity and can be used accordingly. Do you offer @fine-art and need a studio? Even a whole building as a noble @nftshowroom? Or rather just a 2 or 4 square meter booth?
I can already see it: the "Cinnamon Cup Coffee @CinnCCf" - cute street coffee on the corner and a popular meeting place for all the @hivepeople. A small bookstore with stage and lectern because you hold the @poeticuniverse and want to do readings there? Endless possibilities! A kiosk where you can read and vote for @hiq.magazine, @gardenhive or the @wochenblick? Market plots are in any case exclusive for those who offer anything in any form.

Community spaces are given exclusively to Hive communities with over 50 members. Example of this are the 7 lodge buildings on university campus. Meant without stereotypes, but how about a park for our @ganjafarmers, @hashkings and @canna-community? A pub for for all the @beerlover on the chain? A small @wine-token growing area? A training center for all the @hive-learners, right next to the @nftsymposium conference center and the university?

Economy plots cannot be bought by the player. But you can hold business shares in it in the form of tokens and pools. For example:
Certainly, I am revealing the game only gradually, but what has already leaked out: there is a racing business in the game. This racing operation makes revenue from starting fees in regular competitions, for example. The profit is distributed in a pool - if you have shares in it, you have a corresponding profit.
Further discussion of community plots will follow in due postings. Currently it is only important what the orange areas represent and that they are not for sale. As you can see from the above example, the neighborhood of economy plots is attractive because it is frequented by many players.
Speaking of economy, did you know that you can find, collect and/or throw cans into the trash every day in the game? This gives you rewards and a @cleanplanet.

Monuments come in different sizes, starting at 4 square meters, open to the top. A monument is a great way to support the game and the creators behind it. But also to be involved in the game and the achievements in a special way.
Small spoiler: players can take photos in the game and publish them in the form of a post on the blockchain. An achievement in the game is to visit all the monuments and take a photo of them. In such posts your honorable mention? Hello game! Hello "one hand washes the other"!

You don't just buy a plot of land with a house on it. Look at it this way: we as game creators have the freedom to create everything, what and how - as far as we can or within the technically possible scope of the game. Our goal is to integrate you and your project individually. The dedication of a street name or an additional advertising banner above the street would be the least of it. Advertising space on the race cars? Cleverly positioned advertising in photo backgrounds? Basics.
Example: Not only did @hiq put their logo and a lot of storyline into the game, but they also got one or two achievements where players do things that are in the interest of HiQ Magazine. Clever!

As game creators we have various ideas and possibilities up our sleeve - together with your project and your ideas and goals we will create interesting things in the Hive-Metaverse game. Talk to us! Discord? https://discord.gg/PV8qQbEc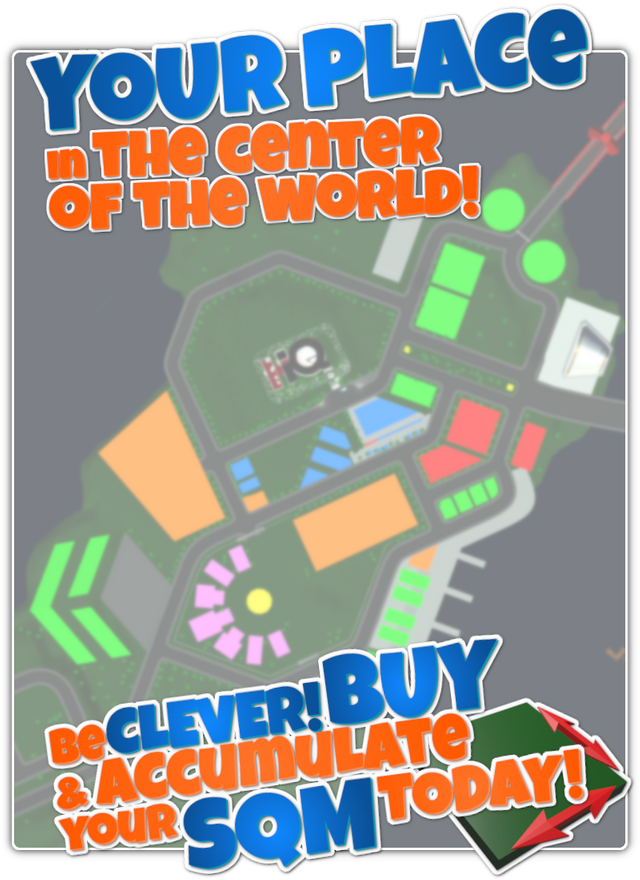 ---
In addition to the many things what we prepare, a competition would be awesome again in the next post, wouldn't it? Another unexpected winner? The magic formula is:

"Buy, share and your own report, will be the your luck, I surely thought."
---