BAT Still Has MASSIVE Upside for 2021-2022 (Weekly Forecast)
---
Basic Attention Token (BAT/BTC) has struggled of late, falling below the 50 and 200 Week EMAs and the 0.00002 BAT/BTC level to about 0.0000166. This is a bearish divergence, at least in the short-term, however if BAT can find support around these levels and rally back above the 200 Week EMA, we could reestablish the uptrend and look for the beginning of a Wave 3 rally.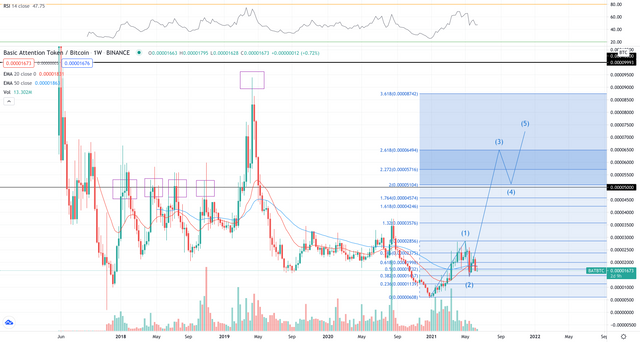 (June 19, 2021 8:30 PM EST)
Outlook
Basic Attention Token (BAT) looks to be in the midst of this bull market's first wave 2 correction after making a higher high around 0.000027. What we're looking for now is a higher low after putting in a long-term bottom in early 2021. Alts are likely to drift a bit lower as BTC finishes putting in a rounded bottoming pattern. While alts tend to decay in satoshis during these post-selloff consolidation periods, they do offer buying opportunities despite possibly catching a falling knife.
When you zoom out, however, you can see that BAT is near the bottom of its 4-year trading range since late 2017, even after the early 2021 rally. Being that crypto is in a bull market and the majority of alt gains tend to come near the very end of the cycle, BAT is in a much earlier inning than BTC and thus offers greater potential gains in percentage. Even if you have a conservative price target, 0.00005 historically has been a popular resistance level that has been tagged several times, which would be a ~3x from current BAT/BTC levels. With a more optimistic (and possibly realistic projection), BAT's price could extend much higher to 0.0001 as the crypto bull market picks up momentum and BAT/Brave fundamentals continue to impress.
Fundamentals
Speaking of fundamentals, below you'll see Brave/BAT's rapid growth over the past year, showing over 32 million Monthly Active Users, over 11 million Daily Active Users, a steep growth curve of Verified Creators on the platform, and significant BAT accumulation by crypto exchanges Coinbase and Uphold, both making 5-6 figure purchases on a weekly basis. As Brave/BAT continues to grow and see mainstream adoption, time is running out to accumulate BAT for the inevitable run up as Web3 continues to siphon users from archaic internet iterations such as Google and Facebook.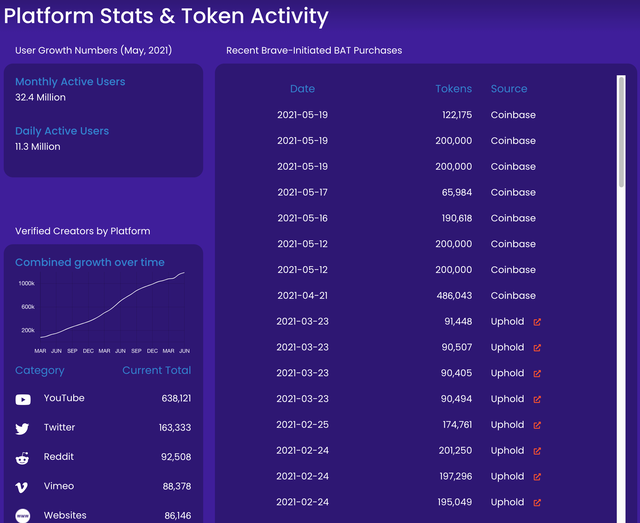 Support: Local bottom around 0.000015.
Resistance: 50 and 200 Week EMAs around 0.0000185, then 0.00002, then current cycle high around 0.00003.
Buy Bitcoin here.
Earn Crypto here.
Posted Using LeoFinance Beta
---