Best Performing Asset Since COVID Crash? (March 2020-Now)
---
Since markets bottomed around March 18, 2020 during peak COVID fear, assets have gone on an absolute tear. Which asset has performed the best since then?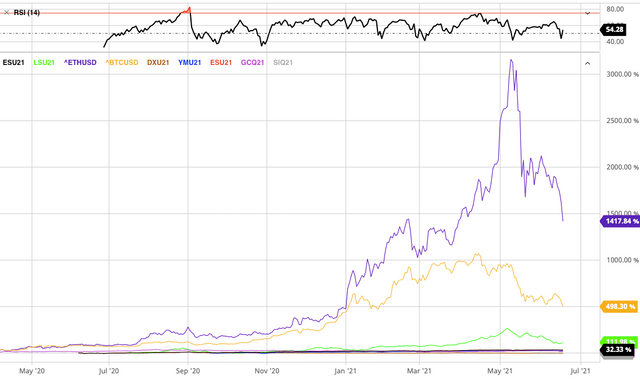 Top performing assets since COVID selloff:
1. Ethereum +1,417%
No surprise as alts tend to outperform BTC.
2. Bitcoin +498%
Outperforming all TradFi assets by a longshot and currently outperforming CAGR by 2.5x.
3. Lumber +111%
Soaring demand and reduced lumber mills operating worldwide due to COVID.
4. Nasdaq +41%
Big tech with high growth during remote work/quarantine.
5. S&P 500 +32%
QE lifts stocks with rising tide (largely buoyed by big tech stocks Tesla, Facebook).
6. Dow Jones +22%
QE rising tide.
7. Gold +16%
Significantly underperforming S&P benchmark; capital being reallocated to crypto.
8. US Dollar -1.19%
QE; enough said.
9. Silver -7%
Short-term discount before precious metals rally to higher highs?
Posted Using LeoFinance Beta
---