"Bitcoin is Dying!"
---
Every time Bitcoin falls, the skeptics start saying: "I told you, Bitcoin is a scam!", these are the same people who never read Bitcoin white paper, never owned a Satoshi or sent it to a friend on the other side of the world.
Yes, Bitcoin is a volatile asset, and in one day it can go up by 15% or drop by 15%, because the cryptocurrency market is still very small, and it is traded as a tech stock. We are just at the beginning of crypto technology, the same way we were with internet technology in the 2000s. People don't know how to valuate crypto, the same way investors didn't know how to valuate tech stocks in the 2000s.
During the Dot-Com bubble crash, many shit stocks were hyped and these were the ones that imploded. But the real projects with strong fundamentals and underlying technology like Apple and Microsoft flourished, and people today cannot imagine their lives without this technology.
If you believe in crypto as a technology is a Ponzi scheme scam, think about how your life would be without the internet today...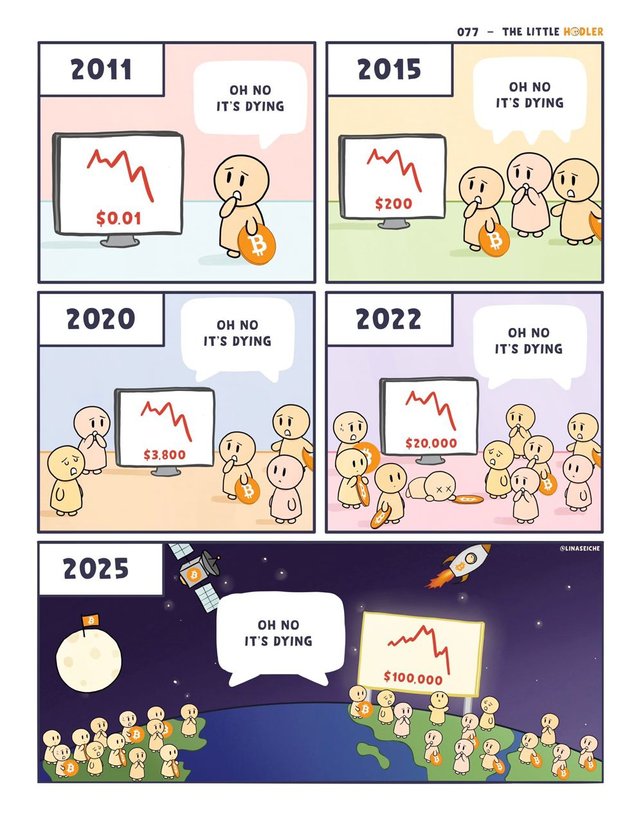 Source of the image: https://thelittlehodler.com/
---
Follow me @cryptodive for more crypto stories!
My socials:https://linktr.ee/crypto.dive
Crypto Dive🥇 is growing to become the number one channel to educate people about decentralized technology.
#crypto#bitcoin#waivio#leofinance#cryptocurrency#finance#investment#technology#stocks#stockshares
---