Altcoin Season Index breaks the line first time since August 2020!
---
Hello my fellow bloggers! This will be a short post to brighten your day a little bit as markets bleeds. We have officially started our spring Altcoin Season!
What is an Altcoin Season?
If 75% of the Top 50 coins performed better than Bitcoin over the last season (90 days) it is Altcoin Season. You can track this using Altcoin Index. When it breaks 75 point line, we are officially at Altcoin season.
This is the first Altseason since August-September 2020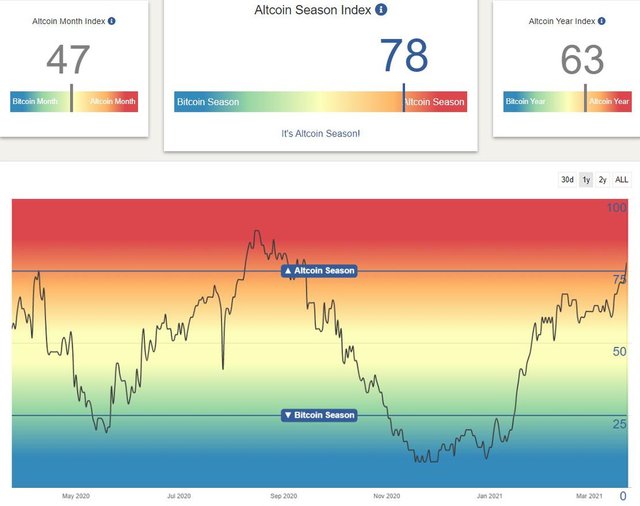 Source
The current value is 78! The market haven't reached this mark since September 2020. As BTC is going sideways without any significant breakthroughs, alts are starting to pump! Steem and Hive are celebrating this event with a significant increase in price. Current deep is still small compared to previous gains. In spring 2020 Altseason index also touched 75 point level. Yet it wasn't able to break through it and already in May 2020 we found ourselves in Bitcoin season. This time I hope we will see a solid altseason lasting for 3-4 weeks.
What do you think about Altseason? Will you buy, sell or hodl alts? Let me know in the comment below!
Other articles you might enjoy
Mining companies grow much faster than BTC price
Why crypto really matters or how to talk with skeptical people
Market is driven by existing investors rather than newcomers in 2021
Another DeFi project performed exitscam! Take it as remainder to DYOR!
Mass adoption of cryptocurrencies is inevitable, yet it will take time
MVRV metrics gives some clues at what stage of the bull market we are now
Disclaimer
I'm not a financial of any kind. I encourage you to check all information yourself and make decision only based on your own opinion. All articles are created for solely entertainment purpose.
If you like this post please vote for it and follow my blog. Feel free to share your thoughts in comment section.
---