(December 19 - December 25) Bitcoin Weekly Update
---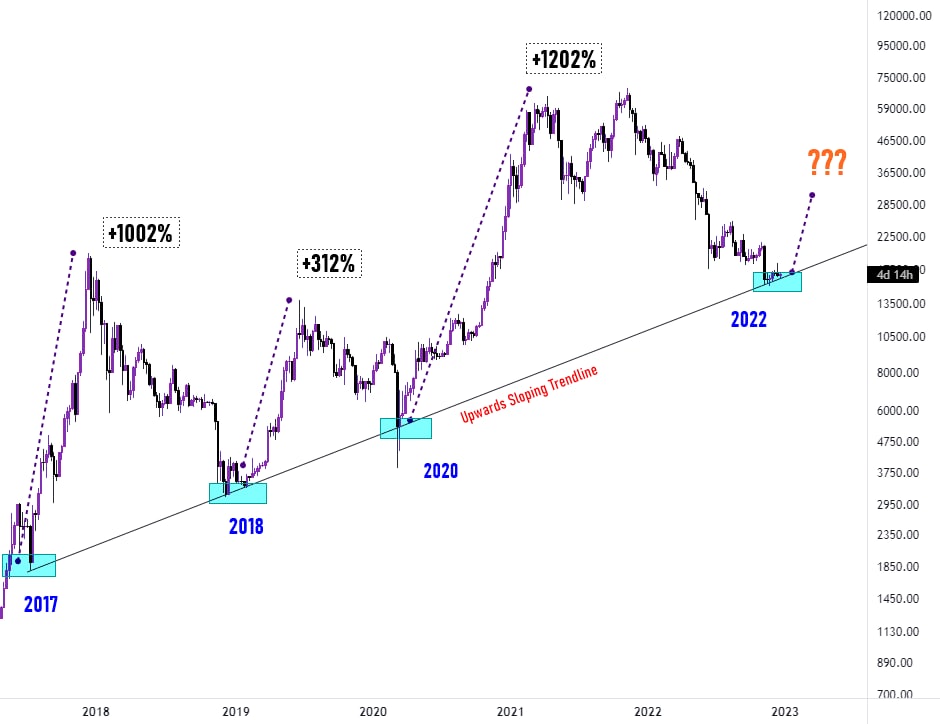 Touching this dynamic level in 2017 led to a rally of +1002%, in 2018 - to a movement of +312%, in 2020 - +1202%
Bitcoin Weekly Review
The week from December 19 to December 25 turned out to be boring on the crypto market. Bitcoin twitched a bit as stock indices and the dollar index moved. Market volatility increased on Tuesday (December 20) and Thursday (December 22). Demand for risky assets remained low as investors fear a recession in the US due to further rate hikes. The head of the US Federal Reserve, J. Powell, promised to raise rates even if the statistics show a weakening economy. The first wave of bitcoin sales faded at $16,256, the second at $16,559. As a result, the BTC/USDt pair remained in the $16,500-$17,000 price range.
There is a week left before the closing of the three-month and one-year candles. At the time of writing, the loss of bitcoin against the dollar for the 4th quarter is 13.37%, for 2022 - 63.59%. The year with three deuces failed for the cryptocurrency market. The market has been under pressure since the beginning of the year due to the tightening of the monetary policy of the US Federal Reserve (aggressive rate hikes), the collapse of the US stock market, the strengthening of the dollar, the collapse of the Luna project, the loss of confidence due to the blocking of clients from Russia and the collapse of the FXT exchange.
January started from the level of $46216. After falling to $15476, the price stabilized at $16825. Since November 9, there has been a side trend on the market from which an exit is expected in the near future. As long as the price is trading below $18,500, the market remains at the mercy of the sellers. They keep their finger on the pulse and wait for the collapse of stock indices in anticipation of a recession in the US. The flight from risky assets around the world will be a signal for the onset of sellers. They are aiming for $12,000.
Buyers are still reeling from the FXT crash as investor losses run into the billions of dollars. A new upward movement needs time and favorable news. On Monday, December 26, stock exchanges in the US and Europe will be closed. As US stocks closed higher, buyers have an opportunity to gain a foothold above $17,000 by Wednesday. If they do not take advantage of this moment, then we are waiting for a test of the $16,000-$16,200 zone. And then we stand for a long time without moving.
Posted Using LeoFinance Beta
---