📈 Daily TA: Elrond (EGLD/USD) | 24-11-2021
---
Hodl, dear members of LeoFinance!
Today I would like to outline something interesting on the price chart of Elrond.
In the weekly chart (1W), EGLD/USD is forming something similar to a Shooting Star: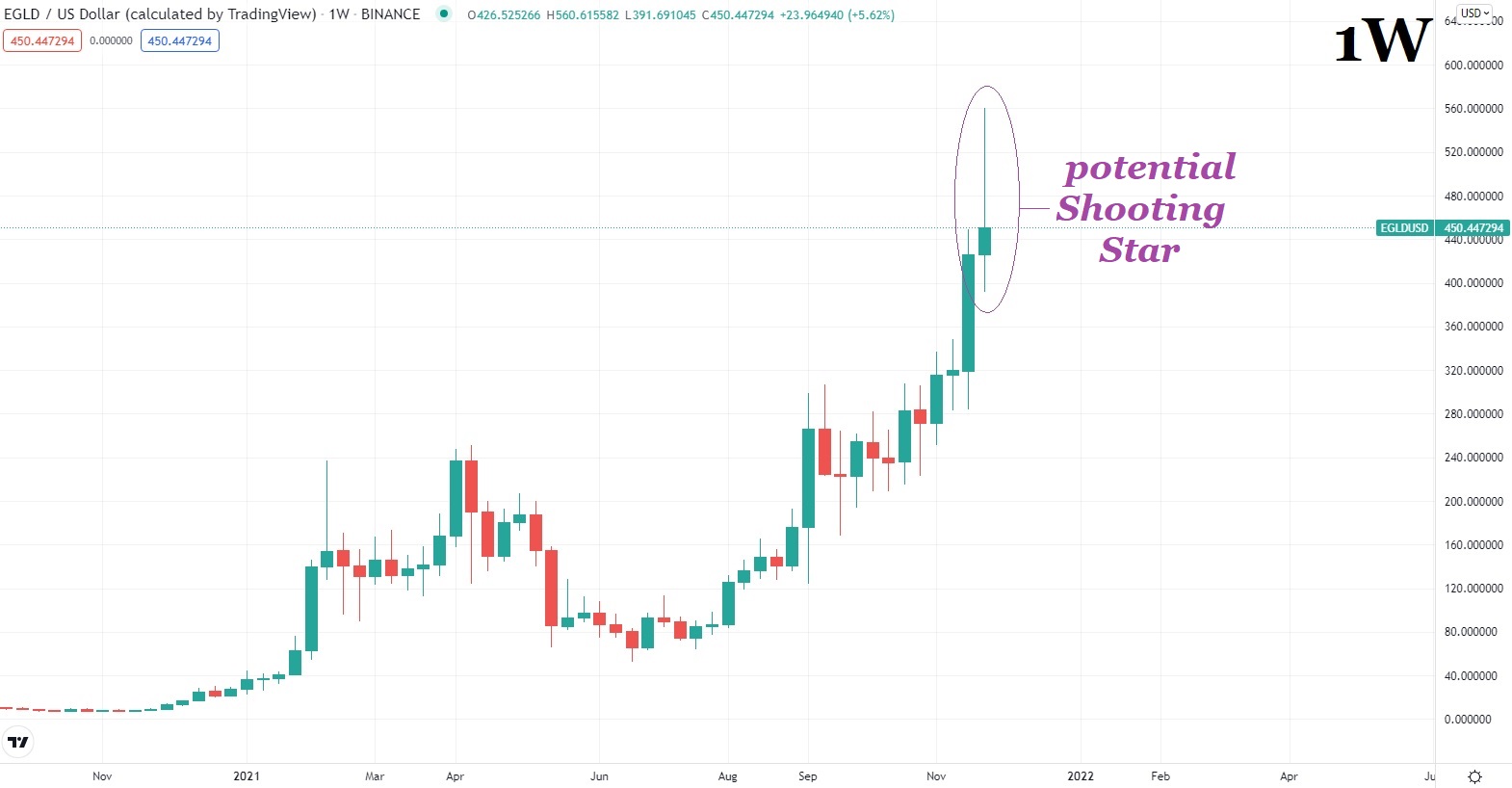 A Shooting Star is a candlestick with a long upper shadow, little or no lower shadow, and a small real body in the lower part of the price range. According to Technical Analysis theory, it appears at the top of a solid price increase and, usually, indicates the price could start falling. That's why the bulls should be very cautious. However, I would like to underline that we are in the middle of the week and this candlestick may change. However, a small warning is always useful and I do think that it is worth keeping an eye on the current weekly candlestick.
Let us also have a look at the 1-hour chart (1H), where the current pullback of EGLD/USD has formed a Descending channel (downtrend):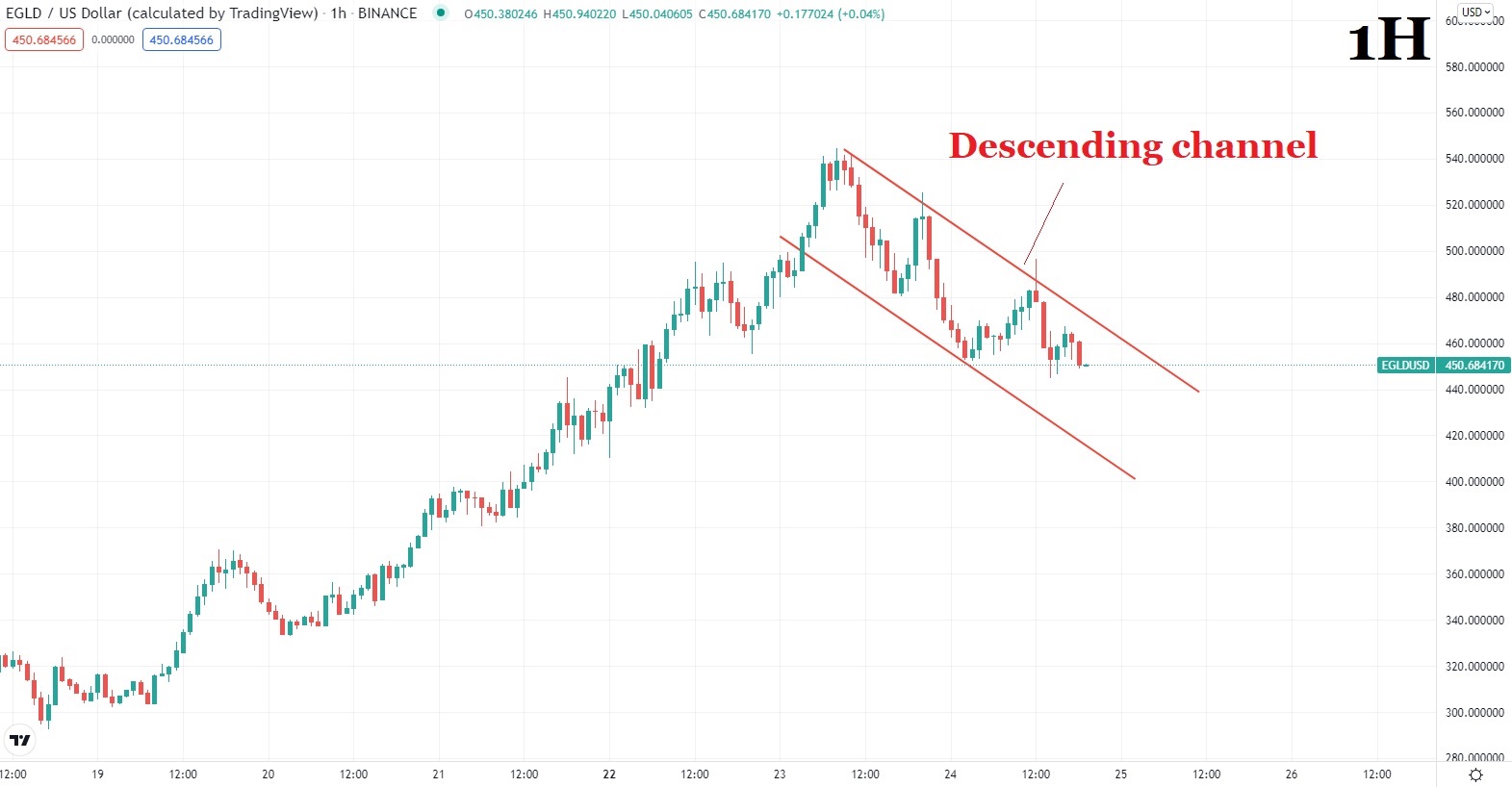 In my view, if the price continues to move downwards within the channel then the correction may continue. However, if the price exits the channel in the upward direction then the price increase may resume and the Shooting Star candlestick may disappear. That's why I think it is worth keeping an eye on the Descending channel in the 1-hour time frame.
Also, I want to mention that, according to the Moving Averages (MAs) in the daily chart (1D), the uptrend remains in place. All three key MAs, namely, the 30-day MA (MA 30), the 90-day MA (MA 90), and the 360-day MA (MA 360), are heading upwards: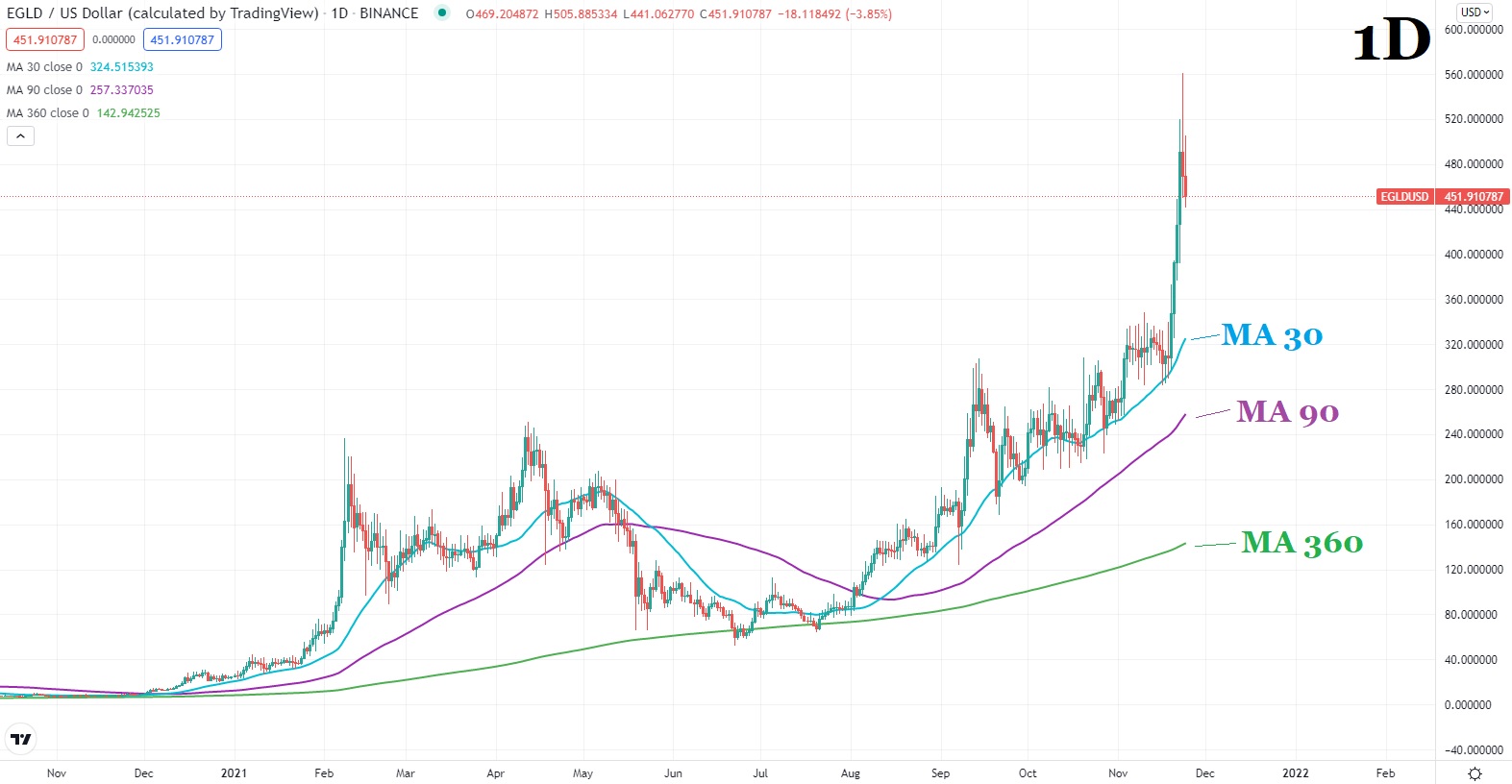 Moreover, the bullish distribution of the MAs remains in place - at the top is MA 30, then, in the middle, is MA 90, and at the bottom is MA 360. But, in case of some volatility, if in the short-term the price pullback intensifies I consider the closest MA or MA 30 as the closest solid support for the price. At the moment, MA 30 is at the level of $324,50.
To be continued ...
As of the time of writing, one EGLD costs $451,91 on the Binance crypto exchange, according to TradingView.
---
A few words about me:
Just to let you know: I've been working professionally as a currency analyst for the last 15 years, and as a cryptocurrency analyst for the last 4 and a half years.
---
Important!
Keep in mind, that thoughts expressed here are my own, and they should not be regarded as recommendations for any cryptocurrency/commodity trades, investments and etc.
---
Check @crypto-guides to learn about the essentials of the major cryptocurrencies.
---
Join the crypto exchange Bittrex: https://bittrex.com/Account/Register?referralCode=3GB-QAJ-BMW
Posted Using LeoFinance Beta
---