Daily CUB Report | bHIVE & bHBD Liquidity Continues to Expand and P/E Ratio of CUB Looking Better This Month!
---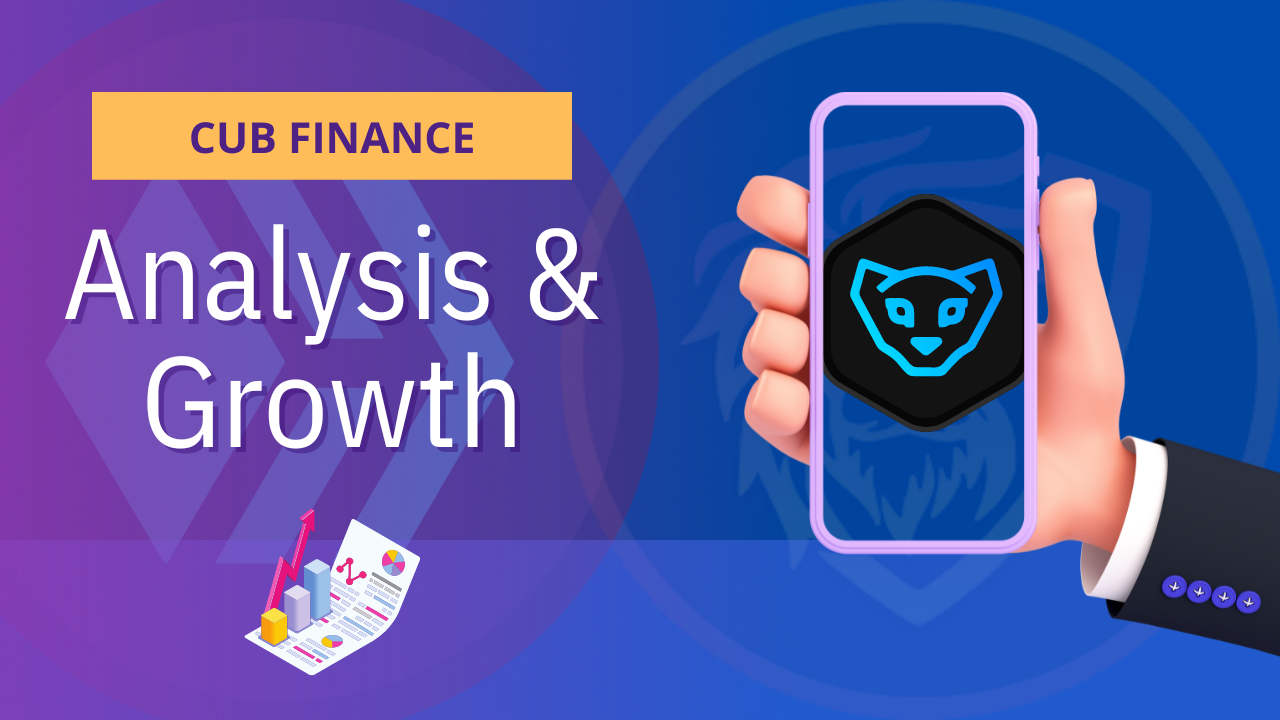 TVL is continuing to expand for the Multi-Token Bridge assets on Cub. This is a super bullish sign. Continued deepening of liquidity on the platform is what will ultimately lead to growing revenue.
We've already seen the revenue grow and grow on Cub. We just need a continual expansion of revenue in order to see a truly astonishing take-off point. I'm excited to see what this means for CUB going forward.
One of the core metrics that I have been closely following is the P/E analysis of CUB. You can see a screenshot of my last analysis in this post below (P/E analysis section).
In it, I talk about how the earnings per share of outstanding CUB puts us in the territory of blue-chip dividend stocks in TradFi..
This is really incredible to witness... A DeFi protocol generating a healthy amount of earnings per outstanding share.
What we need to see is this earnings per share continue to grow. As we see that metric get more bullish, the token price will need to follow suit.
Follow along as I report daily on @cubdaily 🙏🏽
Focus of the Day
Why does the token price need to follow suit to an ever-bettering P/E analysis?
Simple: real earnings = real buybacks = real burns.
As the earnings increase, the buyback pressure will increase the value of CUB. As the value of CUB increases, the APYs will increase which will attract more bHBD and bHIVE liquidity.
As liquidity increases, the earnings will increase and the cycle will repeat itself: more buybacks, more value increasing and more APY increasing = more liquidity.
I am very bullish on this perpetual motion machine. It's hard times right now as we kickstart it into gear but if we are able to get it off the ground, nothing can stop it.
P/E Analysis of CUB
Here's a new section I'm trying out. I decided to run a P/E analysis of CUB using data from each Monthly Burn Report posted by @leofinance. Check out the second analysis I ran and leave a comment below with your thoughts.
Keep in mind that a low P/E ratio is good. It means that the revenue that CUB is generating each month is increasing faster than the CUB price is increasing (more revenues earned per share of CUB).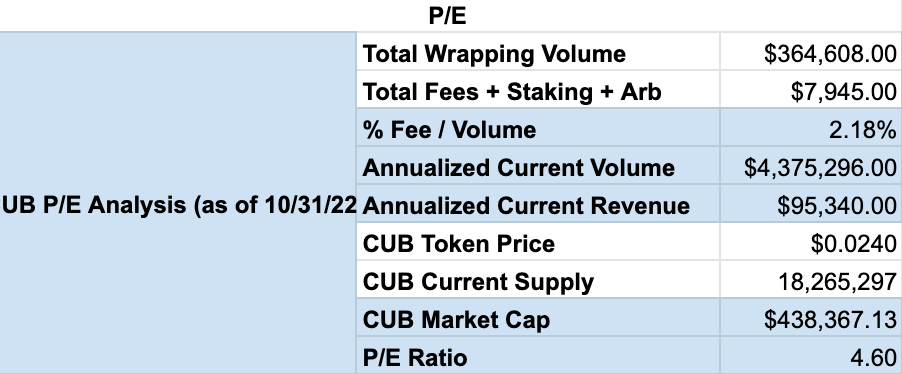 CUB Token

Price: $0.02146
Total CUB Supply: 18,911,334
Total CUB Burned: 1,572,986
Total Market Cap: $406,317
Total Value Locked: $1,262,759.91
Multi-Token Bridge Stats

bHBD-bHIVE: $146k
bHBD-BUSD: $268k
bHBD-CUB: $130k
bHIVE-CUB: $129k
Total: $673K
Some awesome growth lately on the TVL front... With the market price of crypto assets dropping, we're still managing to see TVL grow for the Multi-Token Bridge. That's what you love to see!
CUB Burns

Total burned CUB is approaching 1.6M. We're seeing this continue to climb. My estimates put us at around 1.8M CUB burned by the end of this month (only 3 days left!) and over the 2M CUB burned mark by December!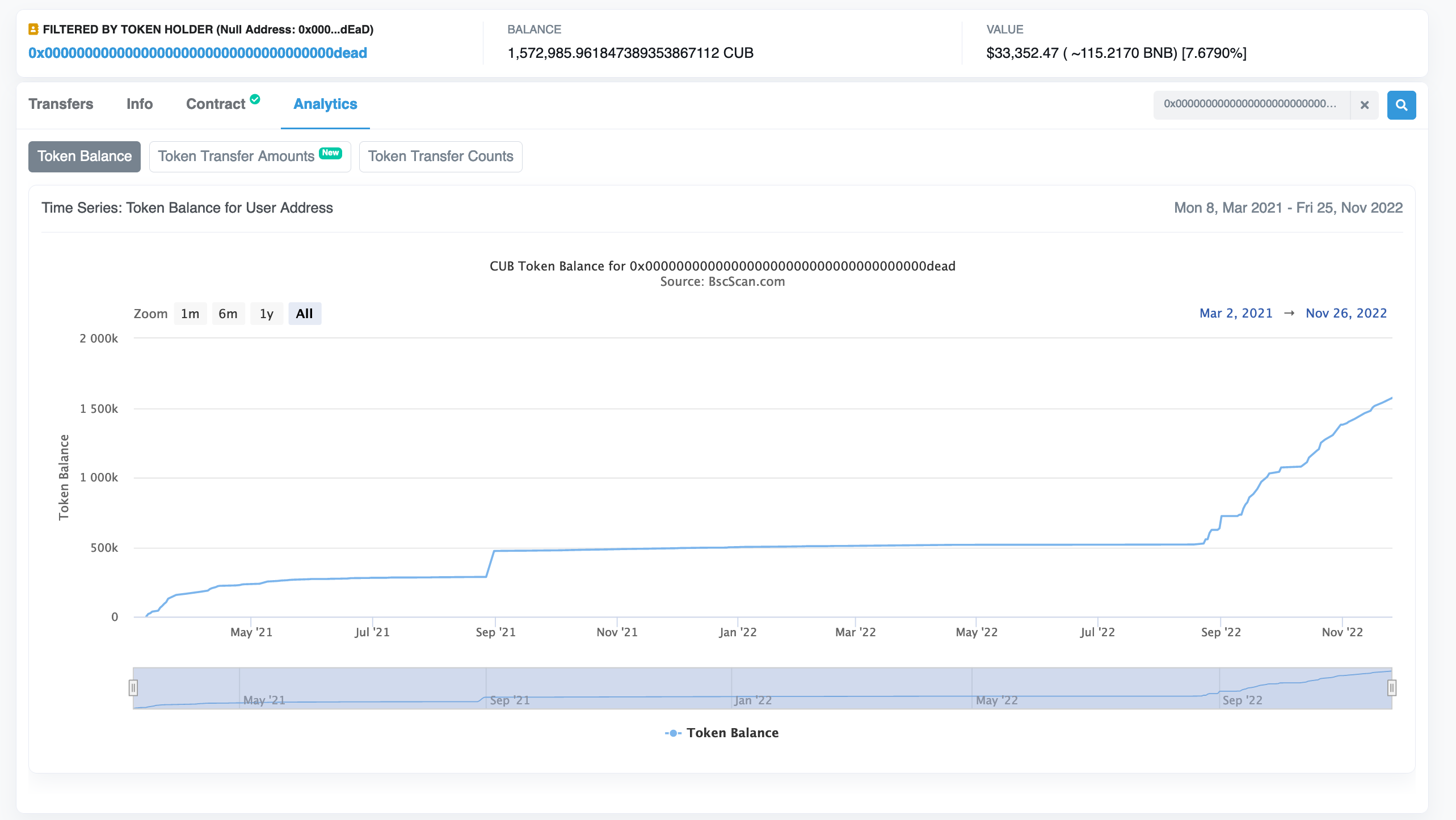 Further Reading:
About CubDaily
I'll be using this account to report on the CUB stats each and every morning. Together we'll track the growth of CUB under the completely revamped ecosystem that LeoTeam has built called the Multi-Token Bridge.
Posted Using LeoFinance Beta
---